Remove OneNote 2010 Screen Clipper From Startup
When you start OneNote 2010, Microsoft automatically adds OneNote 2010 Screen Clipper to run on startup. This can be quite annoying if you don't want OneNote to run on startup. Want proof? Have a look at the screenshot below.

There is no option to remove OneNote 2010 Screen Clipper from the system tray context menu.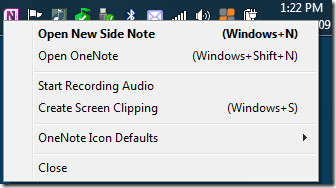 If you are not a OneNote 2010 user but used it just for the sake of giving it a try, then you can get rid of the startup item by deleting OneNote from the Startup folder(see first screenshot).
But if you use OneNote 2010 but don't want it to run on system tray during startup, then head over to Office Backstage(File Menu) and select Options. Now select the Display tab from the left sidebar, uncheck 'Place OneNote icon in the notification area of the taskbar' and hit OK.