Repair Missing CD-DVD Drive In Windows 7
If for some unknown reason your Windows 7 CD-DVD drive goes missing, then there is a high probably that you tried installing a buggy software which messed up the registry or other Windows files.
Rizone CD-DVD Repair is a small portable utility which can quickly fix missing drives. Apart form the basic functionality it also allows resetting of Autorun settings and protection against Autorun parasites(virus).
The former lets you repair the Autoplay/Autorun settings if for some reason it fails to work, while the latter provides protection against Autorun virus by disabling the Autorun feature for removable drives. The latter option is however useless in Windows 7 since Microsoft have permanently disabled autorun.inf for removable drives in this latest OS.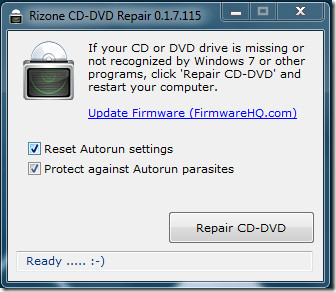 Just to be on the safe side, we would recommend unchecking both additional options before clicking Repair CD-DVD. Use the first option only if AutoPlay fails to work, we would however never recommend checking the 2nd option in Windows 7. Please note that this tool requires system reboot.
It works on Windows 2000, Windows XP, Windows Vista, Windows Server 2003/2008, and Windows 7.