Run Multiple Instances Of Windows Media Player At A Time
Even though some users like to replace the Windows Media Player with a third party media player as their default choice, some simply like to stick with it, as Windows Media Player is also a very decent choice for accessing and organizing your media collection. Moreover, Microsoft is also on the continuous improvement and enhancement of Windows Media Player features, with every new iteration. The main reason for people switching to other media players is that it lacks various advanced features and codecs that are available in powerful players VLC, Winamp and KMPlayer, by default. For this reason, it is quite common to see someone using a third party player for watching movies and using Windows Media Player for listening to music. One of the very interesting features lacking in Windows Media Player is the ability to run multiple instances of the application at a time. This means that, using Windows Media Player, you cannot run multiple media files at one time, a feature that most third party media players have. If you are an absolute Windows Media Player fanatic, and want to have multiple instance feature at your disposable, then give Multiple Windows Media Player a shot. It is a portable application that lets you run multiple instances of Windows Media Player 12 on Windows 7. Every time you launch Windows Media Player, will open up in its own window, letting you select different media files for each.
There are no sophistication involved or tinkering here and there, as this miniscule application is very simple. There are just two buttons present on it; Activate and Restore Backup. To enable multiple instances of Windows Media Player, select Activate. Likewise, to disable the feature, simply click the Restore Backup button.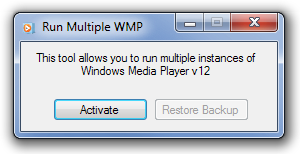 Once the application is activated, you can run as many instances of Windows Media Player on your system as you want. From the screenshot below, you can see that we were able to concurrently launch 4 separate instances of the application.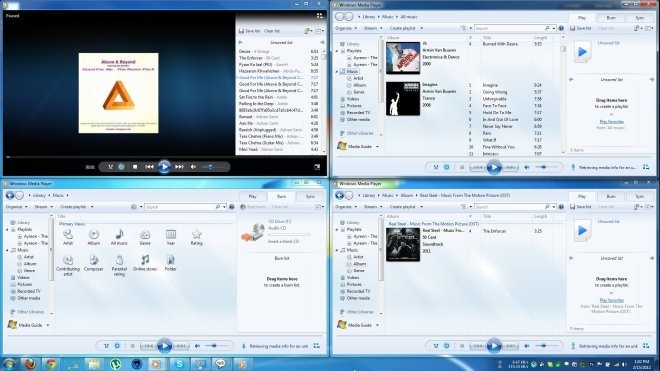 The only limitation of this application is that it supports just the Windows Media Player 12 version, and works only on Windows 7.
Download Multiple Windows Media Player