trimDesk: Hide Taskbar, Wallpaper, Desktop Icons & Gadgets Using Hotkeys
Hiding all the icons, widgets and gadgets from the desktop becomes quite a tedious task, especially in a situation where one needs to take multiple screenshots without any icon and/or other clutter visible on the desktop. The default method requires users to manually hide desktop icons and gadgets from the View menu. If you regularly find the need to hide desktop icons and gadgets and find the default way tiresome, give trimDesk a try. It's a simple application that allows you to easily manage your desktop background, gadgets, icons and taskbar settings. It lets you quickly hide icons, gadgets, the taskbar and wallpaper via configurable hotkeys. Additionally, you can minimize all open application windows, and choose to apply selected changes at once using a single hotkey combination.
trimDesk offers a minimalistic interface, and it seems like a good choice since its sole purpose is to reduce clutter on your desktop. There are quick access buttons to hide Icons, Gadgets, Taskbar and Background in the main window, while the top left icon opens an extended menu. From left sidebar, you can switch between Sets and Control panes, and access application settings.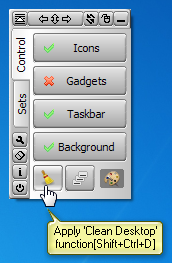 The extended menu displays all the options provided by the application, along with their mapped hotkeys. The hotkeys for functions like Toggle trimDesk, Clean Desktop and Minimize are already specified, while hotkeys to hide Icons, Gadgets, Taskbar and Background can be mapped using the Configuration window.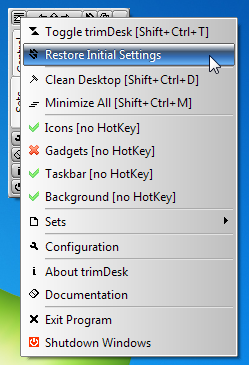 The Configuration window has four tabs namely General Settings, Sets Configuration, Skin Style and Clean Desktop. The General Settings tab allows you to specify application behavior as well as set edit and configure hotkeys for different application functions.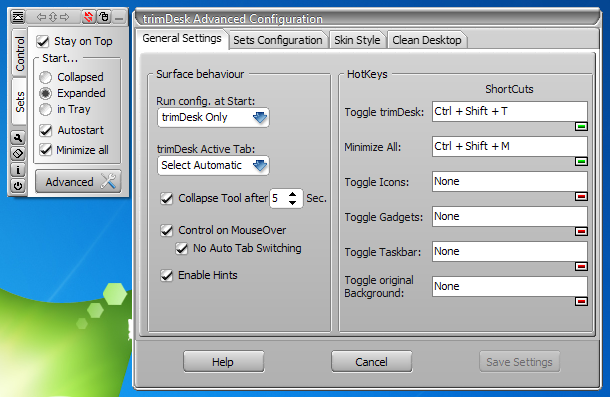 The Sets Configuration tab allows you to create a total of 5 sets for launching files or applications with a hotkey, along with defined desktop settings. Each Set can be given a separate name and set to work with a different hot key.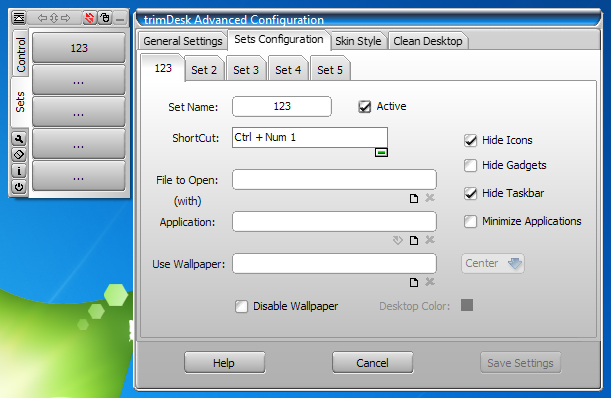 The Skin Style tab lets you change the theme, while the Clean Desktop tab lets you specify a single hotkey for cleaning multiple user-selected elements at once. Under Clean Desktop Functions, you can choose the items which you want to hide when the hot key is pressed.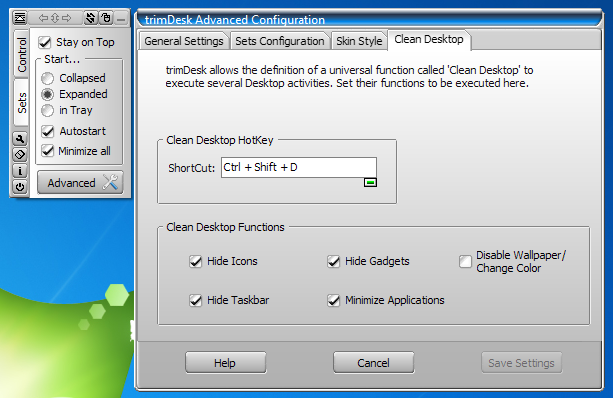 The free version of the application cannot save the configuration of the Sets, and therefore, the settings get reset every time you close trimDesk. The complete comparison between the free and paid editions can be viewed on the product page. trimDesk works on both 32-bit and 64-bit versions of Windows XP, Windows Vista, Windows 7 and Windows 8.