Unblock Adobe Flash Content in Browser (FIX for Chrome, Edge and Firefox)
If you are sick of trying to open content in your browser only to get an error message telling you that Adobe Flash content is blocked, this is the guide for you. No matter which browser you are using on your Windows laptop or PC, we will show you how to unblock Adobe Flash content so you can start enjoying video and animated content again.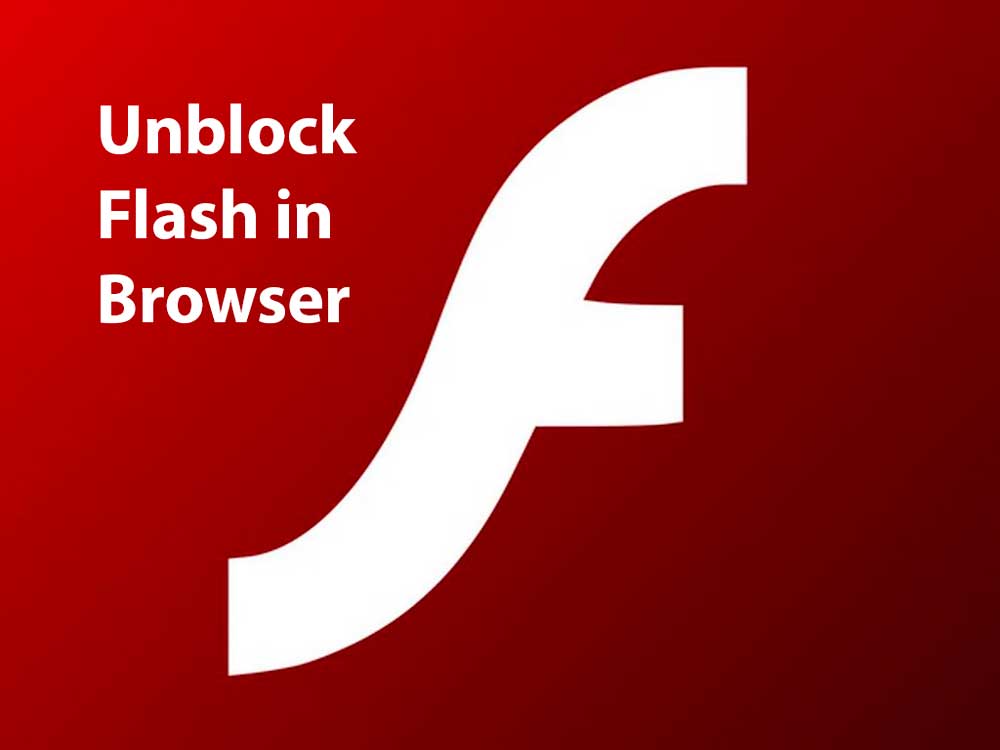 Adobe Flash used to be the go-to software for online video and animated content and much more besides. But in recent times it has come in for lots of criticism, primarily because of its perceived vulnerability to security issues.
Can you unblock Adobe Flash content in browser?
It has been blocked by a lot of web browsers because of this with the likes of Mozilla, Google, and even Microsoft pulling support for Flash from its browsers in favor of HTML 5.
As a result of a gradual decline in usage, Adobe actually announced back in 2017 that at the end of 2020 it will stop supporting Adobe Flash and the software will be automatically removed from Windows devices through a Windows Update on 31st December.
But for now, Adobe Flash is still very much alive and it is commonly used on many websites. But with most major browsers not supporting Adobe Flash, this has resulted in the 'Adobe Flash is blocked' error being one of the most common online issues.
In this guide, we will explain how you can unblock Adobe Flash content in all of the main web browsers and still enjoy the significant amount of Flash-powered content that exists online.
How to unblock Adobe Flash in Google Chrome
Google Chrome is one of the most popular web browsers on Windows devices but has been at the forefront of efforts to bring reliance on Flash to an end.
Flash content is automatically blocked on Google Chrome and the browser automatically highlights it with a jigsaw piece icon.
If you want to unblock Flash content on Google Chrome, you can usually do so by following these simple steps.
Method 1
Click on the Jigsaw piece icon.
Select the Allow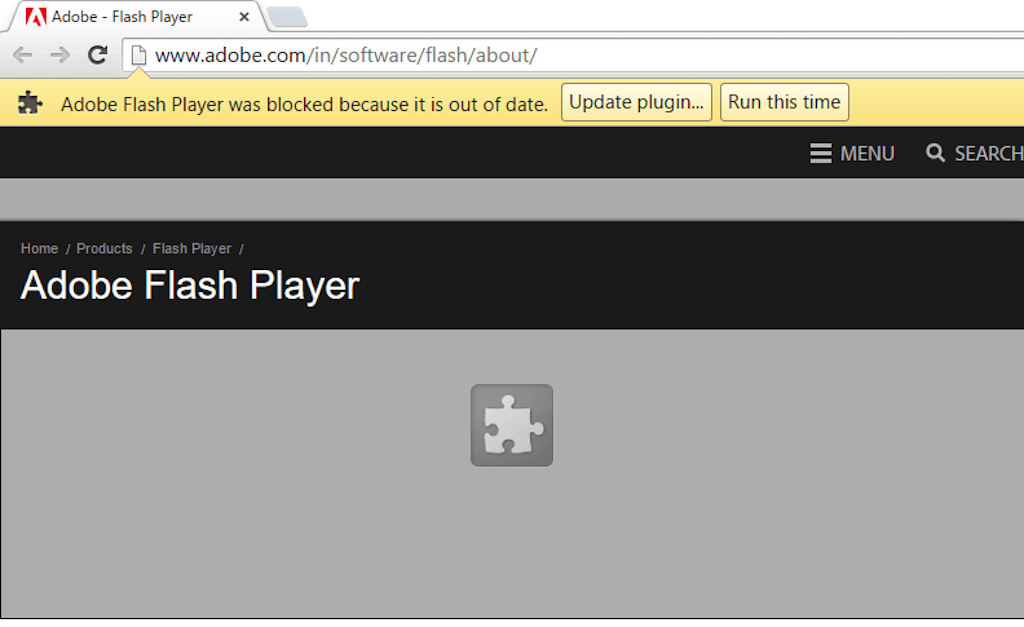 In most cases, this should allow Flash content to run, but if the Allow button is not available you will have to configure Google Chrome's Flash settings manually. This process is not complicated but there are a few different steps you need to follow:
Click the Customize Google Chrome button to open the browser's menu.
Then click Settings.
Scroll down to the bottom of this page and then click Advanced.
In this menu, you will need to click on Contents Settings and then select Flash.
This will open the Flash settings menu. To unblock Flash content in Chrome you will need to switch the Block sites from running Flash setting to Ask first (recommended).
Once you save this change, rather than automatically blocking access to Flash content, Google Chrome should instead ask you for permission to run this content. As long as you agree, you should now be able to enjoy any Flash content you like in Google Chrome.
If there are just a few websites that you use regularly that run Flash content and you want to keep other sites blocked, there is another option within the Flash settings menu on Google Chrome that you can take advantage of.
Underneath the toggle bar for blocking sites or asking permission is a section where you can specify specific websites you want to automatically allow to use Flash without giving permission.
Method 2
To unblock Flash for a specific site open it in Chrome and:
Hit the Site Information icon.
How to unblock Adobe Flash in Microsoft Edge
Microsoft Edge is the default browser in Windows and is many users preferred choice. But like Google Chrome, it also automatically blocks access to Flash content.
When you visit a site that is using Flash, a dialog box will pop up informing you that Adobe Flash content has been blocked. It will then ask you 'Do you want to allow Adobe Flash to run on this site?'.
There are two options for you to choose:
Allow Once – This will let the Adobe Flash content run on this occasion but you will be asked again next time you visit the site.
Allow Always – This will tell Microsoft Edge that you always want to allow Flash to run when you visit this site. Edge will then remember next time you visit and play Flash content automatically.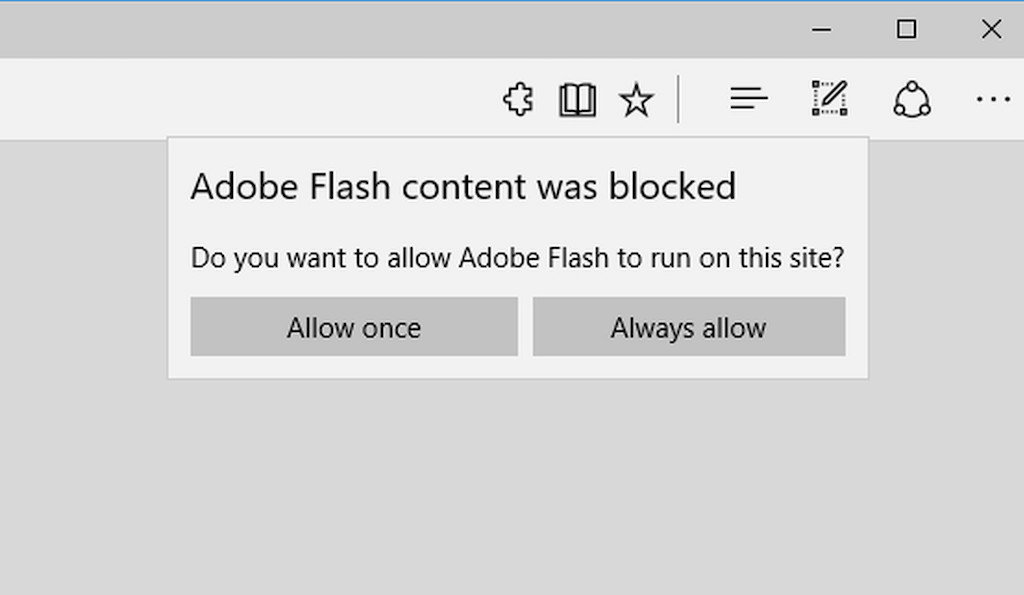 If this dialog box doesn't open up automatically when you visit a site using Flash, you will need to switch Edge's Adobe Flash Player setting on. This is quite easy to do. Just follow these simple steps:
Click the Settings and More button in the top right corner of your Edge screen.
Select Settings followed by View Advanced.
On the list of settings will be one option to Use Adobe Flash. Toggle this button to On.
Once you have made this change, Microsoft Edge should start to allow you to use Adobe Flash, although it will still pop up the dialog box to warn you when you are.
How to unblock Adobe Flash in Firefox
Mozilla changed its Firefox browsers configurations for Adobe Flash as far back as 2017. The default setting for all Firefox users is now Ask to Activate.
That means that Firefox will not automatically run Flash content but rather ask users for permission to do so first.
It does this by displaying an icon that informs you that the website you are visiting is running Adobe Flash and asking you to click Allow before it runs the relevant content.
Mozilla Firefox does also give users to option to automatically allow sites to run Adobe Flash content but you will have to switch this on manually. If you want to do this, you just need to follow these few simple steps:
Click Open Menu in the top right-hand corner of the Mozilla Firefox window.
Select Add-ons. This should open a new tab with the add-ons menu.
Select the Plugins
Next to the Shockwave Flash tab is one box marked options and another drop-down menu that will show as Ask to Activate.
Click on the down arrow and choose Always Activate.
Once you save these changes, Mozilla Firefox should also allow all Flash content to run automatically.
Other common Adobe Flash errors on Windows devices
While the Flash blocking error is probably the most common error that Windows users encounter, there are some other common issues that also arise.
Two common error messages that readers raise most frequently with us are:
Content on this page requires a newer version of Adobe Flash player – This is a common error when a website contains content that uses an older version of Adobe Flash. If you visit the site using a modern browser that automatically blocks Adobe Flash content, it is not unusual for this error to appear rather than the usual blocking message. Fixing this error is something the website owner has to do. While they could update the version of Flash they have used, they would be far better advised to migrate to native HTML and JavaScript as soon as possible.
You must enable Adobe Flash in order to view this content – This is another type of blocking error message and means the same as a message that tells you Adobe Flash content is blocked in this browser. The way to deal with this error message is to follow the tips detailed above for your browser of choice. Once you have given permission for the browser to use Adobe Flash, this error should not reappear.
Summary
Even though Adobe Flash is being phased out at the end of this year, a surprising number of websites are still using it. But all the most popular browsers now block Adobe Flash by default and that means that one of the most common errors people get when visiting websites is warning you that Adobe Flash is blocked.
It is a simple error and fortunately simple to fix too, no matter what web browser you use. In this guide, we have detailed the easiest way to fix the Flash is blocked error in the three most popular Windows web browsers; Google Chrome, Microsoft Edge, and Mozilla Firefox.
Our guide explains how to enable Flash to run on individual websites and also how to change the settings in your browser to automatically allow Flash content to run.
Have you had problems running Flash content? Do you have any tips on how to unblock Flash that we haven't covered in this guide? Any other tips or advice for our readers that we haven't covered in this guide? It's always helpful to hear about readers views and experiences so do share yours with us in the comment box below.