6 Best Weather Apps For Windows 10
Weather notifications have been a mainstay of smart devices since meteorological data organizations started digitizing their information. App developers have been creating fantastic looking apps to keep us posted on the weather at all times – even when we're asleep. Weather data was best accessed through widgets on a smartphone, as weather information on the go is convenient information. PC Users need but only access a site from their browser to get the latest weather updates, however with the app store in Windows, there are a few apps that depict detailed weather data for easy access from your live tiles.
We reviewed them for you guys and would like to present you the best weather apps that you can get for Windows 10 — let's see them in detail.
Rain Gauge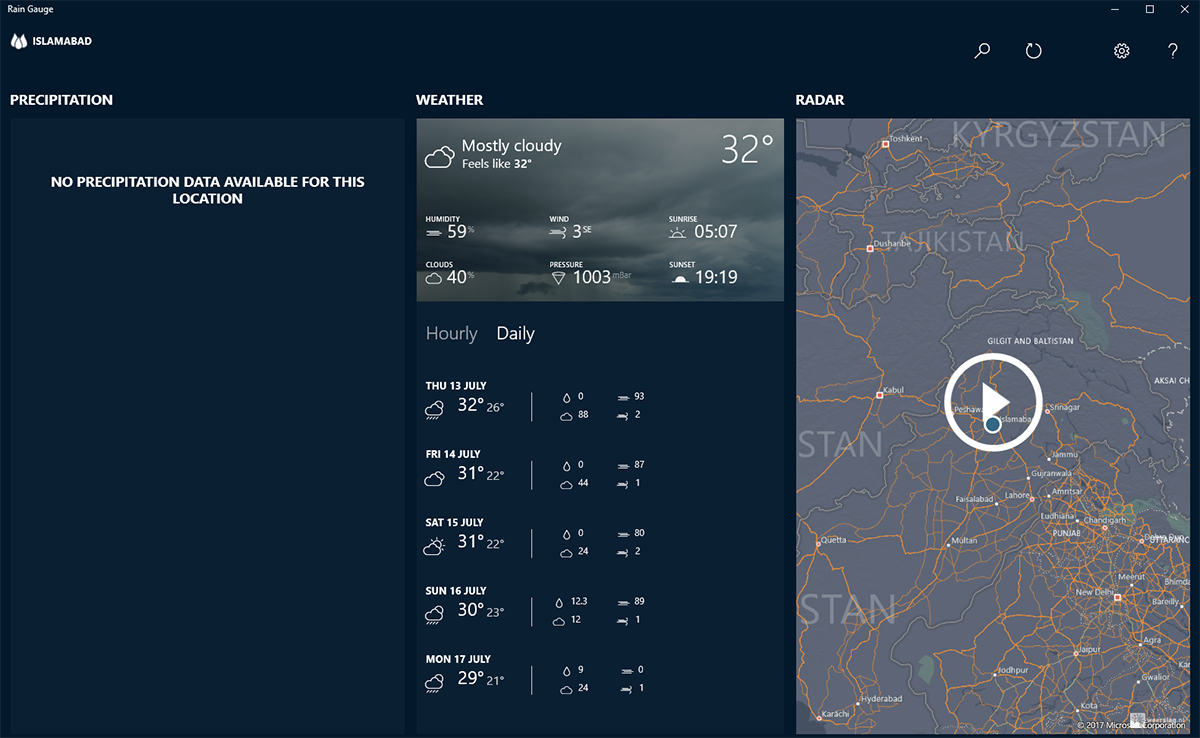 Available on Windows Holographic, PC and Mobile Devices, Rain Gauge lets you access weather data for any location in the world. Additionally, for a select few locations in Europe (UK, Ireland, Germany, Netherlands, Belgium, Luxembourg and Denmark) you can access precipitation data, predicting how much rain you can expect. It comes with a handy radar, that only works as geotagging for other locations, but for the ones listed above, you can see a visible map of cloud movement in your area. If you reside outside of the chosen regions, this app is a run of the mill solution. Inside those regions, however, you get access to a visual map of rain data.
The app supports live tiles.
The Weather Network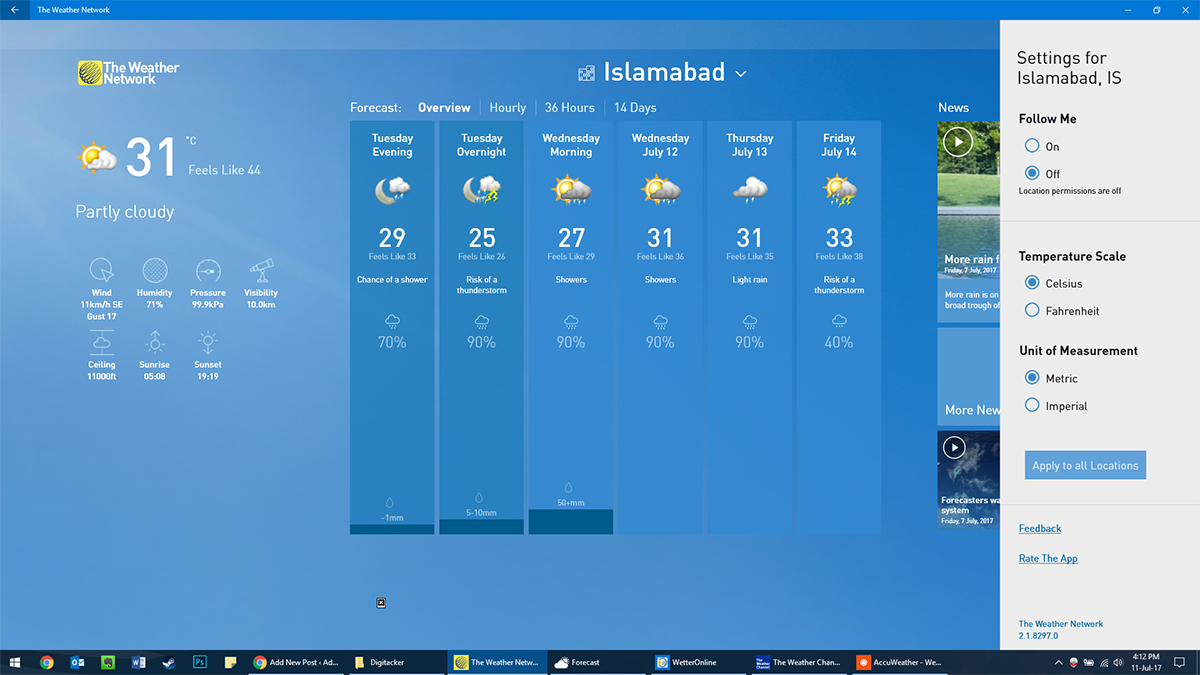 The Weather Network app for Windows 10, available across all Windows devices, offers an interactive and clean design giving you up to date weather forecasts. Users receive alerts when active weather hits, and can track storms with radar maps. You also get the latest news about storms from across the world, though it should be noted that the news might not be relevant to your location. The design, though clean, does not fit the minimalist tradition of recent Windows trends.
However, the amount of information available is very detailed. You can get up to a 14 day forecast with everything from humidity to chances of rainfall. You can even set up measurement units based on locations. So you can have imperial units for the US, Liberia and Myanmar (formerly Burma) and metric for the rest of the world. Or use a single measurement across the board.
Download The Weather Network App
AccuWeather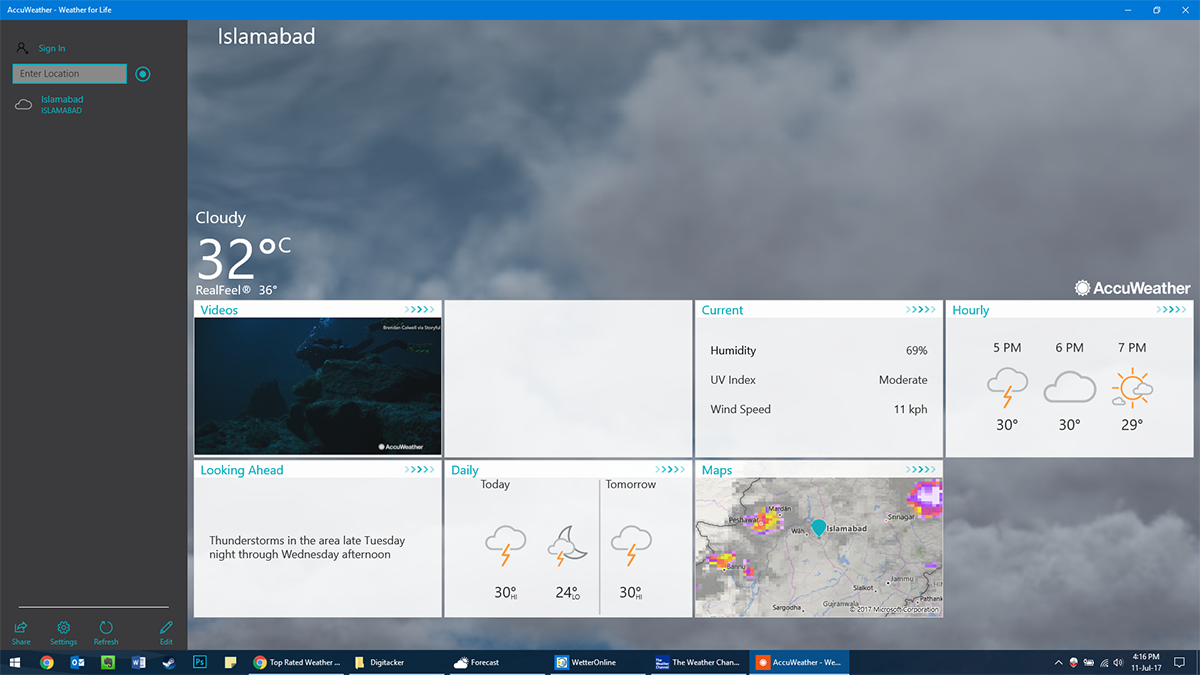 AccuWeather has enjoyed a reputation of being the leading weather data provider on any platform and for good reason. Numerous weather apps rely on data provided by AccuWeather, so it stands to reason that we should go directly to the source rather than settle for an homage. It is a completely free app, with everything accessible. You can purchase an ad-free experience, as well as a 30 and 90 day forecast as well as Platinum unlock, but the average user will be so completely covered with the free version that they will want for nothing more.
You can adjust imperial and metric units, you get an update every 15 minutes and you can get notified through the live tiles. If that is not enough AccuWeather even lets you set up your lock screen to show a fantastic image pulled from the internet that accurately depicts the weather outside at the moment.
Forecast
Forecast is another weather app that offers you detailed up to the minute updates. Though this is a paid version that you can get a 15 day trial. Since all apps are presenting essentially the same data, it comes down to which one presents it well and Forecast certainly does. It charts data in graphs and trends so you can see the statistical effect of the weather in your area in real-time.
The background is a pleasant image pulled from Bing's image of the day, the data is fun to see represented like this, so if accurate depiction of weather is important to you, this app is for you.
Download Forecast App ($1.49)
MSN Weather
The Weather app comes bundled with Windows. It takes everything good about the above mentioned apps and bundles them into one simple representation. You get precipitation data, trends, graphs, forecasts, wind speeds, even the moon phases and everything in between. The design builds on the minimalist design we have grown to expect from Windows. A background image will show us a gorgeous image that accurately portrays the weather outside. The live tile app also shows a similar image when showing you the weather outside. The weather is powered by Foreca, there are no in-app purchases (you have a fully loaded app out of the box).
Comes with Windows
or
The Weather Channel

The Weather Channel is different from the Weather Network mentioned above. You get access to "feels like" weather, humidity, dew point, sunrise/set, moon phases, wind speed, UV index, visibility, etc.
On top of that, you get Weather Maps, which is a radar map displaying past and future radar. Map layers show rainfall, snowfall, road or satellite views and wind speeds. You can also stream weather related news in HD.
Download the Weather Channel App