What Is Windows 7 Guest Mode And How To Enable It?
What Is Guest Mode
Did it ever happen to you that a friend or co-worker while using your computer deleted an important file or modified some system settings by mistake? Microsoft has included in Windows 7 an exciting new feature called Guest Mode that prevents anybody from making changes to your computer. Guest Mode is not the same as Guest Account, so don't be confused between the two. An Administrator can enabled Guest Mode on any user account. According to Lifehacker enabling the Guest Mode,
Prevents system setting changes. Any attempts to change the system while running under a safeguarded account are prevented.
Prevents the installation of applications and other software. Once you've enabled Guest Mode, it is impossible to install or permanently configure already installed software applications.
Prevents the user from writing to the disk outside of their user profile.
Data saved inside of the user profile is deleted when the user logs off.
It can also prevent a user from accessing any local drive that you mark as protected. In other words all changes and installations made by the user will be automatically deleted when he/she logs off. The user can however copy the files and save them to the external USB drive in order to prevent them from getting deleted.
How To Enable It
By now you will understand the benefits of Guest Mode, so let's talk about enabling it. Go to Control Panel > User Account and Family Safety > User Accounts, now either select an existing account or create a new standard user account. Now click Set Up Guest Mode and enable it from there.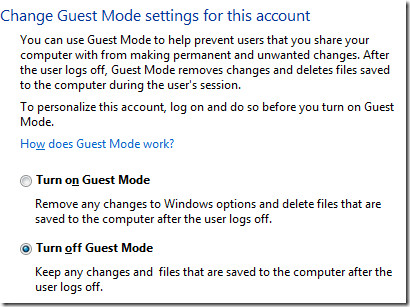 Now to lock any local drive, go back once again to Set Up Guest Mode settings, and click Locked Drives(Advanced) link just below the Turn On/Off options. This advanced option is enabled only when guest mode is turned on.

Now select the drives that you would like to lock and click OK. Note that you cannot lock the external drives such as USB drive because Windows 7 allows a user in guest mode to save his files and documents there. Enjoy!