Windows Bluetooth Network Scanner
Windows 7 has a nice Bluetooth File Transfer wizard which allows quick sending and receiving of files from any Bluetooth capable mobile phone. What it lacks however is Bluetooth scanner which can find all handsets and show further information about them. This is where Bluetooth Network Scanner comes in.
It is a freeware utility with sole aim of detecting Bluetooth devices, showing their details, and the number of services that it supports. It could be useful for troubleshooting any Bluetooth related problem with any of your devices.
On the main interface, hit Refresh to begin detecting all Bluetooth devices. Once detected, they will be listed on the main interface with their Name, Identification number, and type of device. As you can see in the screenshot below, it detected two different types of phones; Smart phone and a Cellular phone.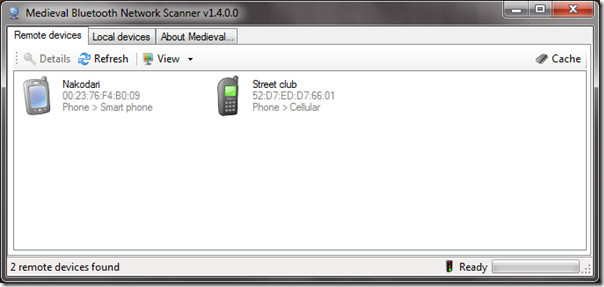 Double-click any detected device to view further information about it. The Device details tab will show the technical information along with the capabilities of this device. You can also Authenticate the device, this is also called Pairing.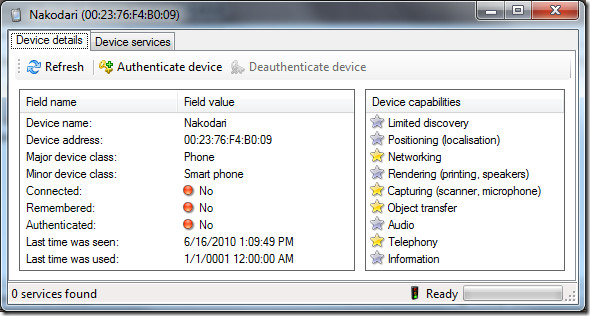 The Device services tab lists the number of services the device can support.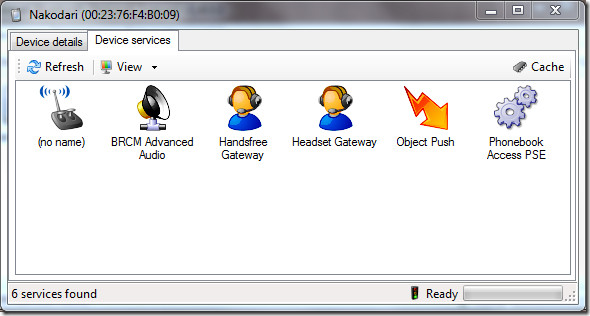 Among the many Bluetooth scanners we have tested, they tend to freeze when detecting devices or hang during the process of pairing. Bluetooth Network Scanner, on the other hand, faced neither of the two problem and was stable during the testing.
The application has been developed to work on Windows XP, Windows Vista, and Windows 7. We tested it on our system running Windows 7 32-bit OS.
Download Bluetooth Network Scanner
For a similar tool check out Bluetooth Radar. To install Bluetooth Driver in Windows 7, go here.