Windows 7 Clipboard History
Just like previous versions of Windows, Windows 7 doesn't provide a tool to log clipboard history. This is a serious setback, since clipboard history can be a integral part of many people's productivity(including mine). There are many 3rd party clipboard programs which can monitor clipboard activity, among them is the much liked Clipdiary. The clipboard managers are designed to log all clipboard data, and provide an easy way to use the required clipboard item in any active application. If you are looking for an alternative clipboard tool for Windows 7, meet Clipboard History. This tool will keep a log of every word/text that you copy to the clipboard, and let you use selected clipboard item anywhere you want.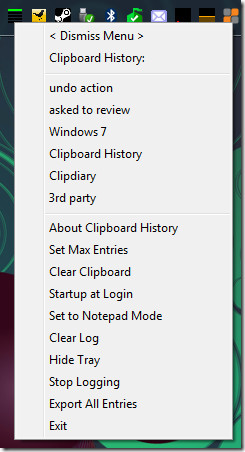 It is not much advanced like Clipdiary but allows user to quickly copy their previous word/text from the start menu tray. You can set it to startup at login, set the program to run in notepadmode, clear log, hide tray(and bring it back by hitting z+x+c hotkey), stop logging, and export entries.
If Clipboard History fails to work on Windows 7, you can try out Clippy – a system tray application for Windows that lets you manage clipboard items, including both text and images. Clicking the system tray icon shows all saved clipboard items, allowing you to quickly select any clipboard item to paste it in required application. You can check out our complete review here.