Wise Program Uninstaller: Powerful Third-Party Application Remover
Microsoft works hard on improving their operating system, which can be noticed by comparing Windows Vista and Windows 7, but they always overlook the add remove program tool. Uninstalling a huge application software suite from Windows, using Window's native tool, can be very irritating at times, as it might not be on the uninstallable programs list of the add remove program tool, and even if its there, upon uninstallation, it might leave behind its residues of registry and system files. To deal with this problem, most users opt in for third-party tools like Geek Uninstaller, Revo Uninstaller etc. Today, we came across a similar utility called Wise Program Uninstaller, which lets you easily remove software and their left over data and registry entries.
It's a portable application and does not need to be installed on the PC. Apart from safe remove method, it provides you with an option of forcibly removing the installed software. The Safe Uninstall option is built for software that can be uninstalled easily using the Windows native tool, whereas the Forced Uninstall option is for ones, which can not be completely uninstalled due to some inexplicable reasons. It must be noted that both software removal methods are programmed to uninstall the software and also take care of the other unwanted files related to them.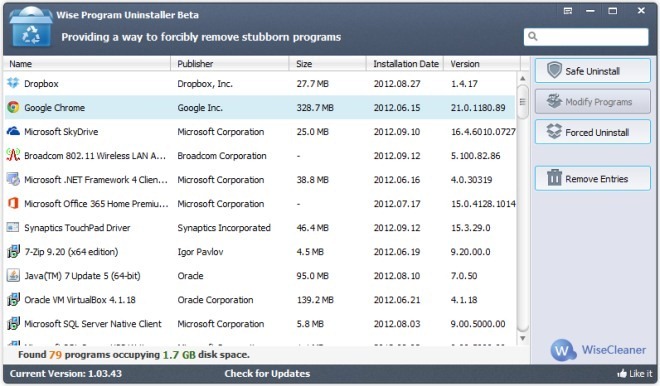 Right clicking the software brings up context menu, containing the options to open software-related keys in Windows registry editor, search the exact version and the software in-general on Google.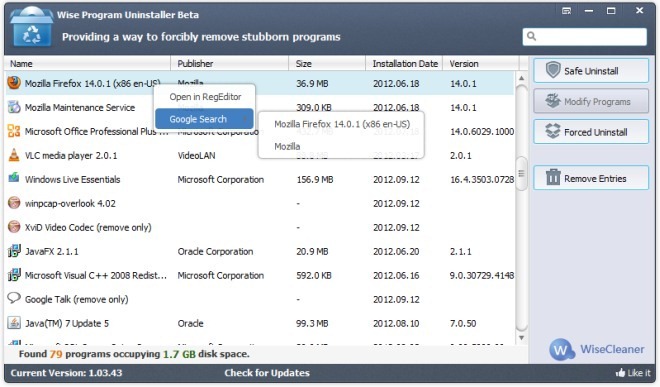 To uninstall a software, select that software from the list. If you are unable to find it, then try searching it using the search box. Once you have selected the software you want to uninstall, you have two options to choose from including Safe Uninstall and Forced Uninstall. Clicking the Safe Uninstall button will open the default uninstall wizard of the software, from where you can uninstall it normally. If in any case Safe Uninstall doesn't work, try the Forced Uninstall option, but keep in mind that the Forced Uninstall option should only be used in instances where the Safe Uninstall doesn't work.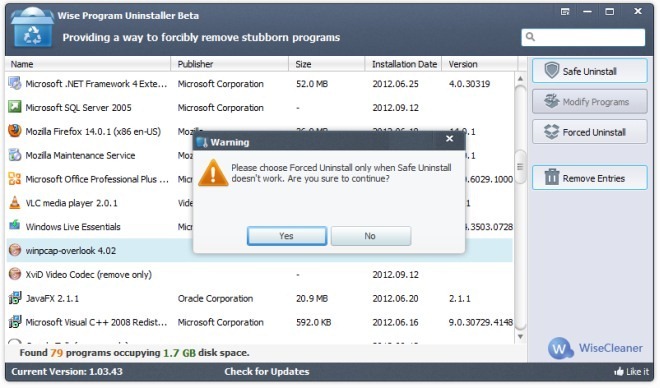 If you uninstall the software using the Forced Uninstall option, it will show you the registry entries and files related to the software. Now, you can select the files and relevant registry entries in order to remove the software as well as its left over data from the PC.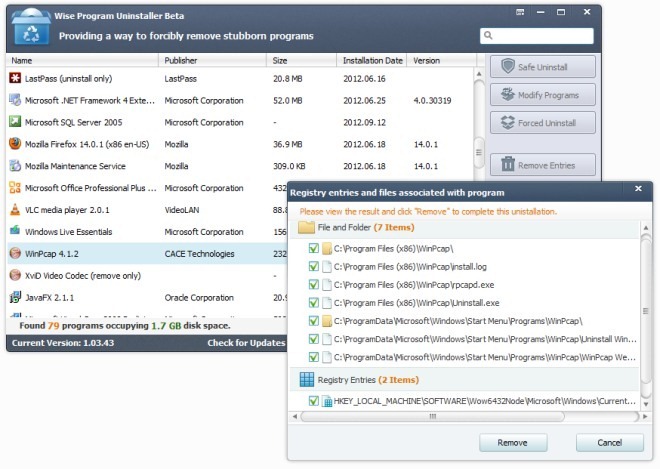 The Remove Entries button can be used to remove any software from the list of the uninstallable softwares. The application works on Windows XP, Windows Vista, Windows 7 and Windows 8. Both 32-bit and 64-bit Windows editions are supported. Testing was carried out on Windows 7 64-bit.
Download Wise Program Uninstaller