Hipsterize Photos With Retro Effects, Lighting & Frames Using XnRetro
Photography imperfections were a common occurrence back in the old days when camera equipment was far from being advanced by today's standards. Light bleeding, inconsistent flash, blurs etc. were all fairly common. While such quirks seemed quite annoying at that time, vintage photography with precisely those effects has become quite popular among smartphone users these days – Instagram being the first app that comes to the mind in this genre. People love to upload and share such photos on social media sites. If you want to turn your favorite images into vintage masterpieces, try XnRetro. This powerful desktop app gives your snaps a quick retro makeover. The application sports a host of vignette effects and even allows you to put virtual frames around your images.
XnRetro is a portable app and doesn't require any installation. Its workspace comprises of four sections: a toolbar at the top, an image adjustment palette to the right, accompanied by an image preview on the left, and a filters area at the bottom that contains tabs for adding preconfigured effects of your choice to the loaded image.
To get started, load an image into the application via drag and drop or by using the Add button. The application allows you to zoom in and out using buttons related buttons at the top, as well as rotate the image clockwise or counterclockwise if you wish. The image adjustment palette comes handy for fine-tuning an image, letting you control parameters like brightness, contrast, gamma, exposure, saturation, noise and RGB values. The Vignetting and Light opacity controls become available when you select the appropriate filters.
The fastest way to change the look of your photo without much hassle is to employ one of the preconfigured effects under Retro, Light, Vignette and Frame tabs. The Retro tab, for instance, houses about 20 different filters that can be quickly applied to your image with a single click.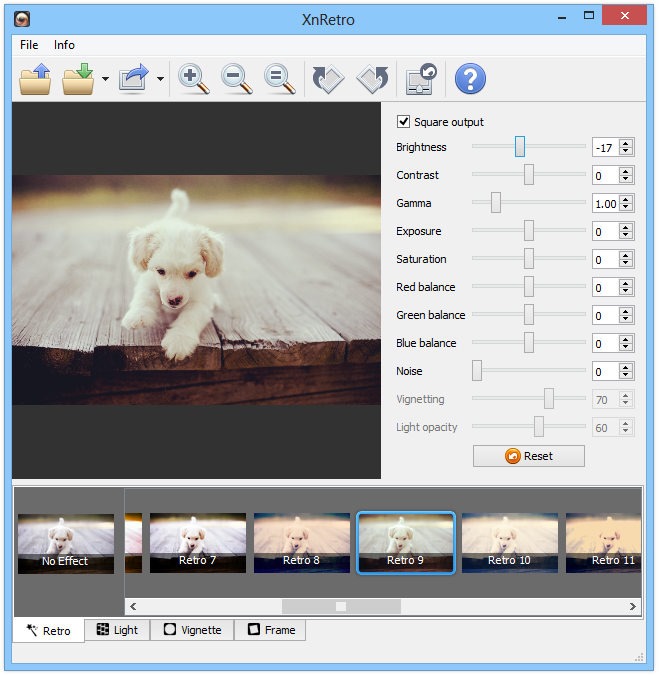 If it's your first foray into vintage photography, these effects can really do wonders for you. Likewise, there are various different Light and Vignette effects available as well. Clicking on these effects instantly applies the changes. The effects under each category don't have any particular names, and are just titled numerically.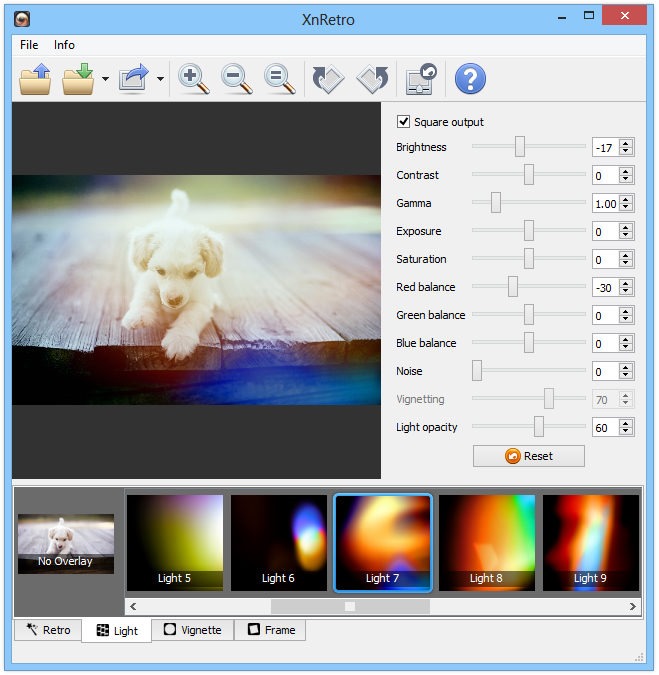 Another cool bit of the app is the Frame tab. This tab contains many frame types ranging from 35mm film and checkered to leaves and many more (about 30 in all). Adding these to your pictures can further add to their retro look.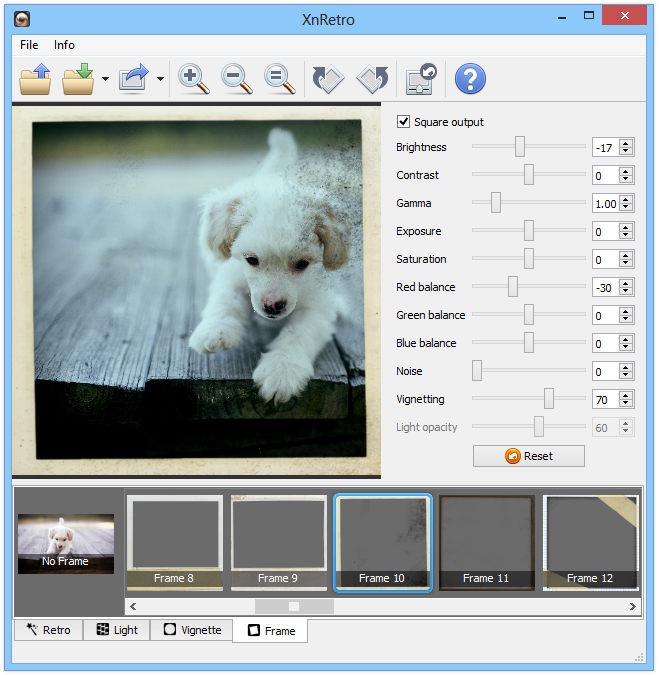 There's a Share button on the toolbar that enables you to instantly upload the processed photo to social media and image sharing sites like Facebook, Flickr, Tumbler, Picasa, Imgur, ImageShack, Yfrong, TwitPic and GlowFoto. You can also send the photo to someone directly via email. The application allows you to save photos as JPEG or PNG files on your local drive as well.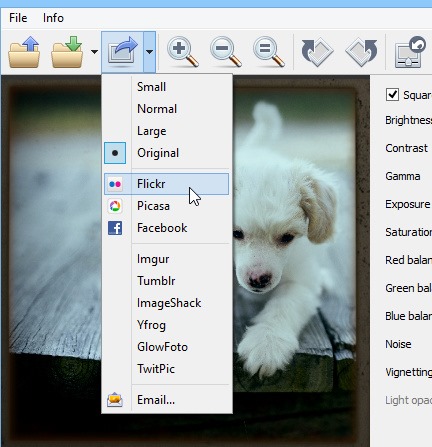 All in all, XnRetro is an impressive, portable photo editor app that supports Windows, Linux and Mac OS X. Testing was done on Windows 8 Pro.