Access Recent & Favorite Apps From Anywhere In Android With HomeFlip
Such is the popularity of Android app launchers and task switchers that every few days, we come across a brand new concept of multitasking and quick app switching that appears to be more convenient and user-friendly than its predecessors. Today, we have another candidate vying to become your default Android app switching solution, especially for those who love to have a few favorite apps of theirs available just a few taps away from anywhere in the OS. With a file size of just 44 KB, HomeFlip (beta) by XDA member id0x12345 is easily among the most lightweight Android app launchers that we have come across so far. However, don't let the meager file size of the app fool you; it boasts some very handy features that expedite multitasking on Android better than most existing solutions. Available for ICS and Jelly Bean devices, HomeFlip lists your recent apps/tasks anywhere in Android upon tapping the Home key. From the app's dedicated recent tasks list, you can use various touch and swipe gestures to switch to required apps, pin select apps as favorites, hide items from the list and reorder favorite apps to your liking.
Continuing with the app's features, the developer promises to keep HomeFlip completely free and ad-free forever. Despite its minimalism, subtle animations while scrolling between recent apps and various downloadable themes add a visual appeal to your multitasking experience.
Since the app's functionality is mapped directly to your Android device's Home key, it'll prompt you to set HomeFlip as the default launcher upon the very first launch. This won't affect your current home screen preferences one bit, as you can always switch back and forth between HomeFlip and your Android launcher(s) with a mere tap of the home key. In case you have multiple launchers installed on your device, you can select your preferred one as the fallback home screen from the main screen of HomeFlip. Therefore, you can rest assured that HomeFlip will neither intervene with your favorite launcher's functionality, nor will it alter your personalized home screen preferences.
Once you have set up HomeFlip as your default launcher and optionally specified your fallback launcher, all you need to do is press the home key to view your recent apps list. This activation mode is configurable, and it's upon your discretion to trigger the HomeFlip recent apps lists upon a single or double tap on the home key.
Scrolling the list vertically shows you all the apps you've launched recently. To add an app permanently to the favorites list, just give it a left swipe, while a right swipe on it will remove it from the favorites list, and doing the same for a non-favorite item hides it from the list. To view hidden apps, tap the eye button or hit Menu > 'Show hidden tasks'. To reorder the favorite items, tap-and-hold the task you want to reposition and simply drag it vertically to the desired position. The box icon at the bottom can be tapped to restore the list, complete with both hidden and favorite tasks. Needless to say, all your favorite apps will always appear on the list regardless of whether they've been launched recently or not, making them easily accessible from anywhere across the entire OS and eliminating the need to go to your home screen or app drawer to launch them.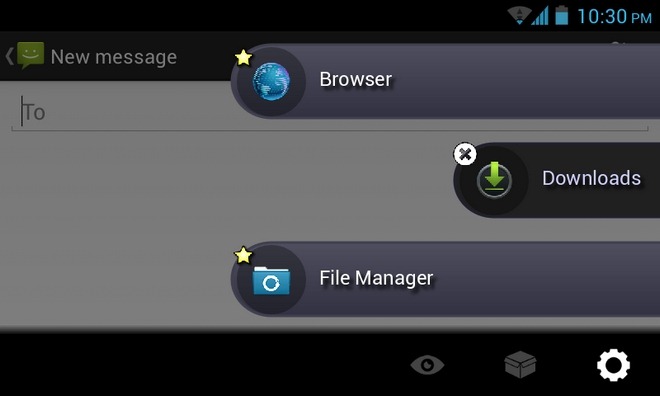 Once a theme is downloaded, you'll have to manually import it into the app. For this, navigate to the Downloads folder through your preferred Android file manager, tap the downloaded ZIP file, and select HomeFlip as the default action for it. You'll then be able to switch to it from HomeFlip's settings under 'Theme'. Among the app's other customization options, HomeFlip supports automatic and manual sorting of favorite items, user-selected spacing between items on list, custom background dimming level, custom app & font size of listed items, and disabling the animation as well as the on-screen app menu.
Already impressed by the app's features? The developer has some great ideas in mind that he aims to implement in future releases. For instance, HomeFlip will soon allow you to modify your themes, view current time & date from the recent apps list, and most importantly for many, add support for left-hand operations.
Remember that HomeFlip is compatible with Android 4.0 Ice Cream Sandwich and higher devices only.
[via XDA-Developer]