Android 4.3 Jelly Bean: A Summary Of New Features & Improvements
Google officially announced Android 4.3 (still named "Jelly Bean") to a small gathering of technology journalists earlier today. While this is technically a 'dot release', we've seen major new features come with earlier dot releases like 2.3 Gingerbread, and 4.1 Jelly Bean. With that in mind, Android 4.3 is a bit of a disappointment since a) there are no 'ground-breaking' new features and b) most of the new features – as minor as they are – were revealed several weeks ago (courtesy of the leaked Camera app and Nexus 4 firmware). In what follows, we run through said minor new features.

Restricted Profiles
Android 4.2 brought multiple user support for tablets, allowing easier sharing among family members, friends, and guests. 4.3 enhances that by allowing the administrator or master profile to restrict other profiles from using certain apps. It is similar to Kids' Corner in Windows Phone 8.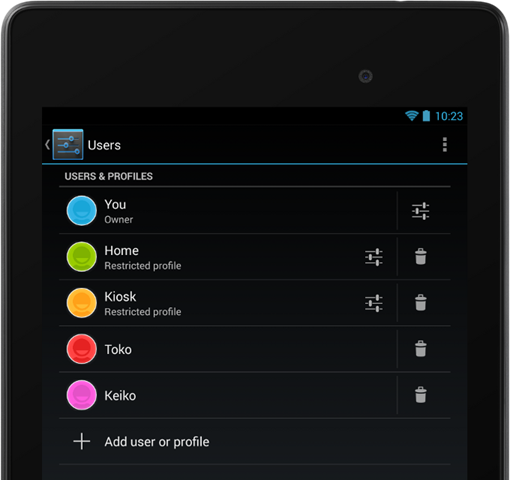 In the future, as more developers make use of the new APIs, owner profiles will be allowed to disable in-app purchases, set a maximum age rating for videos, TV shows, etc.
Autocomplete in Dialpad
One of the things I sorely miss when I use a Nexus device is T9 autocomplete in the dialpad – a feature that is common on custom manufacturer skins like HTC Sense. Google has finally addressed that complaint in Android 4.3.
New Camera and Gallery Apps
Google Play Editions of the Galaxy S4 and HTC One got these apps first; Nexus devices will get them as part of Android 4.3. The new Camera app features a tweaked new radial dial for accessing different options, and allows taking photos with Volume buttons. Read our post on the new Camera app for further details.
Google Keep Becomes a System App
Google's answer to cloud-powered note apps like Simplenote – Google Keep – has become a system app with Android 4.3. We kind of liked it when we reviewed it back in March, and compared it against competitors like OneNote, Simplenote, Apple Notes, and Evernote.
Bluetooth Smart Support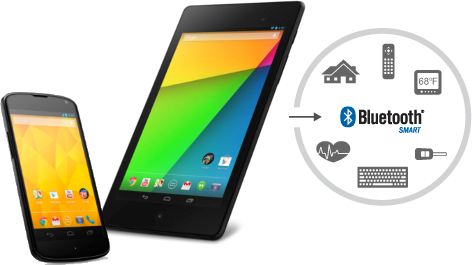 While Apple has supported Bluetooth Low Energy – branded as 'Bluetooth Smart' – since 2012, Google has just jumped onto the bandwagon. As developers adopt the technology, Android devices will be able to communicate with Bluetooth Smart-enabled smart watches, sensors, health monitors, fitness trackers, treadmills and more.
OpenGL ES 3.0
With OpenGL ES 3.0 support, developers will be able to make better-looking games that take more advantage of all the unutilized power available in modern superphones. Expect better lighting effects – reflections, shadows, lens flares, etc. – and sharper textures across all device types.
Master Key Exploit Patched
Discovered earlier this month, the Master Key exploit has enjoyed considerable publicity on news media, much to Google's discontent. The exploit seems to have been patched in Android 4.3.
Better Support for Dual Core and Quad Core CPUs
Android 4.3 comes with an updated graphics renderer that optimizes draw commands, and supports multithreading across multiple CPU cores. Text rendering will become sharper, and apps will load faster than before!
Availability
Nexus devices – the Galaxy Nexus, Nexus 4, Nexus 7, and Nexus 10 – will obviously be getting Android 4.3 first, with Over The Air (OTA) updates starting later today. Google Play editions of the Galaxy S4 and HTC One are next in line. The rest of the Android smartphone camp will get it whenever their respective manufacturers decide to get their hands on the Android 4.3 source code (which has been pushed to AOSP already earlier today), add support for the hardware they use, integrate their custom skins with it, and pass internal and external software tests – a process that can take several months, and is skipped altogether for many relatively older devices out there. Though for those, you can rely on third-party developers of custom ROMs such as CyanogenMod, AOKP, Paranoid Android and countless others to start releasing Android 4.3-based versions pretty soon now.
If you own a Nexus device and would rather not wait for an OTA update, read our post on how to download and install Android 4.3 on your Nexus device right now.
So what are your thoughts about Android 4.3 Jelly Bean? Sum them up in the comments below.