aTorrent Is One Of The Best, Free Torrent Downloaders For Android
The official uTorrent Android client, that was released in the Play Store a couple of months ago proved to be one of the most convenient means for managing your torrent downloads directly on your device. The app may be the preferred torrent downloader for most Android users, but that doesn't imply that it's the only feasible solution available. Fresh out of the oven, aTorrent (beta) is yet another remarkable torrent manager for Android 4.0 ICS and higher devices. The Holo-themed app supports all the rudimentary features synonymous with a torrent downloader, such as multiple simultaneous downloads, local & online torrent file fetching, built-in search engine, detailed information regarding download tasks, custom bandwidth allocation for uploading & downloading, auto start on boot, customizable notifications, enhanced content filtering, and last but not the least, setting the app to download only while the device is charging.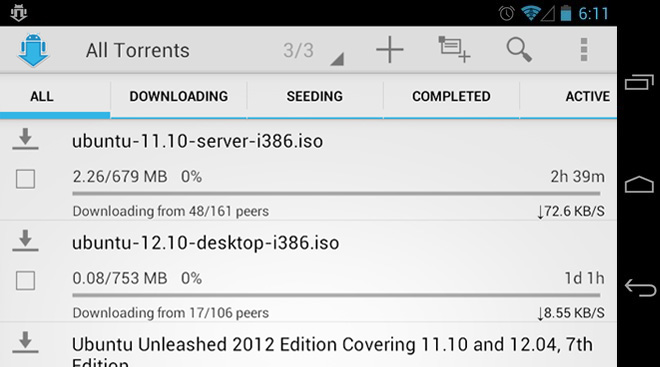 Continuing with the app's set of features – it comes with support for the P2P port, DHT port and UDP tracker port. Moreover, it sports quick controls to resume and pause downloads, as well as delete all the torrents and downloaded content with a mere tap.
Through notification bar alerts, the app keeps you apprised of the overall downloading speed, as well as the total time required to complete all download tasks. There is an option to manually feed in the torrent URL or magnet link to fetch torrents from over the web. You may also use the app's built-in file explorer to import locally stored torrent files.
Unlike the comparatively laggy uTorrent client, aTorrent is feels quite smooth. The app's dropdown menu, as well as various tabs make navigating to the downloaded, seeded, completed and active torrents a breeze. While your downloads resume, you can keep an eye on additional info, such as ETA, number of peer & seeds and trackers.
As with uTorrent, there is no option to download select files from within torrents, nor can you update trackers manually.
All in all, aTorrent has all that it needs to become your Android's primary torrent downloader. Not only does it handle multiple download instances with ease, but also offers full speed content downloading over your chosen internet connection. As with its notifications, we expect the developer to offer the app in a dark theme as well.
Remember that aTorrent is currently in beta, and is compatible with Android 4.0 Ice Cream Sandwich or higher devices only. It is available for free on the Play Store.