The 8 Best Android Voice Recorders
Even though Mobile devices have replaced numerous purpose built electronic devices, manufacturers continue to improve the quality until it matches, or even surpasses dedicated devices. Voice Recording tools are one such application. Beyond the scope of just recording audio, you can put the entire might of the mobile phone in digitally enhancing the audio quality to unprecedented levels. Here are the 8 best Android voice recorder apps available in the Google Play Store.
1. Voice Recorder – Splend Apps
Voice Recorder by Splend apps has two versions on the Play Store, both versions are almost identical in usage. The only way to tell them apart is by one solitary UI element that responds to incoming audio.
The standout feature for this app is the ability to adjust recording quality and recording type. You can opt between MP3, high quality PCM (or wav), AAC (m4a/mp4), and AMR (3gp). For Mp3s you can even adjust the bitrate from 32 kbps all the way up to 320 kbps. You can even adjust if you want stereo or mono recording (presuming your phone supports said feature). You can record while your screen is turned off (notification LED stays on during recording), and even offers an experimental call recorder. The recorded audio functions as any other audio file on Android, you can even set it to a notification tone if you want.
Download Voice Recorder from Play Store
2. Smart Voice Recorder – SmartMob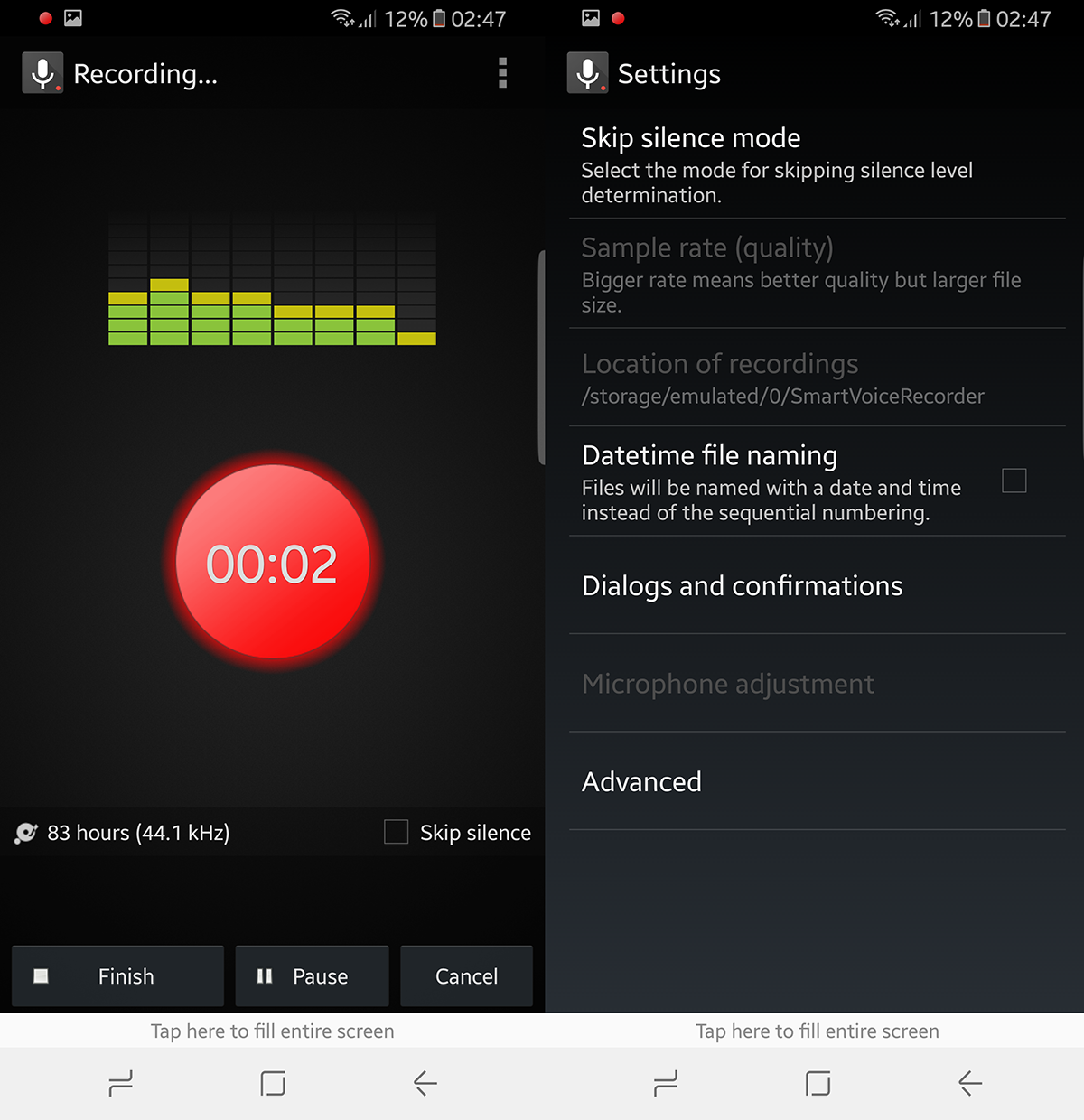 Smart Voice Recorder can adjust the sample rate of the recording (8 kHz to 44 kHz). You can set sensitivity such that it deletes silences between conversations (beta), a live audio spectrum analyzer, a microphone gain calibration tool  to adjust incoming audio's volume, and you even get a timeline on how much longer you can record relative to your remaining storage availability. You can disable ads from an in-app purchase.
Download Smart Voice Recorder from Play Store
3. audio recorder – Green Apple Studio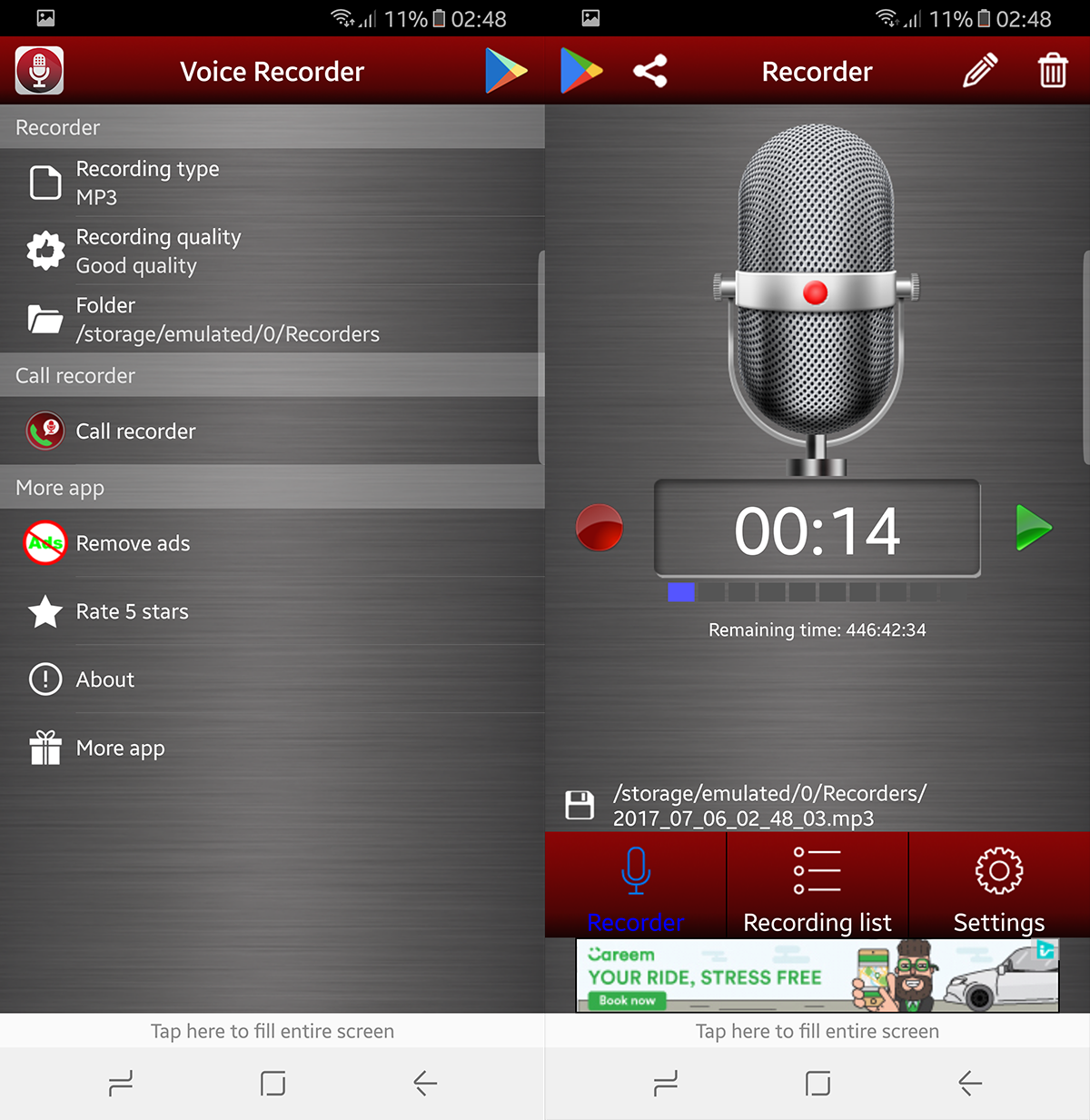 On top of the features promised in the above two apps (adjustable sample rate, gain calibration, file types, etc.) audio recorder has a minimalist interface, you turn on the app, press record and the rest works itself out. You can adjust the quality from the settings in the upper right hand corner.
Download audio recorder from Play Store
4. Voice Recorder HD – Fusion Co., Ltd.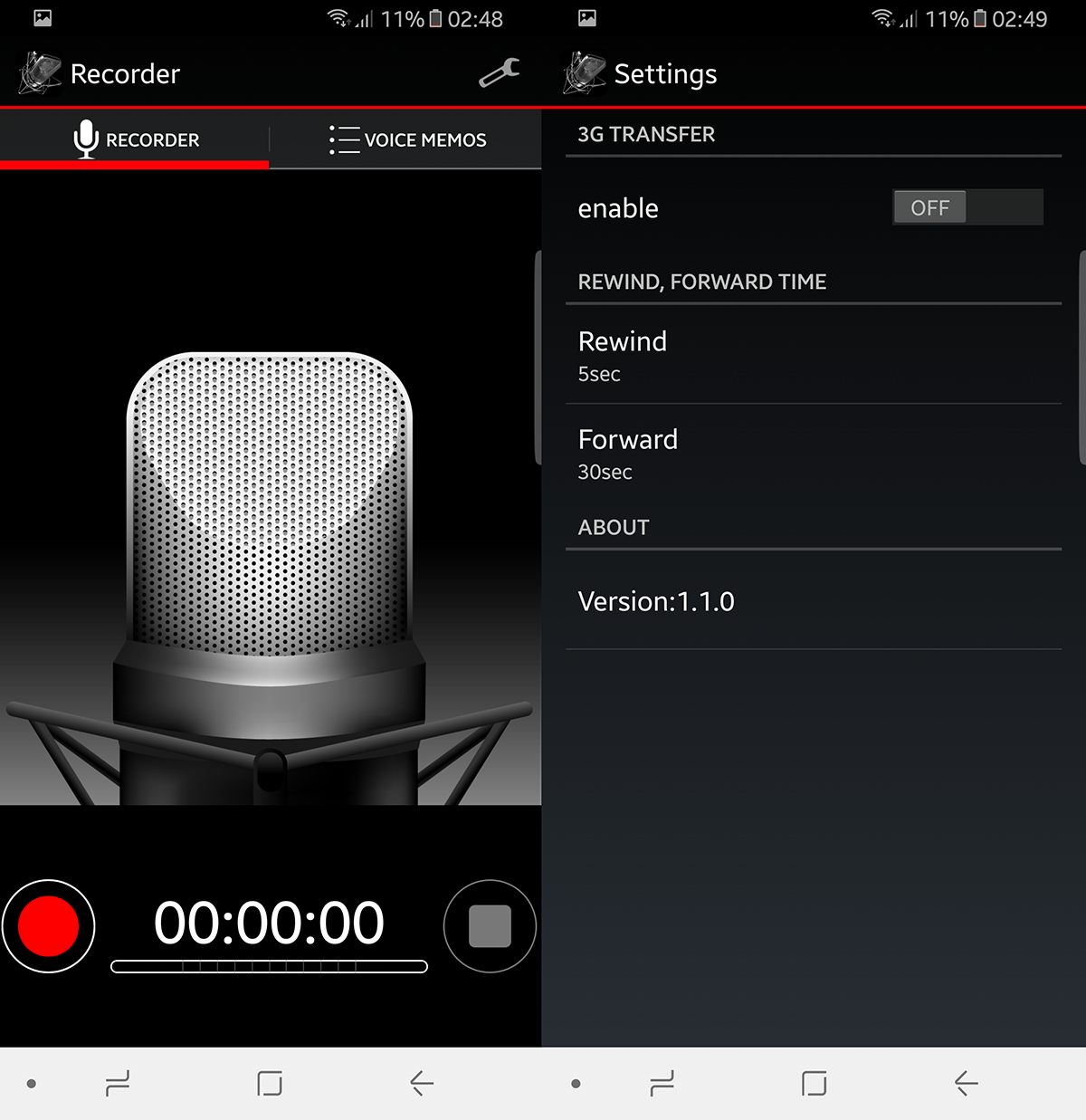 Voice Recorder HD is highly regarded in voice recording circles. The app offers customization for audio quality, support for playback on all major Operating Systems. It even comes with built-in support for Dropbox and other cloud based storage options. You can choose which device you want to record with (assuming you have an external mic). If you are in the middle of a recording, but want to open another app, you don't have to interrupt the recording as it will continue in the background.
5. Samsung Voice Recorder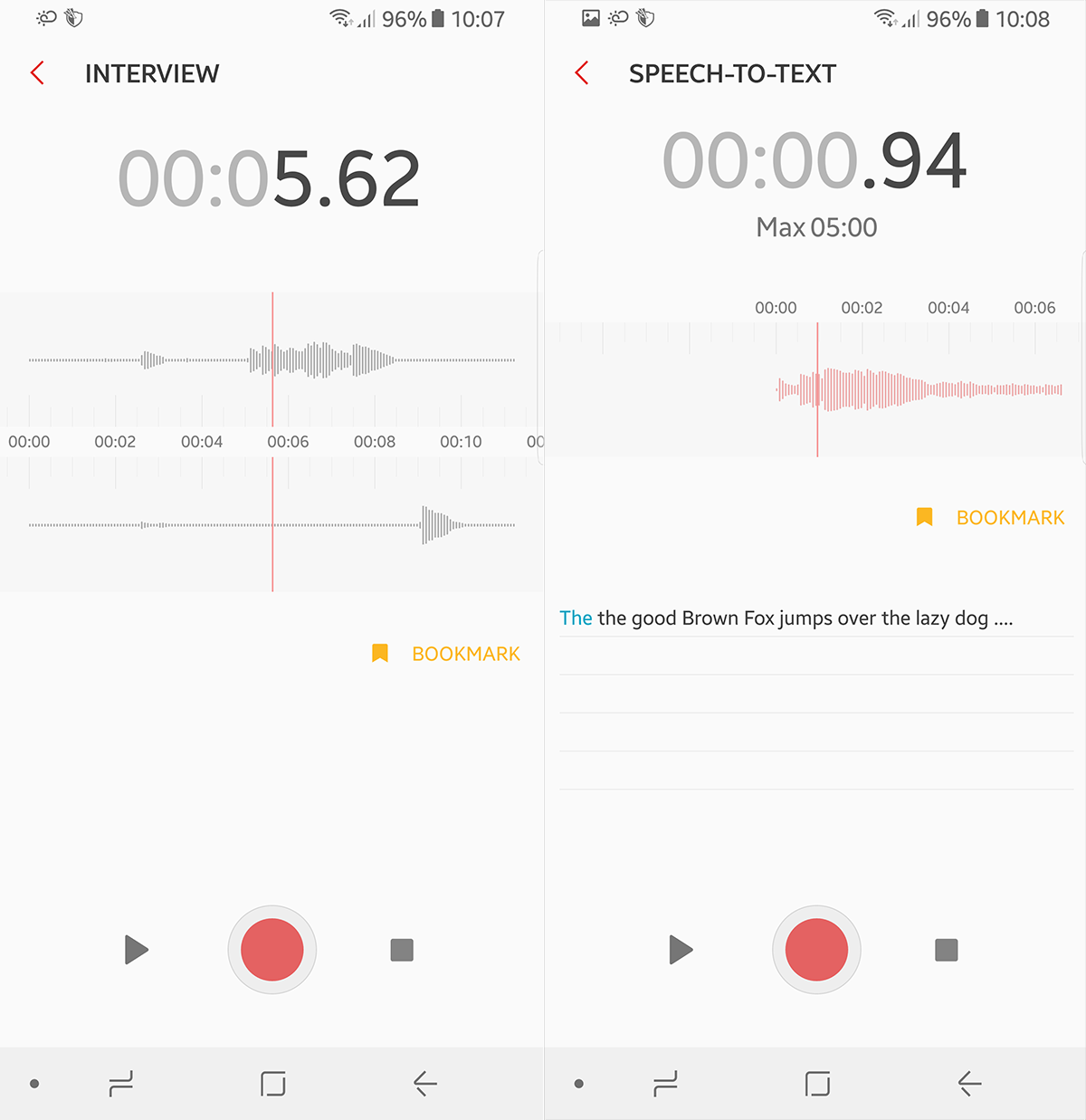 You might be wondering what Samsung is doing in the fray of these small scale apps. Most manufacturer apps are limited to their platform exclusively. Samsung is one of the few manufacturers that offers its apps for all Android users and not just those using a Samsung device.
There are numerous advantages to using Samsung's voice recorder. The standard mode is rather limited in comparison to the other listed contenders here; you don't get formatting options or control over sound quality (not that it is weak by any measurement). However, that isn't why it is on this list. That would be the other two features. The interview mode and text-to-speech. The interview mode utilizes the stereo microphone for an interview session. It will mark both the questions and answers in separate sections so you can trace the conversation easily. The text-to-speech feature is quite nice, though it relies heavily on you having a legible accent.
Download Samsung Voice Recorder from Play Store
6. Audio Recorder – Sony Mobile Communication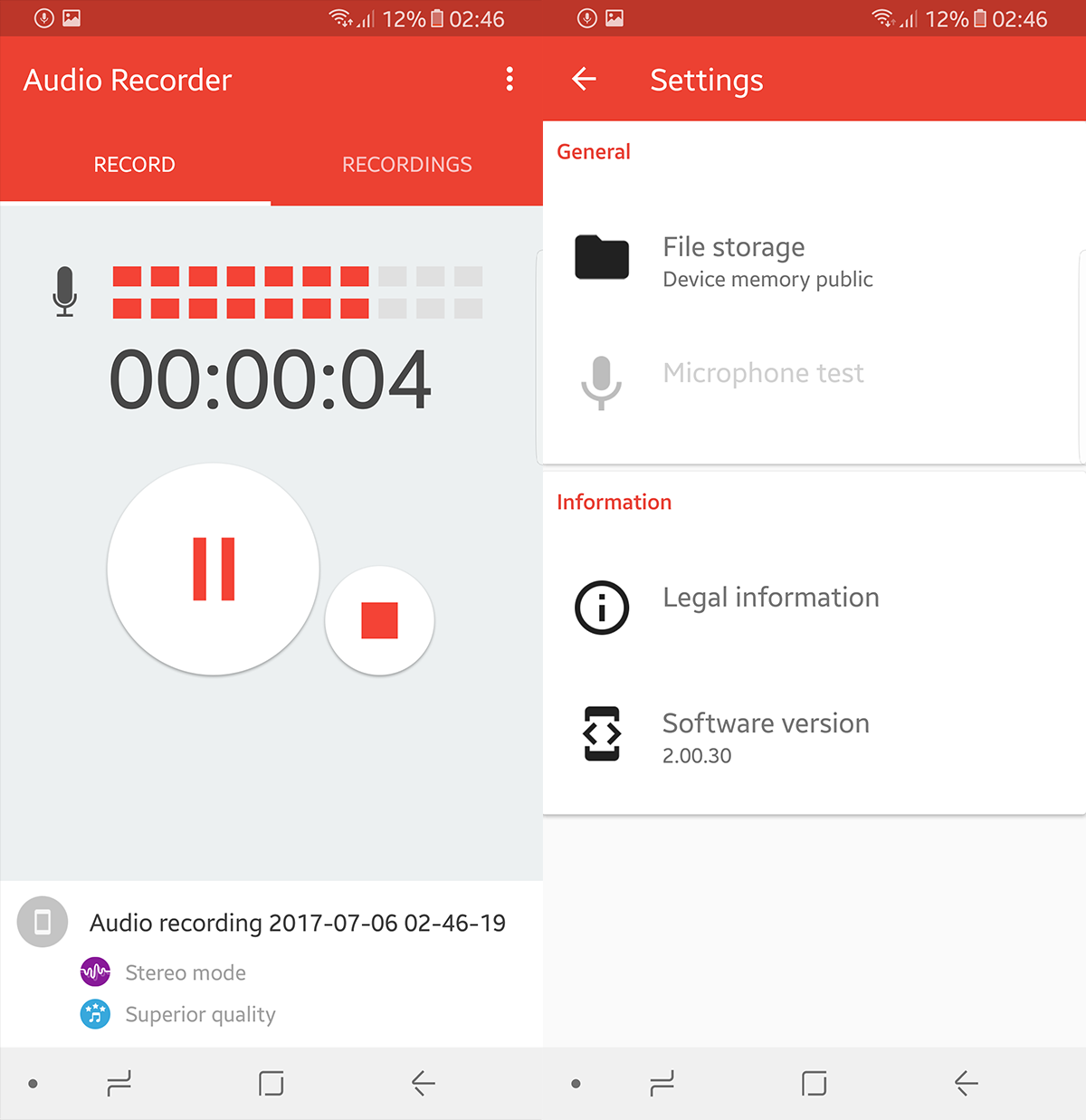 This is the official Sony Audio Recorder application. It comes with an intuitive recording interface, granting you easy access to record, pause, audio editing, recording settings and lets you adjust quality as well. Though it works well with Sony electronic devices (such as headphones and sound recorders), it serves a fine purpose for Android devices in general.
Download Sony Audio Recorder from Play Store
7. Recorder (MP3, WAV) – QuickRec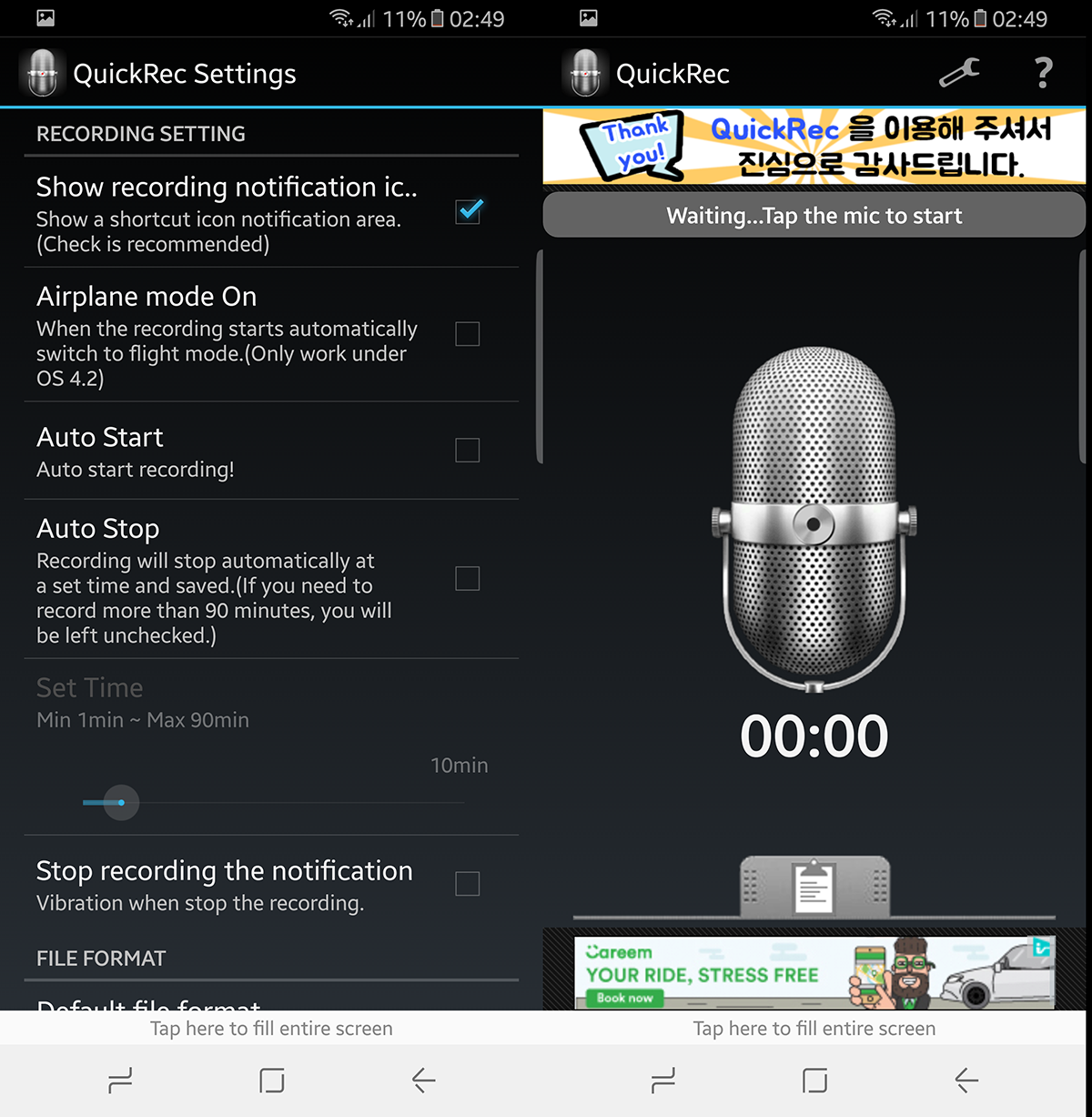 With over 100 Million downloads, QuickRec is quite an efficient and popular tool.  You can load a profile that lets you auto load preferences for recordings. It can automatically turn on "Enable Flight Mode", which blocks calls from interrupting a recording. It is both attractive and functional.
Download Recorder by QuickRec from Play Store
8. Audio Recorder and Editor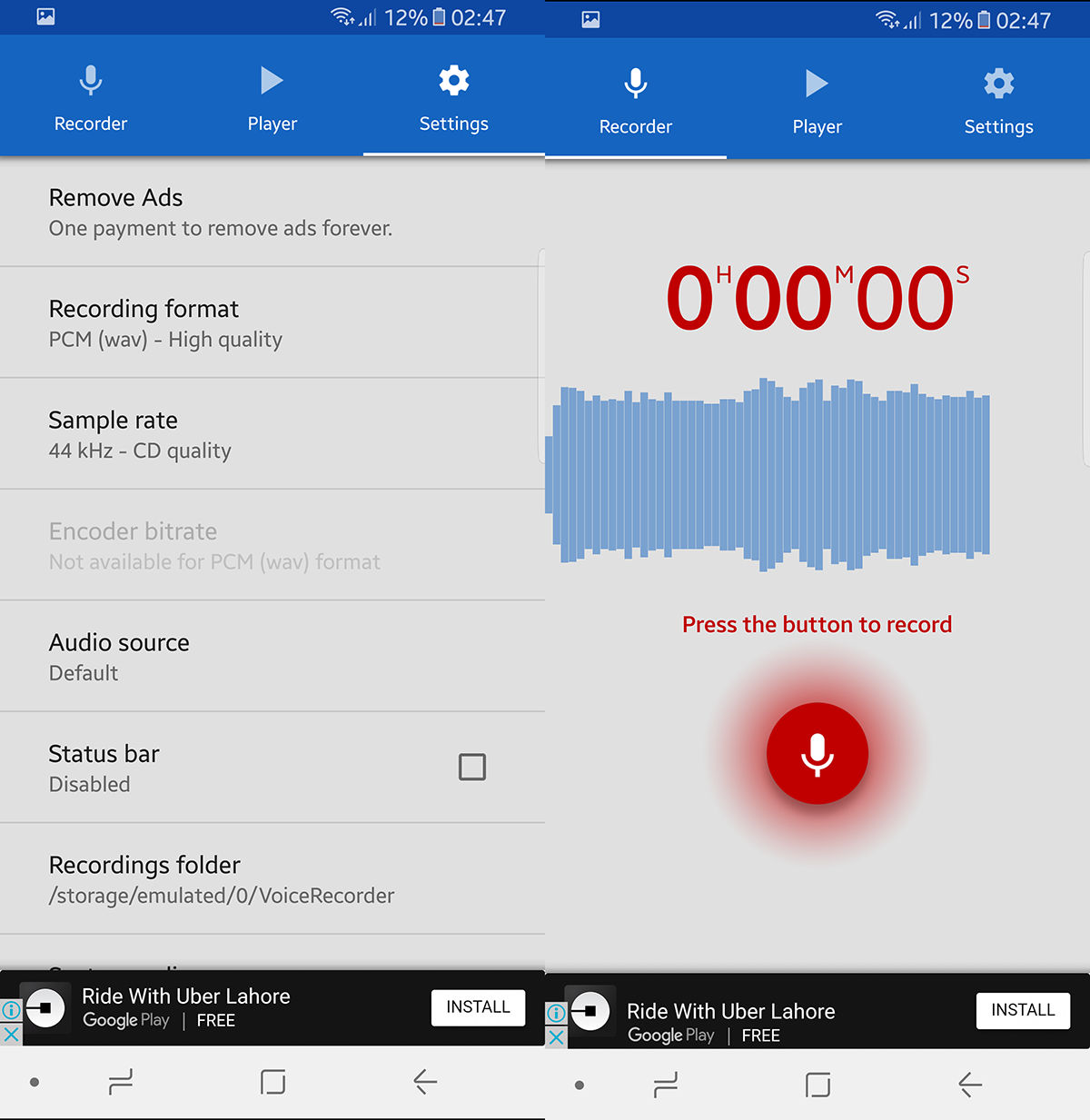 Yes you can choose formatting options upon recording, you can adjust size and trim audio (for easier playback)  and even add effects like adjust pitch/pace/speed or echo the voice to make it more than just a recorder. It is a fun app to have installed. On top of all that, it can even play back previously recorded clips and play any music from your playlist.
Download Audio Recorder from Play Store