Blip TV App Brings Web Series Discovery To Android, iOS, Kindle & Xbox
If you're fond of watching web series, but often have trouble finding new ones to follow, then must be familiar with Blip (a.k.a. Blip.tv), and you'll be delighted to know that web series exploration service has recently expanded its reach beyond the web to mobile platforms and Microsoft's flagship gaming console. The Blip TV mobile app, which is now available for Android, iOS, Amazon Kindle Fire and Microsoft Xbox, allows you to access your favorite personalized Blip content as well as all the videos featured on the original website. You can instantly access all the featured, popular and newest videos, explore content by a number of genres, receive push notifications for the shows you follow, and search for your favorite videos across the network. The app's integration with Facebook lets you keep track of your Blip activities, utilize the various socializing tools offered by Blip, and share your favorite Blip events with your friends.
Through a sleek, well-designed and tablet-optimized UI, the app presents you with all the Blip TV content, complete with the relevant show info, episode details, genres and thumbnails. On smartphones, you get a vertically-scrollable screen displaying the latest stuff featured on Blip, with a search bar at the top. On tablets, you're greeted by a thumbnail-laden screen that can be set to display items in a grid or as a list. At times, the time it takes to load thumbnail previews can be a bit annoying. On the bright side though, the subtle animations while switching back and forth between screens greatly compliment the visual appeal of the app.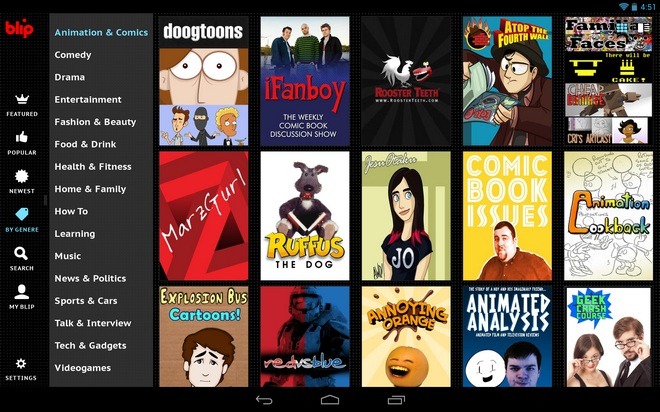 As with most apps, the sidebar is arguably one of the most important features of the entire UI, as it makes navigating to your personal Blip account and various program categories a breeze. Tapping the Genre option displays an additional pane that lists all the video genres supported by Blip to make finding relevant content easy. For each featured show, the app displays detailed information, such as the host, actors, producer, director and relevant links.
Besides watching your favorite videos right within the app, you can comment on them, like them and share them with your friends. By navigating to the My Blip section in the app, you can see details of all the new episodes added under the shows you're following. Also, you may also unfollow a particular show and access your favorite ones from the same screen.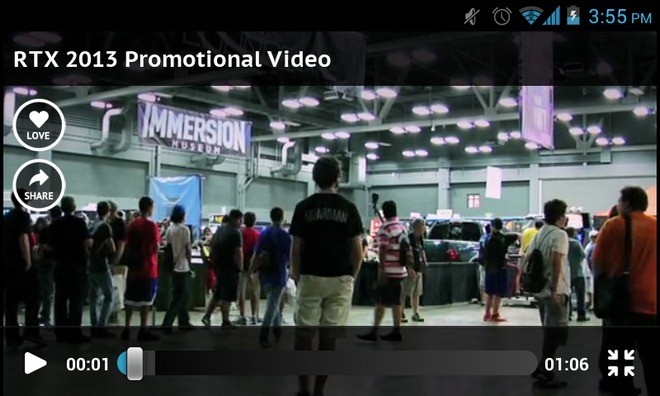 As much as the app impresses with the amount of quality video content it boasts, there are a couple of things that leave something to be desired. We've already discussed the lag while loading the thumbnails, and the app's inability to keep track of your recent navigation positions can also serve as a headache, especially if you frequently need to switch back and forth between screens to find something interesting to watch.
Overall, it's a good debut for the Blip TV mobile app, and the cross-platform availability means you can enjoy all the Blip TV goodness on your smartphones, tablets, eReader and gaming console.
Download Blip TV For Amazon Kindle Fire