Cooliris For Android Puts Photos From 15 Cloud Services In One Place
Let's be honest, the default Gallery viewer that ships on stock Android feels basic. Even though it has all the pretty looks, you can view and delete images with it, and share photos with others, but, well, that's about it and there's nothing more you can do with it apart from all that. Imagine if you could combine all the images you have stored on multiple social network and cloud services, and access them under one roof? Well, that's now possible with Cooliris a new Gallery application that's landed on Android devices nearly two years after its debut on iOS. This new app can aggregate all your photos across several social media platforms into one central location, allowing you to easily search for specific ones.
For the uninitiated, the app basically links up to media from more than 15 services which includes Facebook, Twitter, Instagram, Dropbox, Flickr, Tumblr, Google Drive, OneDrive, Yandex and others. All the images are presented in a really slick looking interface in 3D-esque walls, and you can easily browse and share photos in the simplest way.
The interface of Cooliris on Android shows grid layout of thumbnails of local image folders and social media icons on the home screen. Tapping on a thumbnail opens the pertaining images inside. Local images can be browsed quickly by just tapping on them, of course, but in case of any cloud or social media account, you will first need to sign into it. You can easily add a cloud account by either tapping on its icon on the main screen or tapping the + icon and then selecting the service that you want to link with Cooliris in the next screen.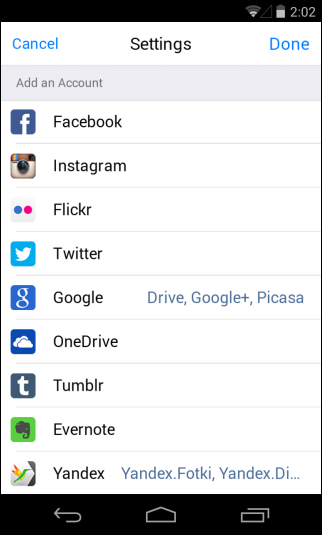 Another handy thing about Cooliris is its snappy navigation system. Swiping horizontally across your screen, for instance, allows you to scroll through the images you have on your device, while tapping on one instantly opens it. In case a photo is loaded from an online source, let's say Flickr, the app lets you preview as well as download it to your local drive with a single tap. What's more, it boasts an elegant slide show mode to automate everything and allows you to share photos via  in-app sharing feature of Android.
Cooliris for Android works on devices carrying Android 4.1, but the developers are working on pushing out updates in the coming weeks that will expand support to devices running older Android versions. Hit the link below to download it to your device.
Install Cooliris from Play Store