DeskNotifier Forwards Notifications From All Android Apps To Your PC
Android apps that support pushing your mobile notifications straight to your computer are a dime a dozen in the Google Play Store. However, if most of the already tried-and-tested ones left you yearning for a simple and more comprehensive solution, you should consider giving DeskNotifier a try. Developed by XDA Member greenday123, DeskNotifier is a lightweight, yet handy app that pushes almost all types of Android notifications to your PC over Wi-Fi as well as USB connections. Be it the missed calls, new next messages, updates from the Google Play Store, or any notifications from various apps, DeskNotifier supports pushing all of them straight to your Windows-based computer via translucent popup messages. In addition, it also lets you send text messages to desired contacts right from your desktop.
As with several other similar apps, DeskNotifier, too, works in combination with a desktop-side server application that helps sending and receiving notifications from your mobile device to the computer, remotely. The desktop client of DeskNotifier is available for free, and can be downloaded via the link provided at the bottom. Both the mobile as well as the desktop applications require minimal configuration. That said, in order to establish a connection between the computer and mobile device through USB, you must have your device's ADB drivers drivers installed on the system.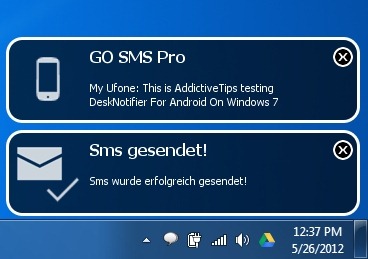 The desktop app, once installed, prompts you to feed in the correct IP settings, and select the preferred connection mode (USB or Wi-Fi), as well as the language (English or German). Provided your computer and mobile device are sharing the same Wi-Fi connection and the relevant app is running on its respective host device, the remote connection is automatically established between both of them. Using the desktop client, you can view all you unattended notifications at a glance, clear with a mere click, and send new text messages to a contact of choice.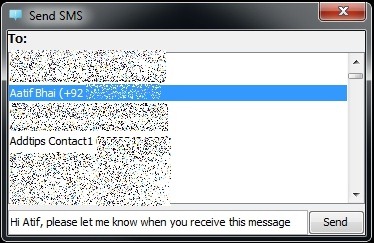 Now, let's shift our focus to the mobile app. Upon launch, the app prompts you to enable the DeskNotifier option from within your device's Accessibility settings screen. From the app's solitary homescreen interface, you can toggle the DeskNotifier service (option to auto-start the app on boot, too), send a test message to your PC, and more importantly, feed the Wi-Fi IP provided on this screen into the desktop app to successfully establish the remote connection.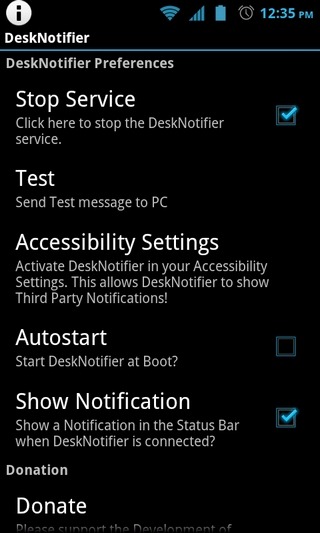 Once successfully paired with the computer, the Android app pushes each and every newly received notification on your desktop almost instantly, and displays each individual notification via a separate translucent popup window right above the notification area. Each notification remains visible for a few seconds before fading away. However, you can sneak-peek at all your notifications by clicking the app's notification center icon any time you want.
To clear an individual notification, just click anywhere in the middle of its popup window. Apart from the conventional incoming call and new SMS notifications, we've successfully tested the app's capability to forward Android notifications from WhatsApp, Facebook, GO SMS Pro, and the Google Play Store app.
Download DeskNotifier for Android (Android Client)
Download DeskNotifier (PC Application)