DiskDigger Now On Android; Lets You Recover Deleted Photos
The team behind DiskDigger – a popular free data recovery solution for Windows – considers your Android data equally important, too, and hence, have decided to bring their nifty little tool to the Google Play Store. Currently available for rooted devices only, DiskDigger (beta) for Android caters to your image recovery needs. Sporting a minimalist interface, the app has the capacity to scan your device's storage for deleted image files (in JPEG or PNG format), and lets you retrieve them in multiple ways. For instance, you may opt to restore the recovered files to a location of choice, or share them via mail. The developers vow to make DiskDigger as comprehensive a file recovery solution for Android as it is for your Windows PC, but as of now, if you're too worried about losing those precious family pictures on your formatted SD card altogether, this handy Android tool can help you retrieve most (if not all) of them with ease.
Since DiskDigger requires root access, you can go through our comprehensive compilation of root guides to learn more about the rooting process for your Android device.
As for DiskDigger, it currently lacks any bells and whistles in terms of aesthetics, and looks to focus primarily on getting the job done. Once launched and granted root access, the app presents you with the list of different partitions of your Android's storage. Select the one that holds (or rather, held) your photos, and hit the Scan device button to begin the scanning process. On the screen that follows, you may hit the File Types button to decide whether you want to detect and recover JPEG, PNG, or both types of image files. All the detected files appear in the left window along with their respective file formats, and you have the option to preview each file that you want to recover.
Once scanning completes, or you've managed to trace your lost image files, all you need to do is hit the Save button to restore them to a custom location. Tapping the Mail button sends them to a mail address of choice. The app has been successfully tested on Galaxy Nexus (running AOKP custom ROM), as it managed to effectively detect and recover image files of both supported formats.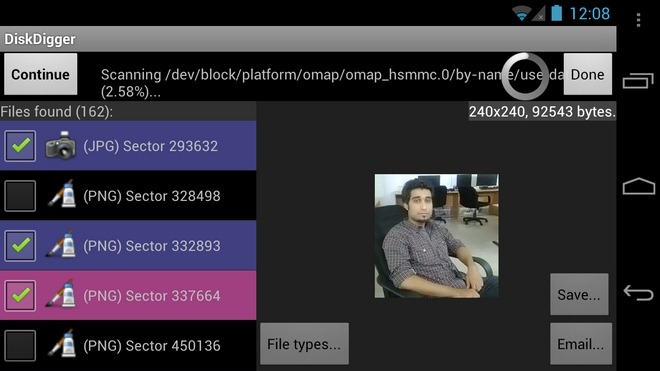 Depending on your device's storage capacity, the app might take considerable time to perform a complete scan. However, given the purpose that it brings to the table, and the effectiveness with which it goes about the business, rest assured that every single minute is worth waiting for. After all, it's about recovering your lost images!
Since it's currently in beta, it shouldn't come as a surprise that DiskDigger for Android is available in the Google Play Store for free. The app requires Android v2.2 or higher to run.
Download DiskDigger for Android