Record iTunes Radio On Android With doubleTwist AirPlay Recorder
iTunes Radio is pretty fantastic for listening to an endless stream of free music. The service carries countless radio stations that provide users with non-stop music access to a wide variety of genres, albums, artists etc. You cannot, however, stream on-demand music in a manner similar to Spotify, nor does iTunes allows recording the music on your PC, iPhone or iPad. doubleTwist AirPlay Recorder is a new app for Android that lets you record any music being played on iTunes via AirPlay . All it requires is a a device with iTunes (such as a PC, Mac or even a smartphone or tablet with AirPlay streaming capabilities) and an Android device, both connected to the same Wi-Fi network. The app is fairly easy to configure and use. Continue reading to learn more about how it works.
As the name suggests, doubleTwist AirPlay Recorder is developed the doubleTwist team, makers of the highly popular Android music player by the same name. The app sports a decent UI that's intuitive, user-friendly and works out of the box. To get started, launch the app and tap the big rounded record button located at the center of the red circle. This in turn will make the app detectable as an AirPlay device over your Wi-Fi network.
Now launch iTunes on your Mac or Windows PC, and start the music you want to play. You can play and record the songs from both your local music library and over the radio. When an AirPlay device is in range, iTunes displays a small AirPlay icon near the volume slider. Just make sure that recording is already activated on the Android app, otherwise you won't see the device listed in the AirPlay devices available on iTunes. The device will apear under the name of 'dT Recorder' followed by your device's name, and clicking it begins the AirPlay streaming session.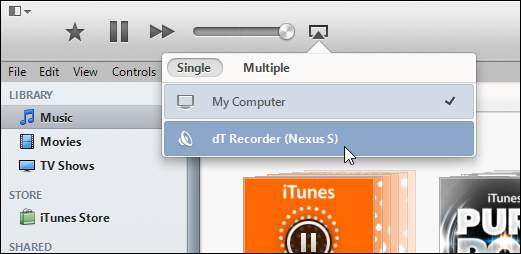 doubleTwist AirPlay Recorder then immediately begins recording the stream it receives via AirPlay. There's not much you can do during the recording other than hitting stop. The song title and album cover art also appear within the app, letting you know which song is being recorded. Furthermore, it also shows the duration of the current song. The streamed audio is saved to your Android device's local storage in real-time.
The free version of doubleTwist AirPlay Recorder records the music with a rather low 32kbps bitrate, though you can upgrade to the Pro version via an in-app purchase to unlock higher quality AAC VBR-based recording.
Install doubleTwist AirPlay Recorder from Play Store