Facebook For Android Gets Emoji, Event Creation & New Photo Upload Flow
The official Facebook app for Android has just been updated in the Google Play Store with several significant features. Using various options included within the latest update, you can now easily and instantly create new events on the go, enjoy sharing emoji and pictures with your buddies while messaging, and share photos even quicker with a totally revamped and user-friendly photo upload flow. You got it absolutely right; the official Facebook Android client now allows creating new events, complete with event details, invitees and privacy settings, meaning that you can now not only glance at your previous and upcoming events & birthdays, but also throw an open invitation to your chosen Facebook friends for tonight's barbeque party, all from your Android! The option to embellish your messages with emoticons and pictures is a welcome addition, too, whereas the improved photo upload clearly indicates towards most users preferring sharing/uploading multiple local photos (from gallery) to capturing and sharing one snap at a time.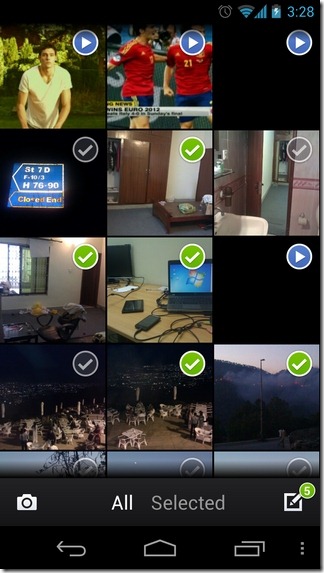 Unlike the previous versions, where tapping the photo upload button directly launched the viewfinder to help you with capturing images, the updated app presents you with grid view of all the photos and videos present in your Gallery, with batch select enabled by default. To capture new photos, you're required to hit the camera button in the bottom. To include an image under selection, hit the check button, whereas to tag and/or rotate the photo, tap anywhere on the thumbnail. Once done with selection, hit the button in the bottom-right, enter a brief description, pick the required contacts, set the sharing preferences and hit Post.
The option to share emoticons is supposed to be showing under the '+' button on the IM interface, however, in our case, we were unable to find it anywhere within the entire app's interface. Tapping the aforementioned '+' button only lets you take a new photo, upload one from your Gallery, or import the required image by searching for it on Bing, as was already the case with previous versions.
To access your Facebook events, just hit the menu button in the top-left and select Events from within the navigation ribbon. Aside from the usual Future, Past and Birthdays tabs in the bottom, you'll notice a '+' button in the top-right, tapping which lets you create a new event. Needless to mention, each new event can be supplemented with all the required details, such as the event name, description, location, date, time, invitees and custom privacy settings.