FaceDropt: Schedule Uploading Of Photos From Android To Private Facebook Albums
In the past few months, we have seen multiple ways to instantly and automatically upload photos from Android to custom Facebook albums. Be it via the Photo Syncing  feature of the official Facebook Android app, or through several third-party offerings, such as Photo Saver and PhotoUp, there are now various effective and reliable methods available to Android users to have their precious photos automatically backed up to private Facebook albums. However, as it currently stands, the Photo Syncing feature is currently available to just a handful of devices, and more importantly, none of the aforementioned solutions currently support scheduled backup of photos. Enter FaceDropt, a simple and free Android app that fills said void in a promising manner. If you're looking for a photo backup solution that can automatically push all photos captured during a set time-frame, to a user-specified Facebook album, then this app has you covered. Once activated, the app keeps running in the background, automatically uploading any images captured during the defined time. The app comes in handy in situations where you want to the instant photo upload feature to be enabled for a specific duration only, instead of letting it persistently and needlessly run in the background, hogging precious system resources.
FaceDropt allows working with one album at a time, and lets you readjust the schedule for the uploading task. Any album created by the app is private in nature, and can be accessed by the owner only.
Using the app is as simple as it gets. All you need to do is launch the app, authorize it access to your Facebook account, hit the Configure Album button, fill in the required details about the event title and time, and you're good to go. Now, as you keep snapping images, they keep displaying on the app's home screen on grid, while at the same time, being uploaded to the selected Facebook album. Through notification bar alerts, you can monitor the overall backup progress. Needless to say, the app keeps constantly running in the background till the scheduled upload time expires, or the task is cancelled altogether by the user. As soon as a new task is defined, the app is at your service again, monitoring and uploading any new photos that you capture within the set timeframe.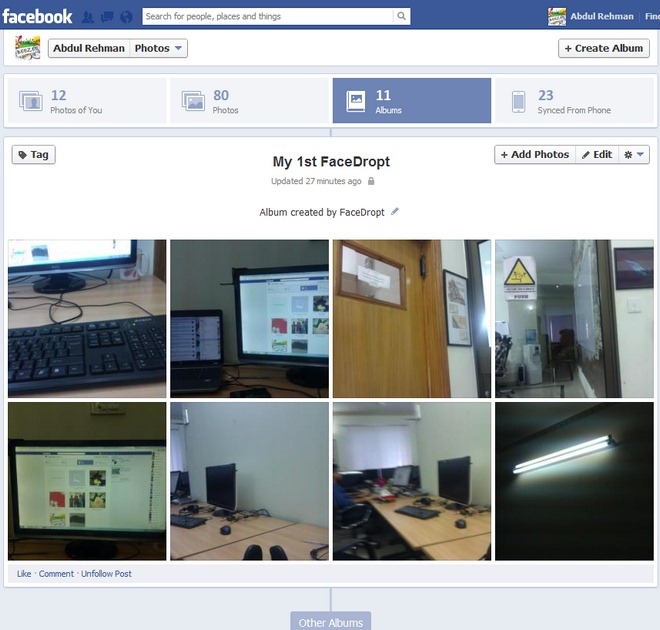 We tested FaceDropt on a couple of devices. While it refused to work properly on Galaxy Nexus (running Android 4.1.1), there were no such issues with the app uploading our photos from HTC Desire Z (running Android 4.1). Not only did it manage to create the custom album on my Facebook Photos, but also uploaded all the images successfully.
FaceDropt is available in the Google Play Store as an ad-supported free app; however, through in-app purchasing, you can get rid of all the ads once and for all.
Download FaceDropt For Android