FFF Is A Dedicated Gallery For Facebook Photos & Videos [Android]
The social networking giant, Facebook, is all about sharing. Be it your thoughts on a specific topic, details of an upcoming event, photos of your new skateboard, video highlights of a local football match, or birthday wishes, the popular online service lets you share it all with utmost ease. Amid the sea of shared content, it can prove quite challenging to sift through and enjoy the the posts you want to see on your Facebook Wall. What's more annoying is that even the official Facebook mobile app doesn't help a great deal in this regard. Enter Fun From Friends (or FFF), a free Android app that focuses solely on presenting your Facebook Wall photos and videos in fine style. The app comes with a native video player, image gallery & bookmark manager, and lets you enjoy slideshows of images & videos plucked from your Wall. In addition, FFF supports HD video streaming, and allows you to specify a preferred image quality.
Once you authorize the app to access your Facebook account, you're ready to use it as a dedicated multimedia browser for your Wall posts, stripping all other Facebook trinkets aside. As with most quality third-party Facebook mobile apps, FFF supports all customary socializing tools, including sharing, commenting, posting and liking etc.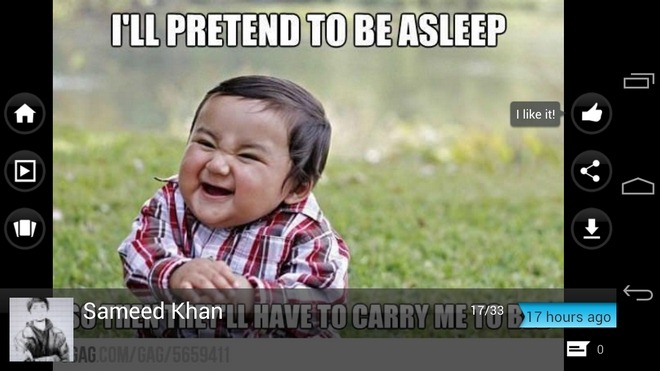 The app's home screen comprises three shortcuts: News Feed, My Collection and Settings. News Feed is from where you may start checking out a unified stream of all the latest photos and videos shared on your Facebook Wall. My Collection displays a compilation of your bookmarked items, whereas the Settings screen lets you set the default video streaming & photo quality, and specify the custom slideshow interval.
When on the News Feed screen, you can opt to browse shared content by manually swiping sideways, or in a slideshow. There's also a controller to enable thumbnail preview of all the items constituting the feed. Said feature makes browsing a breeze. Alongside the left edge, you can find controls for liking, sharing and bookmarking an item. The bottom half of screen displays brief sharing info, such as the user, time, number of likes & comments. Tapping the user's avatar reveals all the comments raked by the post. To dismiss the action buttons only, just long press anywhere in the middle of the screen, whereas to enjoy a full-screen view, tap the screen once.
Items bookmarked on the News Feed screen can be managed and viewed in a slideshow in the My Collection screen. Any image that you bookmark can also be set as your device's wallpaper right from within the app.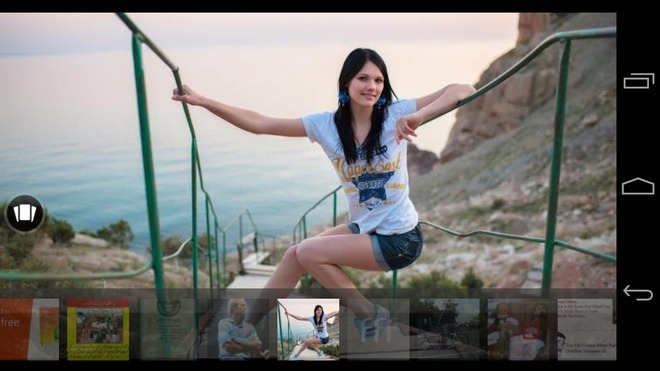 To wrap it up, Fun From Friend takes a fresh approach towards combing and displaying your Facebook Wall photos and videos. However, there are a few areas where the app could use some improvement. Lack of support for browsing through your own Facebook photos & albums, and a home screen widget makes the app feel incomplete. In terms of aesthetics, the app could work on a UI that is entirely in compliance with Android's latest design standards.
All glitches and blemishes aside, if your addiction with Facebook is all about finding out what interesting photos or videos your Friends have been sharing lately, Fun From Friend can prove to be an ideal platform to satiate your needs. The app is soon to be released for iOS as well.
Download Fun From Friends (FFF) For Android