Flakka Brings Real Time Photo Streaming With Group Chatting To Android
Gone are the old days when transferring multimedia content over long distances via MMS, email attachments, file sharing services and other similar means was considered to be the most effective solution to instantly share stuff with your loved ones and colleagues. As we have already seen with certain mobile apps like Familiar and Intel Pair & Share, you can now remotely stream photos straight to the recipient's monitors in real-time directly from your smartphone/tablet. However, the catch with both said solutions is that they require a dedicated desktop client to be installed on the recipient's computer. This is where Flakka – a cross-platform photo sharing service for web, iOS and Android – looks to create the difference. The companion app of Flakka is available for free, and is capable of streaming photos from your smartphone and/or tablet to any web-enabled device (TV, mobile or web browser), thereby not requiring your recipients to set up any desktop client applications whatsoever. Streaming is supported over Wi-Fi as well as the internet, and all the participants can also share their thoughts about the shared stuff with each other through real-time chatting. To find out how to use Flakka, continue reading past the break.
Basically, Flakka establishes a private online photo streaming session with your preferred contacts with whom you wish to share the memorable moments of your life via pictures. You may invite or add multiple recipients to a particular session, and share photos with them from your Gallery as well as Facebook albums. Once a session is started, all the participants – whether using the Flakka web app or mobile app – can show their favorite photos to each other by just swiping sideways on the screen. If you like a photo from a particular recipient, you can save it to your device with just a tap!
Better yet, Flakka also supports a 'laser point' feature, using which you may point at a specific spot on the photo to brief your recipients about it. Obviously enough, the recipient on the other end is able to see the pointer on their end to learn exactly what are you referring to on the picture. Likewise, any spot pointed at by another participant is reflected accordingly across the devices of all other users.
To begin with, the app requires you to log in with your Facebook ID. Past the login phase, you'll have to decide whether you wish to initiate a new sharing session or join an existing one. In the latter case, you'll be required to provide the session title/code to be able to view shared content. It is worth mentioning here that each session created via Flakka is assigned a random title that is displayed in the top-left corner of the app's main interface.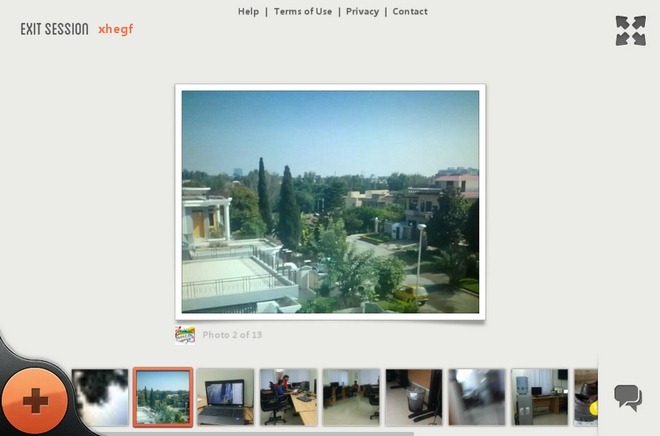 Flakka supports multiple ways to import photos that you wish to share. For instance, you may grab fresh snaps from your device's camera, select already captured or saved images from the Gallery, or choose specific images from your Facebook albums. Each selected photo is first re-sized, then uploaded to a private Facebook album under your account, and eventually gets displayed in the app in the form of a filmstrip. Needless to say, should you select a photo from your existing Facebook album, the private album uploading part will be skipped altogether. You may select multiple photos from different sources for each streaming session and once done, you can wirelessly stream those images to your recipients' devices. Moreover, the recipients in return can also contribute to the stream by sharing their own stuff in the same manner.
As user-friendly and impressive as Flakka may be, it is currently missing several basic features including the option to zoom photos, play a slideshow of selected content, and stream other media file types (though this may intentionally be considered beyond the scope of the app by its developers). However, that doesn't detract one bit from what in all other aspects is a very promising app, and a very efficient one at what it does.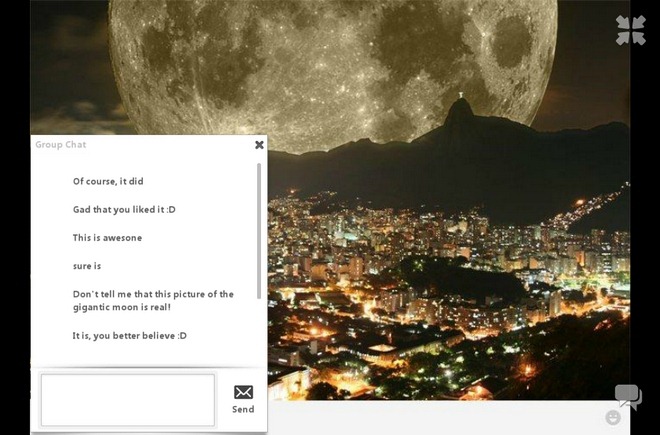 A future update of Flakka is expected to bring along what seems to be a very interesting feature. In the developers' own words, "Everyone promises to send you their photos but normally you don't get them. The next version of Flakka will automatically find photos that belong together and let you share them with just one click.". We are guessing this would be about photos taken by different people at the same event, and the app would automatically detect those when they are all connected together in the same Flakka session, allowing quick sharing of those photos with everyone involved.
Please note that in order to work properly, Flakka requires Adobe AIR to be installed on your Android device.