Get Chat Heads-Like Floating Notifications For Calls On Android With CallHeads
When you're capturing a photo or writing an important email on your smartphone, any incoming call can be downright annoying, as it simply interrupts your workflow. While you can enable airplane mode to make sure you don't get interrupted at such occasions, missing out on important calls (like ones from your boss) isn't too practical for many of us. CallHeads is a small yet highly useful Android app that aims to get rid of this annoyance for good. It gives you more flexibility and control over what to do with an incoming call when you are already using an app, by bringing Facebook Chat Heads-like bubbles into play. The call is displayed as a bubble over any on-screen activity, meaning what you're currently doing doesn't get disrupted, and you still see who the call is from. You can tap and hold this bubble called 'call head' to accept/reject the call, or postpone it in order to pick up a few seconds later if you can't afford to instantly dismiss your current activity.
Upon launch, CallHeads presents a tutorial to get you acquainted with how it really works. You can always come back to the tutorial screen later anytime you want from the home screen. The home screen, which is actually more like a settings screen, allows you to customize various aspects of CallHeads, such as adjusting the postpone time in seconds.
CallHeads also lets you specify whether to mute the ringtone or postpone the call  when you touch the bubble. Muting can be toggled under Sound screen. Call Head Visualization lets you alter how caller information should appear along with the bubble. You can choose anything between caller information around the bubble, at top of the screen, or within the bubble head. Likewise, you can change the animation for the call head too. The app uses a glowing animation by default, but you can easily change it to either shaking or none. That's all there is to the settings screen.
Once configured, CallHeads takes over the default full-screen Phone app, and displays a call head bubble upon any incoming call. This call head displays the caller's photo, along with their name. You can tap and hold the call head to move it anywhere on the screen. When you tap on the bubble, CallHeads displays accept, reject and postpone options along the edges of the screen, and you can execute your desired action by moving the bubble to the desired edge.
The most interesting bit is that CallHeads works on any app, including web browsers, camera, and even full-screen games. When the phone is on standby or lock screen, your standard phone app is used to receive the calls.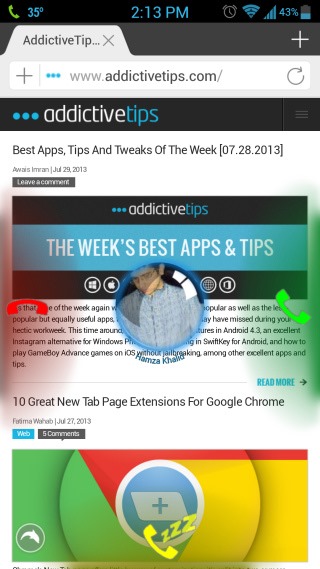 Overall, it's a really nice addition to the Play Store, especially for those of us who find incoming calls annoying when indulged into some other on-screen activity. The app that is available for free and can be installed from the link below.
Install CallHeads from Play Store