Google Play Games For Android: A Detailed Hands-On Review
Google Play Games was one of the few new features of Android 4.3 Jelly Bean that were announced at at Google I/O this year, though back then, it was showcased in more of a developer-focused manner, highlighting how developers will be able to incorporate it into their games. At today's "Breakfast with Sundar Pichai" event, the app was finally made available (along with Android 4.3 itself for the Nexus devices). We've taken it for a spin and from what we've seen, it looks impressive, apart from one rather major annoyance. So as always, join us as we go on an in-depth tour of Google Play Games and all the features it has to offer.

When you launch the app (which is available on Play Store for a limited number of regions), you'll be presented with its home screen (also dubbed 'Play Now', as you'll see in the menu shortly) that contains 'My games', 'Players', 'Featured games' and ''You may know' sections. As has become a standard with all Google Play apps, you'll get info cards for empty sections, which will get replaced by actual content as you start using the service – in this case, the games you play and the people you interact with.
As you can see, two of these sections focus on games themselves, while the other two are about people. This way, you can discover not only games to play, but also other players to play them with, highlighting the service's social and multiplayer gaming aspect right on the home screen itself. As you can expect, the social aspect is powered by Google+, so if you are already using Google's social network, you'll start seeing your contacts here from the very first launch.
Just like other apps by Google, Play Games features the new Holo interface, with a navigation drawer that slides in from the left edge of the device and provides quick access to all of its sections, which we shall be exploring shortly. The menu, on the other hand, lets you switch your Google account (in case you have multiple ones configured) to use with the app, access the app's Settings section, and open the online help page for it. Speaking of settings, all you can do for now is toggle notifications for your games, choose who can send you game notifications (people in your Google+ circles only, everyone, no one), and manage the games for which you have muted the notifications.
Now let's take a look at the 'My games' section. Here, you'll be able to view a list of all of your games (including currently installed ones as well as those you have installed or purchased in the past with the active Google account), your most recently played games, and only the games you currently have installed. For the games that are currently installed, you'll see play buttons for directly launching them.
Jumping to the social side of things, you can find all users of the service (as long as they have publicly visible Google+ profiles, of course), most recently active ones, and ones you're likely to know. You can directly add any of them to your Google+ circles from here without having to go to Google+ itself.
Tapping on any user's card opens their profile, where you can see their profile picture and any circles you that have them in, along with the games they have most recently played. You can similarly view your own profile by tapping 'My activity' from the navigation panel.
Remember the 'Recommended Games' section on the home page? It's pretty good for discovering games listed under three categories: Featured, Popular and Popular Multiplayer. It's great to see a separate section for multiplayer games here, meaning you don't have to go looking for them through a list that may contain single player-only games as well. All games listed in the multiplayer section take advantage of the multiplayer APIs offered by Play Games services and work with your Google+ account.
Tapping on any game's tile from anywhere in the app brings you to its dedicated page, which isn't its Play Store page. Here, you can view details about the game, see what features it offers among Realtime Multiplayer, Achievements and Leaderboards (there could be more too perhaps, in games that we haven't had a chance to try out yet). For games that support the latter two, you'll see tabs for these, listing all available achievements, showing the ones you have unlocked, and listing all available leaderboards for the game, letting you rankings of players for each.
So how do these social features work? Games that support them will offer you a way to sign in with your Google+ account in order to enable those features. The way a particular game presents you with this option will differ across games, and some might offer you the option only after some basic training or tutorial playback. All games that are listed in Play Games as multiplayer will offer this option, though.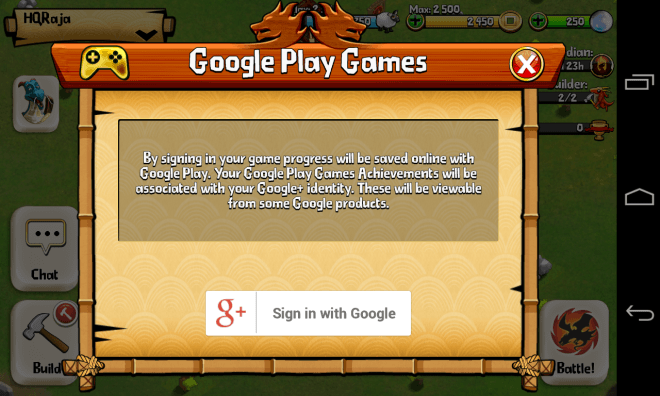 Upon clicking the 'Sign in with Google' button, you'll be shown the permissions the game will require. You can choose who can view your activity for that game, and edit some of the optional permissions here as well. Once connected, you'll be able to make use of all the social and multiplayer features of the game. In addition, your game progress will also be saved on the cloud for games that have this feature enabled.
Depending on the game, you'll also be able to post your achievements on Google+ directly from within the game, to boast your progress to your circles, and also to ask them to join you or challenge them to beat your score. However, the real deal of social integration when it comes to playing multiplayer games. In this regard, upon triggering the appropriate in-game option for multiplayer mode, you'll be able to select players for the game. The options available here include a brilliant 'Auto-pick player' feature that selects a random player available to play the game with you, or you can manually select any of your Google+ contacts that show up in the list. However, this is where we spotted a huge shortcoming: lack of search. Even editing the navbar in our custom ROM (as you can see in the second screenshot below) and manually adding the search key there to see if that lets us search for contacts in our list didn't help.
To make things worse, the list loads contacts as you scroll, meaning if you have a huge list of people in your Google+ circles and the name of the person you're looking for starts from one of the last few alphabets (S, in our case), you'll have to keep scrolling endlessly, waiting for the contacts to load each time, till you reach your desired contact. This needs to be fixed ASAP; in fact functionality this basic shouldn't have been overlooked in the first place! Also, there's no way to see the email address of any of your contacts here, meaning if you have two profiles of one of your contacts added on Google+ (like I have in case of Sameed; his AddictiveTips profile and his personal one), you won't be able to tell which one you're inviting.
These shortcomings aside, everything else works really well – especially the Auto-pick feature, which was quick enough in our testing to pair us with the anonymously named 'player_7961' (sorry for beating you at GlowPuzzle, mate.)
When you get invited by someone else to join them in a game, you get a notification for it, tapping which takes you to the 'Invitations' section of Play Games. There, you can see a list of all your notifications, decline the ones you're not interested in, and hit 'Play' on any of them to join that game. When it came to the invitation I received from Sameed for the game I had open at that time, I was shown an instant popup that offered me to accept it or pass on it, though I'm not absolutely sure whether this particular feature works the same in all games the same way and with the same interface, or differs from game to game.
Remember the Leaderboards section that we found on the game info pages that we saw earlier? The same leaderboards are accessible form within games as well (depending on the game), and irrespective of where you access them from, they'll show you the current top-ranking players for each in two sections: 'My circles' and 'Public', the former being limited to only your contacts (and you), and the latter showing global ranking that includes all players of that game with a public Google+ profile. You are also shown a rounded figure for the number of players for that game on the leaderboard, along with the top percentile that you rank in.
To sum it up, Google Play Games fills a major void that has been there in the Android ecosystem since its infancy, and that became even more pronounced ever since Apple introduced its social Game Center in iOS 5 and improved it with Challenges in iOS 6. With support for cloud saves, Google+ integration, leaderboards, achievements and multiplayer gaming, Google's offering is pretty solid! We're hoping Google fixes the lack of search option in contacts when inviting others for a multiplayer game ASAP, and makes the process of identifying particular profiles in the list easier for profiles with same/similar names, and people with multiple profiles that we have in our Google+ circles.
Another room for improvement is on the user profiles; it'll be nice if the background image shown there reflects the cover image of the user on Google+. Also, being able to challenge a contact in a game that they play should be made directly possible from their profile page. Apart from these, the app looks and works really well, and is certainly a welcome addition to Google Play.
The app can be installed from the Play Store for free by anyone in the supported regions (US, Canada, Australia, many European countries and some others as well) using the link provided below, while for those not lucky enough to be in the supported regions, we are providing the APK for sideloading as well.
Install Google Play Games from Play Store
Download Google Play Games APK | Mirror