Google Search For Android Gets New Now Cards, Song Recognition, Camera Search & More
The holiday season is just around the corner, and if your vacation plans involve a lot of traveling and sightseeing, you better grab the latest update of Google Search meant for Android 4.1 (and higher) devices. Powered by improved search capabilities, Google Now Smart Cards and voice commands, your Android's stock search app is now equipped to keep you apprised of the weather and other information regarding your touring destination. To help you easily explore all the fun places and upcoming events around you, the app will display relevant cards and also show informative content about popular locations captured with your device's camera.
Once within the range of the airport, Google Now will display a QR code-containing Smart Card for your boarding pass to make the check-in process absolutely hassle-free for you. In addition, search suggestions have been improved considerably, a Shazam-like real-time music recognition feature has been introduced, option to natively scan barcodes, and directly post to Google+, support for displaying birthday cards from Google+, deeper scanning of information from your Gmail account, and many more noteworthy changes have been incorporated within what is undoubtedly the biggest Google Now update till now.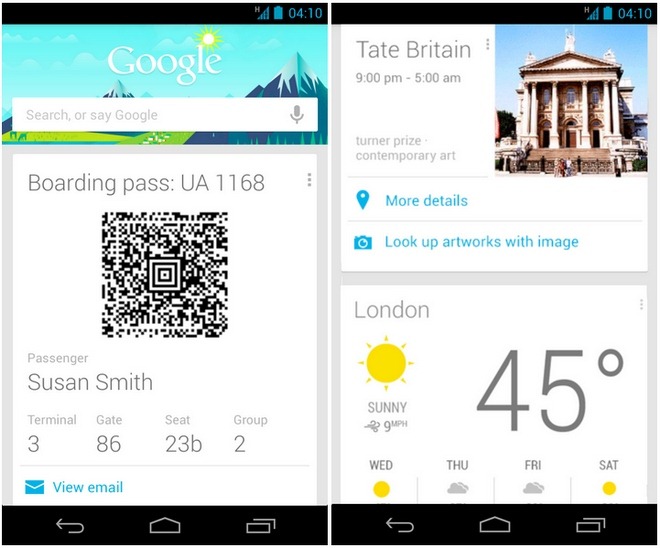 As with all other Google Now features, most of the aforementioned features can be configured from the app's settings screen. Upon tapping the Menu button on  Google Now's main interface, you'll find the new 'Search with camera' option, which can be used to quickly fetch online information about the objects or places around you Google Goggles style. Barcodes can be scanned quickly through the "scan a barcode" voice command.
To identify the currently played music track, simply speak "what's this song" into your device's microphone, place it near the audio source, and wait for the identification process to complete. Once recognized, Google Now will also display track info from the Play Music service.
Similarly, you can share your thoughts over Google+ via the "post to Google+" voice command followed by your message.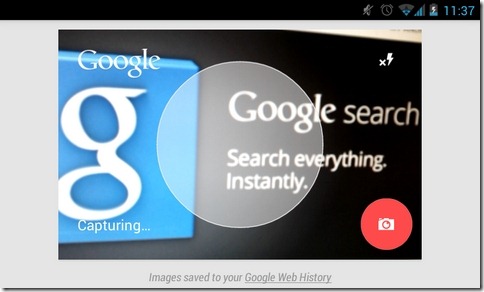 The new Google Now can keep track of your average walking and biking activities for the entire month, and can also suggest useful online sources to help students while they search through the web conducting research on various topics.
Note that the boarding pass feature is currently available  for United Airlines only, but it won't be long before other services are added to the mix as well.
So what are you waiting for? Just hit the Play Store link provided below to download the latest update of Google Search to your Android.
Download Google Search For Android