GramWidget Is An Awesome Instagram Widget For Android Home & Lock Screen
Since the official Android app of the popular social photo-sharing wonder Instagram doesn't (yet) support a dedicated widget, most avid users have to rely on a third-party offering to take a glance at the various activities taking place on the network from their home screens. In this regard, we have already reviewed an elegant solution by the name of BlinxBox that impressed us greatly with its overall features. However, with the widget no longer available in the market anymore, it's a great opportunity for the developers community to offer a viable alternative. That's exactly what the developer of GramWidget has done! Just like BlinxBox, GramWidget is a third-party Instagram Android widget capable of circling your favorite photo content from the service on your home screen. Users on Android 4.2 or higher also get the option to set GramWidget, complete with Instagram's picture-filled goodness, on their devices' lockscreens to enjoy an unending stream of high quality photos from their Instagram account.
A good thing about GramWidget is that it functions independent of the official Instagram Android app. Moreover, setting up the widget itself is as simple as it gets. It offers you individual settings for the home screen as well as the Android 4.2 lockscreen widget.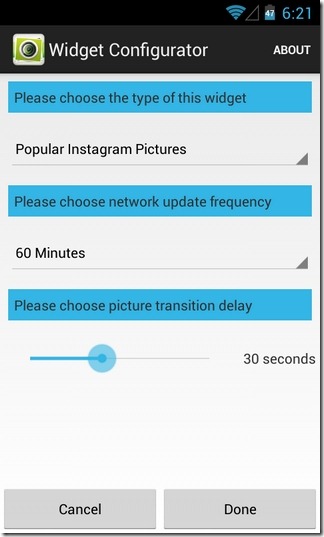 The widget can sport user-selected content such as popular Instagram photos, images of people you're following, or pictures from selected users and tags. In terms of customization, the widget supports specifying the time to update content with respect to your Instagram account. In addition, you have the option to select custom transition delay between any two consecutive photos.
The widget is resizable in nature and sports various controls that help you with manually switching back and forth between photos, updating the widget's content, and tinkering with its basic configurations. That's not all; it also displays the total number of likes and comments alongside each photo.
For those unfamiliar with Android 4.2's lockscreen configuration, all you need to do is swipe towards the extreme left on your lockscreen, tap the + (new widget addition) button, select GramWidget from the list of available widgets, configure the widget as per your requirement, and you're good to go! By default, the widget is displayed in its compact form; however, by swiping down from its bottom edge, you may expand it to fit to the maximum allotted screen space.
Going by the developer's word, the future iteration of GramWidget is going to bring support for Android 4.2's Daydream feature, so that you can enjoy your favorite Instagram photos in a screensaver-like manner while your beloved Android device is docked.
GramWidget is compatible with devices running Android 2.3 Gingerbread or higher. You can grab the widget for free via the Google Play Store link provided below.
Download GramWidget For Android