How To Root Samsung Galaxy Note 10.1 With Odin
Merely hours after the official release of what is probably Samsung's greatest Android device so far, the Galaxy Note 10.1 has already been rooted! While this news is great for all future prospect owners of this beauty of a tablet, it should double your delight if you have already ordered yours. In what follows, we will guide you through the detailed method of rooting yours just as soon as you get your hands on it.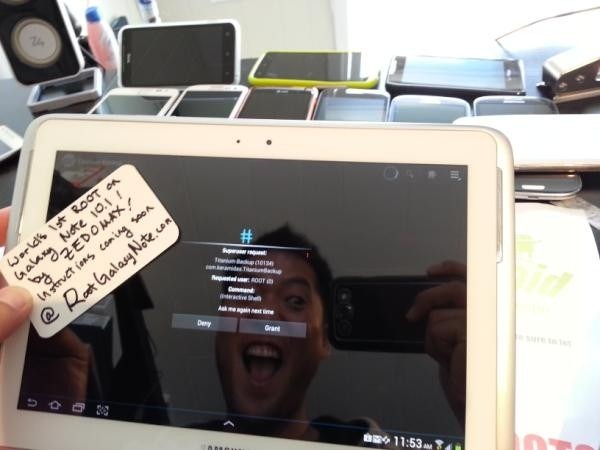 As you might already know, after the huge success of Galaxy Note, Samsung has just released the Galaxy Note 10.1 as their flagship Android tablet and from both the looks and the specs, the device seems to be all set to establish itself as the number one Android tablet of choice for most users, and potentially even dethrone the iPad from its market position, though that might be a little too ambitious a thought for the moment. Regardless, the device is a sheer beauty and packs enough power under the hood to be considered the top of the crop in the tablet world at the moment. What is the next thing you need when you get your hands on such a device? Root access of course, to harness all that power the way you want, and that's what we are going to show you how to accomplish.
Here is a video of the whole process but if you need detailed step-by-step instructions, we've got you covered just below the video.
Enough details; let's get down to rooting the tablet.
Disclaimer: Please follow this guide at your own risk. AddictiveTips will not be liable if your device gets damaged or bricked during the process.
Requirements:
Rooted firmware for Samsung Galaxy Note 10.1 for your region.Check your firmware by going to Settings > About Device and note the last six characters of the 'Build number'.
Procedure:
Press and hold Power + Volume Down for 15 seconds to boot your tablet into download mode.
You will be shown a warning telling you about how installing a custom OS may harm your device and will void your warranty. Hit the Volume Up button to continue, as per the on-screen instructions.
Connect your tablet to the computer via USB. If you are prompted for driver installation, do it using the drivers provided above.
Unzip the download ODIN and ROM files to any location on your computer.
Launch Odin. It should recognize your device if the drivers are properly installed, and the first box under ID:COM should turn yellow.
Make sure not to enable or disable any option in Odin. Just to be safe, make sure that:

Re-Partition, Auto Reboot and Flash Lock are all unchecked.
Auto Reboot is checked.

Click the PDA button and select the .tar file you got upon extracting the downloaded ROM. Repeat: Make sure NOT to use the downloaded ROM file directly, but extract that file's contents and use the extracted file with the .tar extension.
Make sure that only the check box next to PDA is checked in this list, and those for Bootloader, Phone and CSC are unchecked. Also, you don't need to select any PIT file either.
Click 'Start' and wait patiently while the rooted firmware is flashed. If you receive an error, simply reboot the tablet into download mode again and repeat this process.
Once the ROM has been flashed, you should see 'PASS' over a green background in the first box on top-left of Odin, above the first ID:COM box. Your tablet should reboot automatically.
Once your tablet has rebooted, you are fully rooted. You may test root access by installing any app requiring root privileges. Upon launching it, it should request for superuser permissions automatically with the SuperSU app. Enjoy!
Credit for rooting Galaxy Note 10.1 goes to XDA-Developers Senior Member zedomax (happily featured in the first image of this post, the credit for which goes to him as well), who has published it on his website dedicated to providing rooting instructions for this tablet.