Infinity Calendar Is A Customizable Android Calendar That Displays National Holidays
Looking for an alternative calendar app for your Android? Take a look at Infinity Calendar – a thoroughly customizable calendar app that sports Google Calendar and MS Exchange Calendar integration. In addition to fetching all your calendar events from multiple accounts, the app also keeps you apprised of national (gazetted) holidays. Using Infinity Calendar, you can create new events, complete with custom alert and reminder settings, and sync them across all your accounts. Moreover, the app lets you define your own custom holiday categories and fixed holidays. Last but not the least, the app sports a nifty widget that keeps you informed of upcoming events from the next seven days right on your homescreen.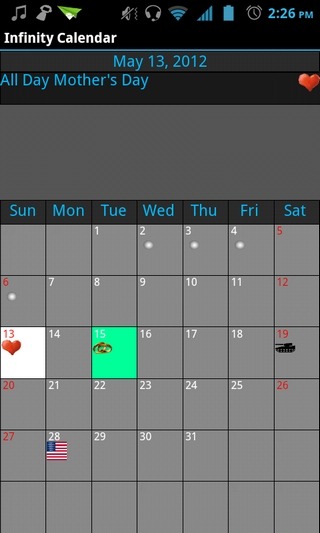 Apart from its simplicity and extensive customization options, Infinity Calendar fills a rather important void that can be sometimes left vacant by Android's stock calendar app. While the stock app often tends to improperly sync the complete events list from Google Calendar, Infinity Calendar suffer no such lag. Said feature, alone, is enough to make Infinity Calendar a strong candidate for being the default calendar app for most Android users. That said, we'd still take a look at some of the other interesting features that the app sports.
Users based in the US are going to enjoy the app's feature of automatically fetching the national holidays more than anyone else. As of now, the app supports displaying gazetted holidays, with relevant icons, from the United States only. However, if you can't wait for the app's developer to add support for your country, you can create a custom holiday database of your own, and start filling it with all the fixed holidays as announced for your specific region. For this, tap Menu > Options > Event Categories > Holiday Icons, and start defining your own region and region-specific holiday categories. To modify or add to the already existing holiday categories, head over to the Categories & Icons screen from within the app's main settings screen, and you're good to go.
Among other options available on the app's main preferences screen, you can edit the Calendar Settings to select the default calendar accounts, modify the app's notification settings and tweak other reminder parameters. Moreover, the app gives you complete control over tweaking the calendar UI as you like. In this regard, you can tinker with almost every single facet of the calendar, including the text color, event cell color, week cell color, day select highlight color, 'today' cell highlighter et al.
On the main calendar interface, you are presented with the month view, where all the synced and events and holidays are displayed on their respective day cells via relevant icons. Swiping across the screen switches between the months whereas tapping a cell reveals all the underlying events/holidays (if any). To add a new event and sync it with your selected online calendar, tap Menu > Add Event. Next, specify various event details, such as the event title, duration, description, location, recurrence interval, reminder and the relevant holiday category.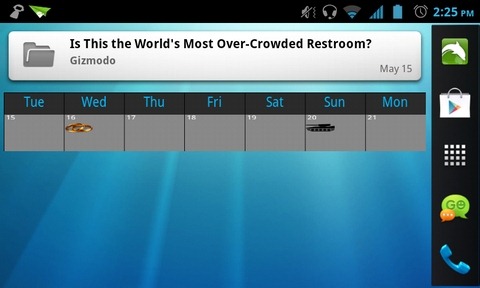 Infinity Calendar is available in the Google Play Store as a free, ad-supported app. Ads can be killed for $1 through in-app purchasing.
Download Infinity Calendar for Android