Blekko's Izik Is An Intuitive, Tablet-Ready Search Engine For Android & iOS
With the growing user base and popularity of smartphones, tablets and other web-enabled gadgets of the present age, the most renowned search engines are trying to carve out an ideal solution to help mobile users conduct online searches on their devices in the most convenient manner possible. The introduction of Google Now in Android 4.2 Jelly Bean and the release of a Smart Cards-powered Google Search app for iOS is a definite testament to the above statement. That being said, most existing mobile search solutions are still deemed by many as a bit unintuitive and hard to get a hang of. New to the scene, Blekko's izik is a search engine with companion mobile apps that builds upon the concept of rich search results, answering your online queries with an even greater wealth of information on a single, interactive and visually rich search page.
While izik is available as both a web and mobile app, the main focus of the latter is to help Android tablet and iPad owners make the best use of various gesture-controlled content discovery and navigation features that it has on offer. Instead of cluttering your screen with excessive hyperlinks, the app tries to offer only the most accurate and relevant matches fully supplemented with image thumbnails, context-sensitive search categories and social sharing controls.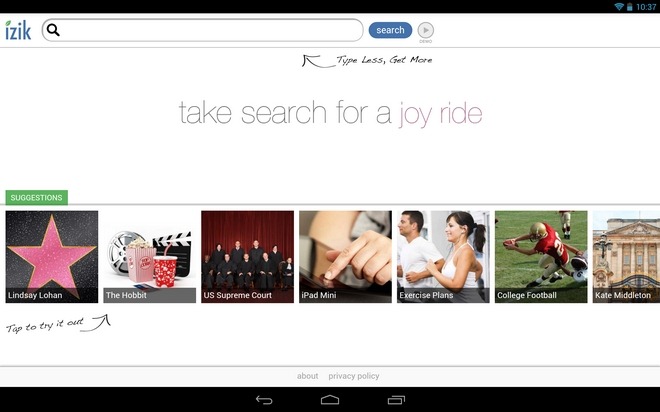 Although not quite ready to take on the might of Google, izik holds its own among contemporary search service providers courtesy of its uncluttered and user-friendly interface and various navigational controls. Upon launching the app, you're presented with just a search bar, a demo button (to view a basic walkthrough of the app), and a handful of keyword suggestions at the bottom to help you get started. As with any quality search engine, izik offers real-time suggestions relevant to the keywords you've typed into the search bar.
On the landing search page, you're presented with the relevant results presented under various automatically-detected categories. For instance, if you're trying to look for 'Lady Gaga', the app will display its search results under the following categories: images, latest, gossip, social media profile, music, lyrics, albums, etc., along with a couple of fixed categories, such as 'Looking For', 'Quick Answer' and 'Top Results'.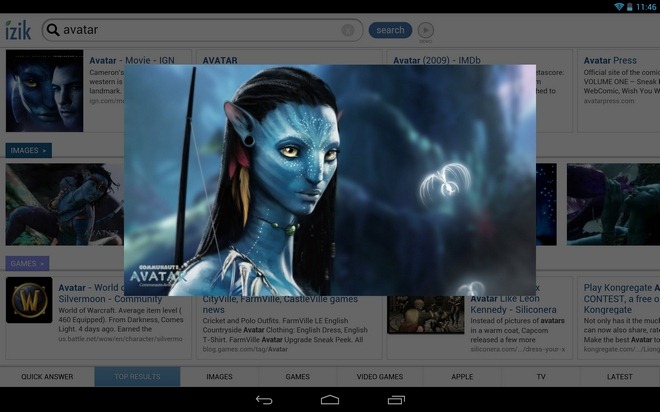 Swiping horizontally reveals other results under a specific category, whereas swiping vertically, you can navigate to other categories available on the search screen. Tapping a result will open it in the app's native browser, whereas hitting the category title will reveal a greater pool of results that fall under it.
Using the pinch-to-zoom gesture on an image displays an enlarged version on top of the same screen, whereas using the same gesture on any other search result displays additional information along with quick sharing button for Facebook and Twitter.
Being a debut release, we must say that izik looks to be a promising prospect that can be further bettered with improvements in the app's overall navigation, and addition of features such as a home and lock screen widget, voice input, bookmarking of favorite content, some much-needed personalization controls, and the ability to log recent search results.
izik is available in iTunes App Store as an iPad-exclusive app, whereas according to the Play Store description, the Android variant is compatible with any device running Android 2.3.3 Gingerbread or above. The app has been successfully tested on Nexus 4 and Nexus 10.