LMT Launcher For Android Updated With Pie-Style Multitasking Shortcuts
Paranoid Android is arguably one of the most popular custom ROMs available for Android these days, offering the best features of Android smartphones and tablets in a single well-blended package, along with several other goodies and customizations. PIE is one of the ROM's features that is fast gathering attraction from Android developers and users alike. The feature can be cited as an enhanced version of Taskarou Launcher that we already have covered at Addictive Tips, which in itself takes inspiration from an optional interface offered in the stock ICS browser. As with the said launcher, PIE allows quick and convenient multitasking on Android by offering a Chinese fan-like menu overlay containing conventional hardware emulation keys and various other ones supporting user-selected actions. In addition, you get to see information regarding current time, date, battery & Wi-Fi status and unattended notification count. If you wish to enjoy a similar feature on your rooted Android device without having to flashing the entire ROM, XDA member noname81 brings it to you the latest update to LMT Launcher – a fully gesture-controlled and highly customizable multitasking app that hasn't yet made it to Google Play Store despite being around since 2011.
Though not entirely new to the scene, LMT Launcher has always been praised by its users for the variety of gesture controls it supports to make multitasking more convenient. The extremely customizable PIE-like functionality is just another addition to the app's long list of features that already include single touch, multi-touch & swipe-based gestures, and invisible swipe area (ISA) gestures. LMT Launcher works only with rooted Android devices, and non-rooted device owners can go through our detailed Android rooting guide to learn how to root their devices.
Unlike Taskarou, LMT Launcher's PIE feature is highly customizable and boasts nearly double the amount of quick shortcuts compared to the former. For those who aren't familiar with Taskarou or have never heard of Paranoid Android's PIE feature, both solutions basically allow better multitasking on Android by adding a ubiquitous Chinese fan-like menu trigger to a dedicated portion along your device's select edge. Once you activate it with a touch or swipe-in gesture, you're presented with a semi-circular menu overlay, complete with simulated hardware keys and various other user-defined on-screen buttons. Needless to say, the menu can be summoned from anywhere within the OS.
The PIE feature in LMT Launcher supports both extended menu buttons and long-press gestures to reveal secondary controls, in addition to the primary ones. Like the primary buttons, the secondary ones are capable of supporting a wide array of user-selected actions. Just to give you an idea, each button on LMT Launcher's PIE menu can be assigned one of the following actions/controls:
Launch an app of your choice
Go to the home screen
Bring up the recent apps list
Menu
Back
Search
Search Long-Press (to activate voice search)
Next app (if any)
Previous app (if any)
LMT (to directly launch the LMT Launcher interface)
Toggle Wi-Fi
Toggle a system activity
Launch a webpage
Trigger an arbitrary script
Kill the current app
Kill all apps
Trigger a Tasker-created task
Open the notification bar
Open Quick Settings (on Android 4.2 Jelly Bean)
Once you navigate to the PIE column on LMT Launcher's main interface, you'll be offered a total of 20 empty slots. The first 10 are meant for the inner dial of the overlay menu and the next 10 are for the outer (larger) dial. Both inner and outer levels can sport a maximum of five keys each, where each key can be assigned a specific action upon dragging as well as holding it down momentarily. That is, once the overlay menu is activated, you can drag your finger to the required button to trigger the associated action, or you may hold down on a button to reveal the secondary controls and then lift your finger to trigger the desired action.
To personalize the PIE layout, just navigate to the app's settings tab. From there, you may adjust its activation area position, dimensions & color settings, and play around with a several other miscellaneous preferences.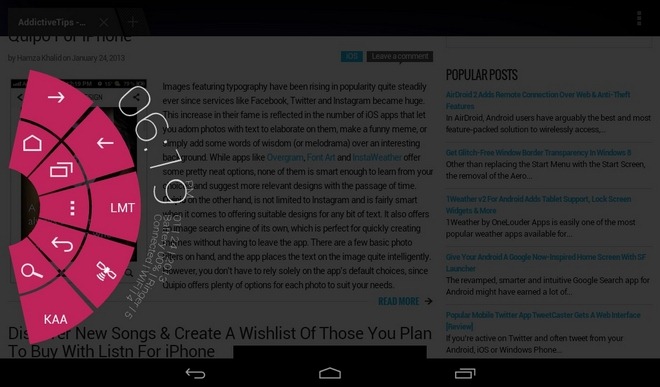 The PIE feature of LMT Launcher is available only with the latest update (v1.8) of the launcher. You can download its APK file from the link below for sideloading it to your device.
Download LMT Launcher For Android (APK File)
[via XDA-Developers]