Manage Your Delicious Tags & Bookmarks With Droidicious For Android
Social bookmarking and bookmark sharing web services are gradually increasing with the increase in the overall usage of the internet, and the competition in this regard is certainly heating up at a matching pace. When talking of some quality services belonging to said genre, Reddit, Digg and StumbleUpon are a few names that instantly pop up in one's mind, but above all, there is Delicious (aka del.icio.us) – an innovative web service that focuses solely on letting users store, share and explore tag-laden bookmarks pertaining to virtually every topic that exists in the wide world of web. Quite surprisingly, the service doesn't yet support a companion app that can help users access their Delicious content right from their mobile devices. That said, there are quite a few third-party Delicious apps available to Android users that try to fill the void, but none of them is known to be offering the complete set of Delicious goodies. Adding to the list of candidates is Droidicious, another promising unofficial Delicious client with some much sought-after features; the most noteworthy of which remains remote access to, and sync with, your Delicious account, a beautifully and smartly designed Holo-themed UI with full support for Android tablets, and a plethora of customary Delicious features that will certainly make your social bookmarking experience on Android more enhanced, fun and thorough.
The Holo theme and a tablet-optimized interface cater for only the aesthetic requirements of the app; from the functionality perspective, Droidicious brings several handy features to the table, including stern integration with your favorite Android browsers, instant bookmarking and sharing with Delicious via compatible apps, auto competition of URLs and underlying description upon bookmarking a new webpage, extensive sorting of links and tags, customizable notifications for sync and upload tasks, automatic and unobtrusive link bookmarking as per relevant tags, existing tag reuse for new bookmarks, manual search for tags, batch selection of tags to filter out relevant bookmarks/ websites, option to add custom bookmarks and sync them to your Delicious account, and lots more.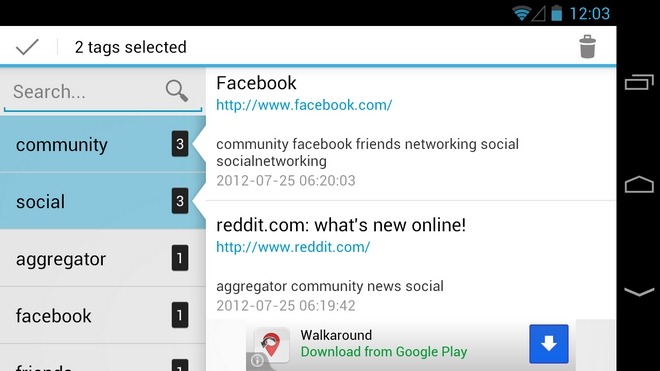 Once you authorize Droidicious to access your Delicious account, you're greeted by the app's homescreen that lists all the various tags associated to your bookmarks, with the total number of subsequent bookmarks listed alongside each tag. The toolbar at the top houses options to add a custom bookmark (complete with all the required details), refresh the app's content manually, and head over to the settings screen. This bar is followed by the search bar that caters to your manual queries for required tags.
Tapping a tag activates batch selection mode so that you may pick as many tags as required to instantly view all the bookmarks relevant to the chosen one. For this, select your preferred tags by just tapping the required ones, and once done, hit the right arrow in the top-right. While on the bookmarks screen, you can tap a required URL to launch it via browser of choice, or you can long press a title to edit the bookmark details accordingly. However, if you happen to use the app in landscape mode or on a tablet, your workout is cut down by almost half, courtesy of the dual-pane design of Droidicious, where the left pane lists your tags and the search bar whereas the right pane lists the underlying bookmarks.
All in all, the app is extremely lightweight, mighty effective and quite user-friendly, but only for as long as you can make do with just your tags & bookmarks management and filtering. Like most alternatives, Droidicious is currently lacking the option to access a very vital aspect of your Delicious world: the custom Stacks. Hopefully, in the coming days, not only will said feature be incorporated within the package, but we'll also be introduced some more innovative features, such as a extensive Stacks management, option to sneak peek into the social side of things, discovering cool stuff featured on Delicious, complete inbox support, a homescreen widget, a native browser and the option to import bookmarks from our favorite Android browsers etc.
Droidicious requires Android v2.3.3 (Gingerbread) or higher to run, and is available in the Google Play Store as an ad-supported (free) as well as an ad-free (paid) variant. The paid version will cost you $1.20.
Download Droidicious Free For Android
Download Droidicious For Android (Paid)