Mindomo: Mind Mapping App With Themes, Cloud Sync & More [Android, iPad]
Mindomo is an online mind mapping service that lets users, create, design and share mind maps with collaborators (or publicly) to accomplish their goals and tasks effectively. It offers numerous mind map presets, complete with the option to create notes, attach multimedia content, customize backgrounds, apply various themes, define relationships between entities, and add icons, tasks, comments and hyperlinks etc that can help you with visualizing your tasks, goals and objectives in an uncluttered manner. Catering to the needs of mobile users, the company has just released the official Mindomo client for iPad and Android. Designed along the same lines as the web service itself, the mobile app of Mindomo also lets you create new mind maps, customize them with the help of various nifty tools, keep in sync with your online Mindomo maps from any supported device, share them with the collaborators, and access all content even in offline mode.
Belonging to a genre that is already brimming with a multitude of options, Mindomo happens to be among the most comprehensive and user-friendly mind mapping apps that we have come across thus far. To let you access your Mindomo cloud content, the app requires you to log in to the service. Don't already have a Mindomo account? The app lets you create a new account without charging you a penny. Even if you don't sign in to the app, you can start creating and designing mind maps and have them saved locally.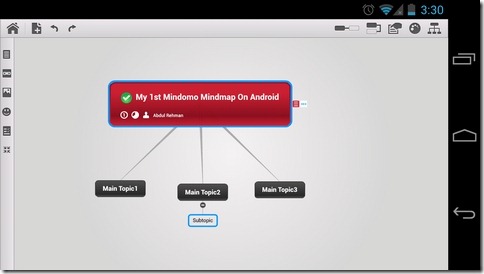 If you're too wary of your mobile data being hogged extensively by the app's online sync feature, you can set the app to update and sync all content over Wi-Fi only. At the time of creation of a new map, the app lets you decide whether to save it locally or on cloud. Maps imported from the cloud are supplemented with the exact attributes as were applied to them originally, meaning that your themes, map schemes, embedded items and all relevant content is fully retained. Likewise, any changes that you or your collaborators make to an online/shared map are synced across all devices (and the cloud) instantaneously. Let's now take a look at the app's functionality.
As is the case with most mind mapping apps, each new map presents you with the entity referring to the central idea behind creating the map. From there, all you need to do is utilize various tools at hand to design your mind map accordingly. The toolbar in the left side helps you create notes, add hyperlinks, insert and align images (with support to fetch images from Bing and Flickr), pick required icons, specify task details, and auto-fit the map to screen.
Using the toolbar at the top, you may add new subtopics and floating topics, choose from the required mind map theme and the map layout, and alter the tile settings accordingly. Long pressing a tile lets you cut, copy, paste and delete it or create its relationship with another entity. Needless to say, like most similar apps, Mindomo also supports pinch-to-zoom gesture for maps, and lets you redo/undo steps, if and when required.
Mindomo is free in both the Google Play Store and iOS App Store.