Create Awesome Looping Tunes On Android With Music Maker Jam
Whether you're waiting at the subway for the next train, riding to work, jogging in the morning or chilling at home, music is one of the most entertaining ways to keep yourself relaxed. But where many of us simply like to listen music, some people want to actually get involved in its very creation. Fortunately, Google Play Store is full of apps that let you play around with beats and basses of your choice, and compose your favorite tunes from scratch without requiring any considerable digital composition knowledge or skill set. One such app that has recently landed on Android is Music Maker Jam. We reviewed the app back in 2012 when it was released for Windows 8, and it look equally promising on Google's OS as well. Read on for our full review.
Everything about Music Maker Jam is simply fantastic. The app allows you to create unique instruments by controlling various audio parameters such as bass, tempos, beats etc., and make music loops. It features an 8-track mixing board that allows you to produce music loops and save them to an external file.  Upon first launch, Music Maker Jam automatically downloads a few resource files (around 15MB in size) before taking you to its main interface.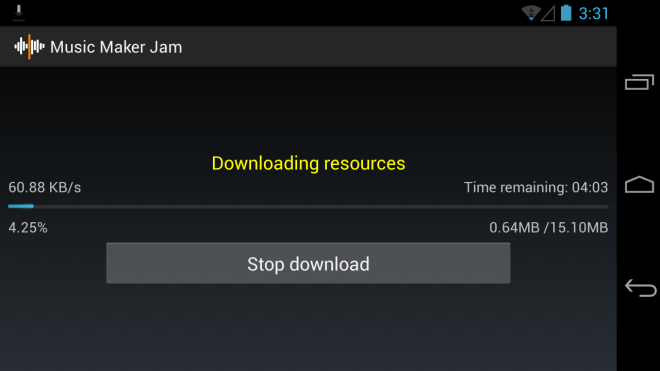 The app itself runs in landscape mode to give you more flexibility and control over its music creation dashboard. It comes packaged with one loop style out of the box (Hip Hop), and offers download links to three additional ones (Dance, Electric Jazz and Rock Ballads) for free. More loop styles that are not on the home screen can also be purchased under the New styles section for a small fee. The home screen also carries a Projects tab, under which you can create a new music loop of your own from scratch.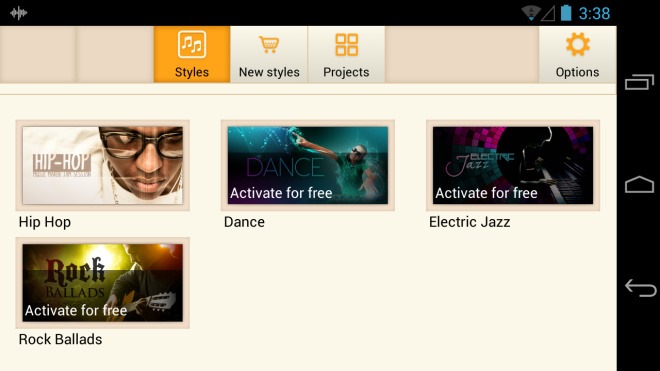 When it comes to the mixer board, it looks quite elegant, and handles well even on smaller screens. To get started, you will need to add a loop to your track, which you can easily do via hitting Loop and selecting your desired choice from the available options. Once added, the mixing board allows you to toggle different kind of instrumental sounds including guitars, drums, piano and more, and easily control lows, mids and highs, as well as adjust tempo and key.
Every loop also has different song parts that you can easily select under its pertaining tab. The FX tab, on the other hand, effectively handles highs and lows via a small adjuster, which you can move between x-axis and y-axis to apply your desired effect.  Once you're happy with your preferred loop remix, simply hit the record button and Music Maker Jam will allow you to store the loop as an OGG file.
Overall, it's a really great app for quickly creating music loops and dubstep sounds from a wide array of loop styles. Music Maker Jam is available at Google Play for free.
Install Music Maker Jam from Play Store