Newscover For Android: Neat News App With Latest Videos & Tweets Related To Each Story
Available in English and Spanish, Newscover is an elegant news reader for web, iOS and Android that presents you with the top news stories from five of the most sought-after categories, including current affairs, business, style, technology and sports. Through a well-crafted layout, not only does this free mobile app let you filter content in multiple ways, but also lets you keep an eye on what the worldwide Twitter community has to say about a particular story. Unlike most news readers, Newscover is void of any customization. However, its support for some of the most trusted and reputed sources, such as Yahoo!, Daily Mail, The Guardian, CNN, Telegraph and Reuters should prove to be sufficient for most. Besides sharing and bookmarking your favorite stories, you also get relevant news and videos with each article. Another neat little feature of Newscover is the way it assorts and presents all bookmarked articles under their respective channels on the same screen.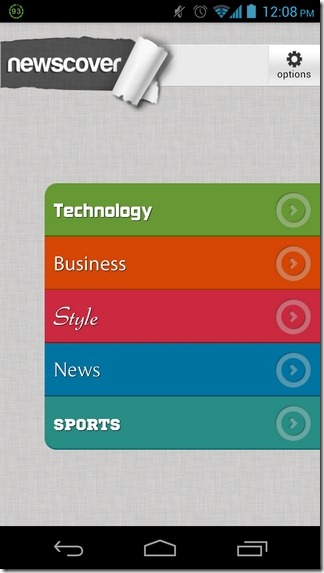 Without the customization feature, Newscover is currently in no position to threaten the likes of Flipboard, Google Currents, FLUD and ChannelCaster etc. On the other hand, the app's simplicity could actually turn out to be its strong point. Although registration is optional, you can sign up for a free account in order to access bookmarked stories from anywhere via the web.
The app's news content is grouped under the aforementioned five channels – Technology, Business, Style, News and Sports – which also constitute the home screen. From under each category, you can check out the latest relevant stories. Above the headlines under each category is a carousel displaying the videos relevant to the latest news of the hour. You have the choice of filtering news to view recent or popular stories. Alongside each headline, you can view its source and time of submission. To check out other stories from the same source, simply tap its name.
Tapping a headline reveals the first few lines of the story, along with the option to check the latest relevant tweets, news and videos. It is from the same screen that you can bookmark the story and/or share it with your buddies. To read the full story, simply hit the headline, while to go through your bookmarked items, navigate to Menu > My news.
As neat a news reader as Newscover might be for a fresh release, it still has plenty of room for improvement. Apart from the all-important home screen widget and notifications, the package is currently lacking quite a few other features, including offline support, personalization, tablet-optimization, landscape reading, day/night reading modes, user-specified news sources, and the option to search for news by keyword.
That being said, if you're in search for a minimalist mobile news reader that taps almost every rudimentary aspect of life, you should give Newscover a try.
Download Newscover For Android