Opera Browser For Android Boasts Redesigned UI, Webkit Engine & All-New Features
Opera Browser has just been released for Android with a totally redesigned UI, new features, and Opera's new Webkit-based rendering engine that is supposed to improve site compatibility across the board (update: now out of beta). The browser comes bundled with further improvements and features wrapped up in a very clean interface that retains the typical Opera theme we're accustomed to, and minimal UI elements, with a focus on gestures for navigation. Whether you're an Opera fan (like me), or are just looking for a better alternative to Android's stock browser, you can learn all about the new Opera Browser Beta after the jump.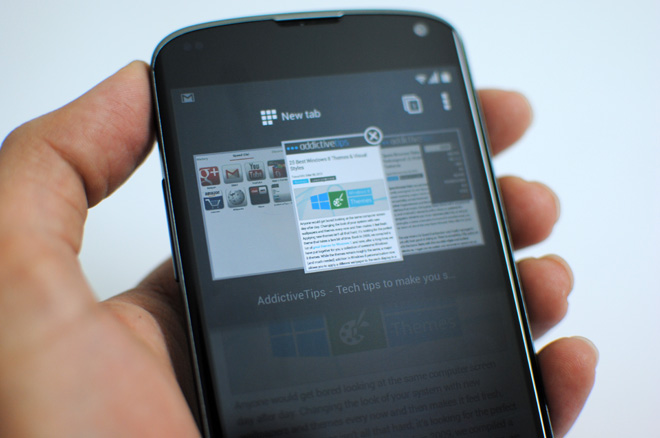 The app retains its Speed Dial function and finally manages to actually look good at doing so. There is something iOSy going on with the icons there, with the rounded edges and surface reflections. Pages can be added and removed to Speed Dial as expected, and the update brings support for creating folders there as well, complete with custom names. This can be very useful to keep your related Speed Dial shortcuts grouped together.
The browser sports a detailed history log, displaying not just the page access time, but also the number of times you've navigated within the same website.
If you've used Opera Mobile Web Browser, or even Opera's desktop browser, you're likely familiar with Opera Turbo. In Opera Browser Beta however, you have the Off-road Mode that compresses incoming data, resulting in not only reduced load times, but the size of data as well. For those on a data plan, this can drastically cut down on their mobile internet bills. If you want no trace of your browsing activity to be left on your phone, there's the Private Tab feature as well.
The Downloads section is much more improved and feels more mature than before. You can pause a download and resume it when you want, provided the server supports download resuming. In addition to that, you can play and pause media files directly from the list in a preview popup.
One entirely new feature in this update is Discover – a news reader acting like an app in itself. Opera will recommend you news pertaining  to different topics such as Arts, Food, Business, Entertainment etc. in a fashion that is loosely based on apps such as Pulse News and Flipboard. While you can always toggle between your topics of interest, Discover can also be configured to filter various topics and display news that relevant to your country and language. This is a very rich feature for many users interested in reading news on their smartphones.
Like its predecessor, Opera Browser Beta also offers the ability to sync your Speed Dial shortcuts and bookmarks with Opera for Desktop through Opera Link found in Settings. Depending on the sites you access frequently, you may also notice the absence of annoying popups. This is because the browser comes with a built-in popup blocker. If for some reason you want popups to be enabled, you can do so in the apps settings menu.
In our experience, the browser felt very smooth and page loading times were fairly quick. Users will not feel lost under a heap of settings and navigation buttons, as the interface is really intuitive. Not sure about you folks, but I did miss a 'Forward' navigation button that is easily accessible, and not in the main drop down menu. However, being a beta, let's see how it finally shapes up in the stable version.
Update: The new Opera Browser is now out of beta. We've added the Play Store link for the final release below. You can still install the beta version to get your hands on new features before they make their way to the stable version.
Install Opera Browser from Play Store
Install Opera Browser Beta from Play Store