RecoverX: Flash Major Custom Recoveries On Almost All Android Devices
Few things in Android modding are as easy as sitting back, clicking one or two buttons on the computer and watching it do all your work for you. But it seems that is quickly changing. There are now several automated or one-click solutions not just for Android, but other mobile platforms as well. However, with well over a thousand different Android devices produced by different manufacturers, different rules apply to each device, and not everything can be centralized – dare I say – like the iPhone. XDA-Developers forum member 'LEDelete' believes otherwise and has pushed me to believe that, to some extent, essential Android hacks can, in fact, be centralized. With his tool, RecoverX, the developer has managed to centralize custom recoveries for "more than 18 devices". I see a lot more device froma  total of 19 manufacturers. The tool serves the very simple purpose of downloading and flashing custom recoveries meant for your device – nothing less, nothing more. What makes it special? Find out after the jump.
In case you are unfamiliar with the concept of a custom Android recovery, it's basically a partition that you can boot separately into and perform various maintenance and installation operations from. To learn more, visit our complete guide to ClockworkMod recovery. Although that guide is focused on this particular recovery, the concept and operations are the same across all custom recoveries.
Let's get back to RecoverX now. From Nexus to Huawei, from Motorola to ZTE and going on to support the likes of HTC, LG, Samsung, Sony Ericsson, Sony and more, this tool is the mother of all one-click recovery flasher tools. For the complete list of currently supported devices, head over to the forum thread linked at the end of this post.
RecoverX allows you to choose from ClockworkMod Recovery, Amon-RA Recovery and xRecovery, but of course the choice is dependent on the device itself.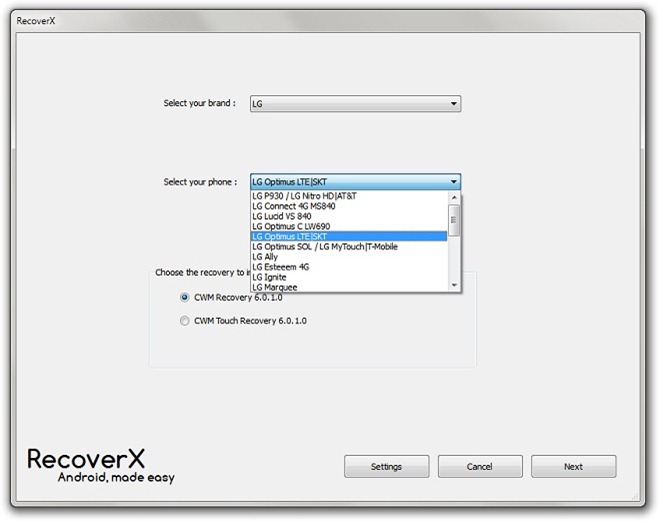 Using the tool is a walk in the park as you can see from the screenshot above. The only prerequisite here are the following:
Be sure to have an unlocked bootloader if required. Devices manufactured by HTC, Motorola, Sony and Sony Ericsson need an unlocked bootloader.
Device must be in fastboot mode. Not sure how to get to fastboot? The tool will take care of that for you if you click the Settings button.
Some devices may even require to be rooted prior to installing a custom recovery.
An internet connection, of course.
For updates and queries, visit the forum thread at XDA-Developers linked below.
[via XDA-Developers]