Share Android Apps, Files, Folders & Contacts Over Web & WiFi With Send Anywhere
The pace at which private file sharing services are increasing these days makes it quite perplexing for the users to pick the best one, since each service has its own specific set of goodies. Send Anywhere, a relatively new name among apps of this kind, provides a neat layout and support for multiple modes of secure wireless file sharing. The official Android client of Send Anywhere, which has just been released to the Google Play Store, allows users to remotely share whatever content they please over the web and with other Android users. The most appealing aspect of the Send Anywhere mobile app is its support for all types of file formats, and the various ways in which it allows content sharing. For instance, you may share the unique input key referring to the shared content with the recipient via SMS, email or any preferred means, generate or scan a unique QR code of the file, or share files with nearby devices over a common WiFi network.
Send Anywhere might not be the only remote file sharing solution of its kind on Android, but its rich aesthetics and the relatively extensive feature give it quite an edge over previously-reviewed EZDrop and JustBeamIt.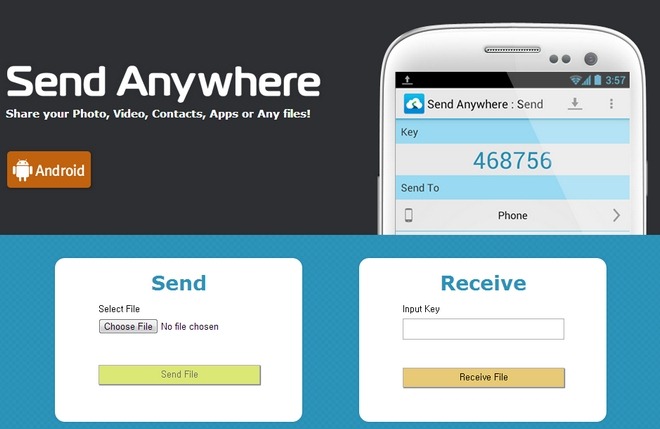 Unlike the Send Anywhere web app, the mobile version allows batch selection and sharing of content. Hidden under the app's simple UI are several of nifty features that make Send Anywhere quite a convenient file sharing tool to have at your disposal. All you get on the app's home screen is a couple of tabs to Send and Receive content.
Just to elaborate on the app's list of supported categories, it lets you share anything ranging from multimedia content (photos, music and videos) to your contacts and from your apps (APKs) to any file residing your device's storage. To expedite the content selection process, the app presents you with a built-in file manager comprising individual categories for all sorts of supported content.
Once you've selected files to share, the app presents you with a unique key/ID that can be fed to the Send Anywhere website or another Android device running the client to retrieve the content. Among other sending options, you may generate a QR code for the content, share the key via SMS, email or social media, or share the file with a nearby device running the Send Anywhere mobile app. The recipient would have to make their device discoverable for sharing over WiFi.
Status bar notifications keep you apprised of the sharing progress, whereas to track history of your received files, the app offers you a dedicated Received Box that displays the file format, date and file size of each received file. By default, all data received via the app can be found in the SendAnywhere folder on your SD card. However, you have the option of allocating a different directory for this purpose from within the app's settings screen.
Send Anywhere also integrates seamlessly with Android's universal file sharing menu to allow direct sharing of files from the stock Gallery and other supported apps (your favorite file manager, for instance).
Send Anywhere has both a free and $3 variant in the Google Play Store. In addition to being ad-supported, the free version is limited to allow sharing of a maximum of 10 different files or 30MB of data at any given instance. The paid variant, on the other hand, is free of any such restrictions.
Download Send Anywhere For Android (Free)
Download Send Anywhere PRO For Android (Paid)