Send Content From Web To Android As Notifications Using PushBullet
Android users who want to be reminded about their most important tasks, notes and to-do lists via custom notifications have several apps available for the purpose, such as Lotify, Notif and ReNotify. All three of these take full advantage of the rich notifications announced in Android 4.1 Jelly Bean. While it's pretty useful to be able to compose personalized notifications from your Android device itself, what's even more convenient is being able to do so straight from your desktop browser. This is precisely the idea behind PushBullet – a free web app that allows you to remotely push custom notifications from a desktop browser straight to your Android device over the internet. Of course, you'll need the PushBullet mobile app running on your Android device in order to receive all the remotely pushed content.
Unfortunately, PushBullet's Android app is currently capable of only receiving and logging custom notifications, and does not allow creating new ones or editing received ones on your mobile device, so you can't actually use it as a replacement for any of the apps mentioned above for the purpose.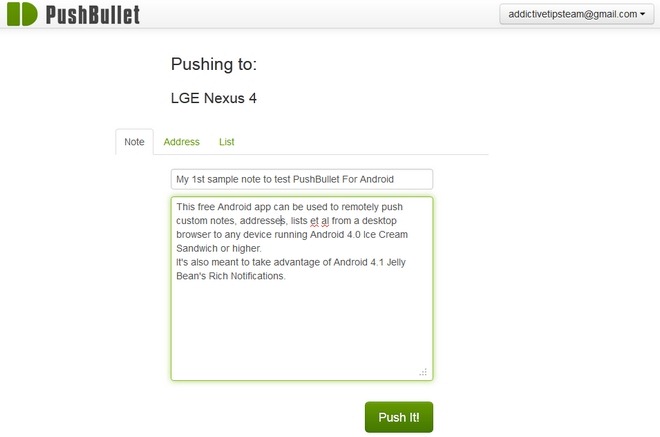 To start using PushBullet, install the app on your Android device(s) and visit the PushBullet website on your PC browser. You'll need to authorize both the web app and the mobile app to use your Google account. Once done with that, you are ready to remotely push notifications to the required device that you've setup with the service.
As of now, the web app allows sending personalized notes, addresses and lists only. Just like all three aforementioned apps, PushBullet supports Android 4.1 rich notifications, meaning you can expand and collapse them in the notification shade using the two-finger swipe gesture. The app supports displaying multiple PushBullet items on the notification shade, which can be cleared using the swipe-to-dismiss gesture. Unlike the web app of PushBullet, the mobile app maintains history of all the content pushed from the website. All items are listed in chronological order on the app's main screen, along with their respective notification type.
By tapping a notification, you may view the underlying contents in detail, delete the notification permanently, or display it in the notification panel again (for already dismissed notifications). Map locations for addresses sent to the device can be directly opened in the navigation app of your choice  on your device. For lists, you have the additional option to tick select items, which can be particularly handy for marking to-do list items as done.
That's all there is to PushBullet for now, but the developer plans to incorporate some new features soon, and is open to any suggestions that can can help make the app more user-friendly. There can be plenty of ideas to improve the app further, such as more notification types, support for an expanded pool of actions for various notification types, a different icon for each notification type, the ability to view history of sent items from the web app, and the ability to create persistent/ongoing & scheduled notifications.
PushBullet is currently compatible with Android 4.0 Ice Cream Sandwich and higher devices only. Though to enjoy the rich notification features introduced in Jelly Bean, you must be running Android 4.1 or later. You can grab the app for free from the Play Store link provided below.
Download PushBullet For Android
Update: PushBullet has been updated in the Play Store with the ability to push notifications to others' devices as well. In the same way, you can now have your contacts directly push notifications to your device from their browsers. The mode of sharing remains the same; just log in to the PushBullet website, provide your contact's Gmail address, feed in the notification message, and you're good to go!
Update 2: Don't want to navigate to your desktop browser to push your custom notifications and messages via PushBullet? Why not do it with the PushBullet desktop app? Grab the PushBullet desktop server app for free by visiting this link.
Update 3: The PushBullet browser extension is now available for Firefox. We've added a link to it below.
Download PushBullet Firefox Add-On