Sentry: Completely Automate Wi-Fi Toggling On Android
Android users have long been griping over the rather constrained battery timing of their devices. Two of the most practiced methods to rectify the issue are to lower the screen brightness level and to disable Wi-Fi when not required. You may well be aware of the fact that the Wi-Fi radio, once activated, constantly keeps draining the battery regardless of whether you have some sort of  connectivity or not; therefore, disabling Wi-Fi is the only way to make sure that your device doesn't lose precious battery juice when you're away from a Wi-Fi router. On the flip side, what if you forget to enable the Wi-Fi upon reaching your destination, and as a result, miss out on your important emails, messages, updates et al? Surely, there must be a way to automate the entire Wi-Fi enabling, disabling, and internet connectivity checking mechanism. Well, there is, in the form of Sentry. This simple yet immensely useful free Android app can prove to be a godsend for users who yearn for an automated solution for toggling Wi-Fi on their Android, depending upon the availability of a router, as well as internet connectivity.
Once enabled, Sentry can automatically enable Wi-Fi on your device under the following three different conditions:
Upon unlocking the screen
Upon rebooting the device
Once internet connectivity is detected at user-specified time/ polling interval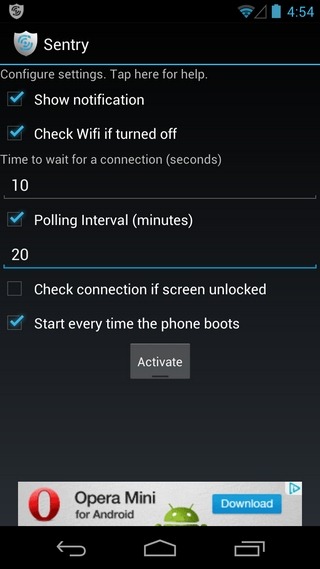 You may use either of the aforementioned conditions individually, or in combination with the other two. The 'Check Wifi if turned off' option on the app's homescreen, if enabled, will automatically activate Wi-Fi as soon as any of the aforementioned condition is fulfilled. Regardless of the current status of Wi-Fi, once the Sentry service is enabled, it will keep a close tab on what condition you have set for the Wi-Fi to remain persistently active. Even if you opt to manually toggle Wi-Fi from your Android's settings screen, it doesn't affect the app's settings, since Sentry has the propensity to detect the current Wi-Fi status of your Android, and take control of things from thereon.
For easier interpretation of the app's working, consider the following scenario. Suppose that Wi-Fi is currently disabled on your Android. Now, with the 'Check Wifi turned off' option enabled, the polling time interval set at 20 minutes and the Time to wait for a connection set at 15 seconds, as soon as you activate Sentry service, it will, first of all, automatically enable Wi-Fi on your device, and then look for possible internet connectivity for 15 seconds. If an active connection is detected, Wi-Fi remains enabled. However, as soon as connectivity is lost, or you step outside of the router's range, Sentry will recheck for possible connection after 20 minutes, and toggle Wi-Fi status accordingly. Should there be no Wi-Fi connection detected within said time, the app will automatically disable Wi-Fi, and trigger the detection loop afresh. Same applies to the condition where you might have set Sentry check for current Wi-Fi status upon each device unlock and/or reboot instance.
As evident from the above, once activated, Sentry itself seems to be designed to work round the clock. So how does it help save you precious battery time, you may ask. Going by the developer's word, Sentry service is only triggered at user-specified time interval. That is, it only comes into play once the specified polling time approaches. Otherwise, the app doesn't drain the battery a great deal – at least, not as much the constantly running Wi-Fi on your Android does.
Sentry can be downloaded from the Google Play Store as a free (ad supported), or a $0.99 ad-free variant.
Download Sentry For Android (Free)
Download Sentry Adfree For Android (Paid)