Smart Feed Reader: Filter RSS Feeds By User-Defined Rules [Android]
When talking of a simple RSS feed reader with rather basic functionality, Google Reader normally does the job for me quite adequately. However, if you're looking for an alternative that provides you with greater level of control over your news feeds, especially on your Android device, take a look at Smart Feed Reader. Fresh to the Google Play Store, Smart Feed Reader is a customizable and user-friendly utility that comes with the support for fetching RSS, ATOM and RDF feeds.
The app sports a simple yet intuitive interface, and brings some very useful news reader tools to the table, which include importing your Google Reader feeds, convenient bookmarking, filtering, sorting, organizing and sharing of feeds, offline reading support, user-specified auto-refresh intervals, unread article count indication, option to read complete articles (with embedded multimedia content), folder support for easier management of feeds belonging to specific categories, multiple homescreen widgets to keep an eye on unread content, and the best of the entire lot, the option to specify various Rules to automatically filter feeds by category, URL, title, author or content, and to perform a user-defined action on all such content that falls under a specific criteria.
Smart Feed Reader requires minimal configuration to get you connected to your news sources. Once launched, the app prompts you to add your preferred news sources (website or RSS feed URL), and place them under relevant folders. As mentioned earlier, the app also supports importing RSS feeds from your Google Reader account. Once your news sources are loaded, the app fetches the latest content from each, and displays the number of unread articles alongside each folder, as well as the relevant news source. Swiping towards the left on the Folders screen reveals all the unread articles, whereas swiping towards the right lists your starred articles.
While exploring content from within a news source, you can hit the menu button at the bottom to edit the feed title, URL, auto-refresh interval, and the underlying folder(s). In addition, you can sort the articles in multiple ways, including batch selection, removal and marking items read/unread. While reading an article, you have the option to remove it from the feeds list, share its link or underlying text, explore it via an external browser, and add it to the starred items. To switch between various stories, just swipe towards left or right on your screen, and to delete a folder or unsubscribe from a specific feed, just long press its title and select the relevant action.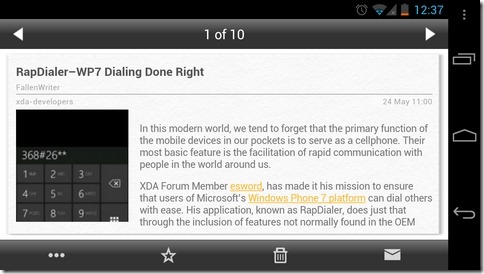 The app supports easy, automated and smart filtering of content by letting you create several custom Rules. In this regard, you have the option to select the required Match Field in terms of author, title, content, category and article URL. Next, you need to specify the exact parameters (keywords/phrases) to that will validate the rule, and help the app to search for the required content from within your feeds accordingly. Among other options present on this screen, you have the choice of picking from a predefined criteria that the app will follow to filter content. Finally, you can select a specific action for the filtered output.
You may define as many different rules as you like to get your content sorted and arranged automatically, based on the defined actions, conditions and parameters.
Download Smart Feed Reader for Android