Popular Photo Editing App Snapseed Now Available On Android [Review]
When considering powerful and feature-rich photo editing apps, one name that instantly comes to mind is Snapseed. This award-winning cross-platform tool by Nik Software has been offering a variety of photo editing, enhancement & sharing features to iOS, Windows & Mac users for quite some time now. Impressed by the company's astounding success particularly on iOS, Google acquired Nik Software back in September, leading naturally to expectations for an Android version. The wait is finally over, as Snapseed has made its way to Android for Ice Cream Sandwich and higher devices with almost all the goodies that iDevice users have been enjoying for months. Furthermore, Google has also added deep Google+ integration to Snapseed, allowing instant photo sharing to the search giant's social network.
Besides providing you with several basic and professional photo editing tools, Snapseed for Android brings dozens of Instagram-style photo filters, effects and frames to the table to make your pictures more appealing. Besides debuting Snapseed on Android, Google has also updated the iOS variant of the app and made it available for free at the iTunes App Store.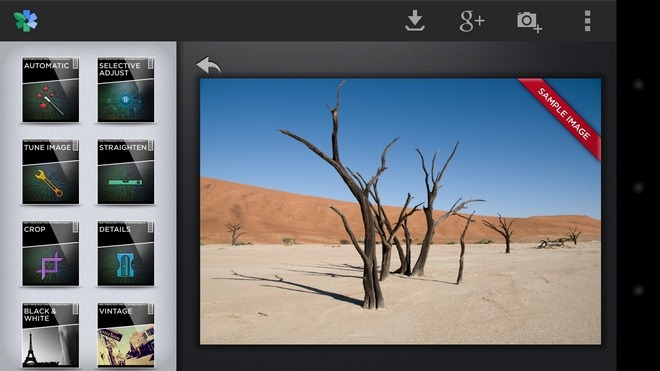 Why Snapseed, you might ask, when there are tons of other similar alternatives already available across both these mobile platforms? The answer to this question lies in the app's immensely user-friendly interface, dozens of nifty photo editing, correcting & beautifying modes, and to top it all, the price tag of $0 for all of this. To be honest, the company's decision to offer all the various Snapseed features absolutely free of cost comes as a pleasant surprise, especially considering that the iOS counterpart had been carrying a hefty price tag until recently.
Unlike most of its counterparts, the UI of Snapseed is super-simple, with most of its basic and advanced features accessible from under the following 13 tiles:
Automatic
Selective Adjust
Tune Image
Straighten
Crop
Details
Black & White
Vintage
Drama
Grunge
Center Focus
Frames
Tilt-Shift
As with most mobile photo editors, you can work on freshly grabbed images or import the required photos from the Gallery. As of now, the supported image formats include JPEG and TIFF. The purpose of most of the supported tools is evident by their respective titles. Each tool is further supplemented with various supporting features, menus and actions, each controllable by touch and swipe gestures. To make life even easier for its users, Snapseed provides an overlay tutorial screen for each of the aforementioned tools, which can be manually launched any time you want. Another nifty feature is the ability to compare the edited version of the image with the original one whenever you want, by simply long-pressing the tiny photo button at the top-right.
Although pretty much all the features of the app are downright awesome, there are a few that deserve a special mention, including the Selective Adjust tool, the DSLR-like linear & radial tilt-shift effects, the refreshingly new vintage & Drama filters, the Center Focus tool, the image detail adjustment tool, and the gorgeous shades offered by the Black & White tool. Oddly enough, you don't have the option to manually zoom in / out on the photos via a dedicated zooming tool or through conventional multi-touch pinch gestures. This is a big miss, especially if you want to work on relatively small images.
Once done with editing, you can save your artistic work on your device, or share it further via a social network or app installed on your device that supports Android's universal sharing feature. Photos saved with the app can be found in the Snapseed folder on your SD card (or built-in storage).
As mentioned above, Snapseed is currently compatible with Android 4.0 or higher devices only. Download links to the Android and iOS variant of the app are provided below.