Switch Between Running Android Apps Using Swipe Gestures With Switcher
Previously reviewed apps, Taskie and Dock4Droid, have already shown us how we can avail gesture-based task management/switching on Android by swiping in from the screen edges, as well as picking the required running app from within the scrollable icon-roll at the bottom, respectively. Based more or less on the same concept as that of the former is Switcher – a free Android app that lets users circle between running apps by just swiping across the screen horizontally. Once activated, the app keeps running in the background, monitoring whatever apps you've launched recently. Therefore, whenever you need to jump to another app, all you need to do is swipe in from a specific region from the top-left or right edge of the screen, and the required app is right before your eyes. No need to resort to the tap-and-touch gestures, as is the case with the stock recent apps list, or limiting your options to just a handful of apps, as has already been seen with GestureControl for tablets. In fact, with Switcher, it's entirely upon the users' discretion whether they wish to circle through each recently opened app or bring only the favorite ones into play, all via various gestures.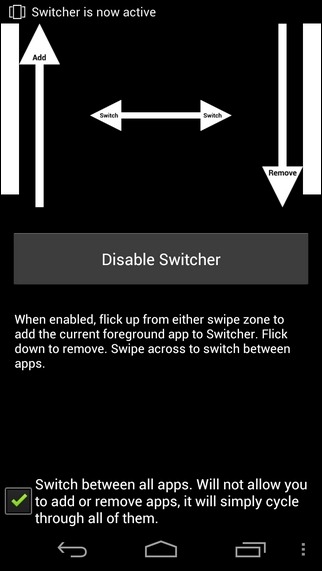 As we have already seen, Switcher is not the only app of its kind in the market, but it certainly works better than most. Another remarkable aspect of the app is the zone/ region of your screen that it uses to let you activate the gestures. By having to reach out for the top edges of your screen to switch to a different app, you can rest assured that Switcher gestures won't be intervening a great deal with your normal Android usage, especially when it comes to swiping across an app's different screens.
Just as the screenshot depicts, Switcher is all about using a swipe gesture in any of the four directions to trigger a specific action. Here's what you can achieve with each gesture:
Flicking upwards from either swipe zone lets you add the current app to the switch list
Flicking downwards from either swipe zone lets you remove the current app from the switch list
Swiping horizontally across the screen from either swipe zone lets you switch between apps.
The last option at the bottom of the app's solitary homescreen, if enabled, eliminates the need to manually add apps to the switch list, as it takes into consideration all recently opened apps. Even with the Recent Apps list cleared, you can still continue switching between tasks with the help of this app.
Switcher was tested on Galaxy Nexus (running Android 4.1 Jelly Bean) and we can verify that, despite still being under development, it works like a charm. However, its long term implication on the battery are yet to be verified.
Download Switcher (Proof Of Concept) For Android (Taken down from Market)