Live Image Widget Cycles Through Photos From The Web On Android Home & Lock Screen
Live Image Widget is a customizable home & lock screen widget for Android capable of displaying and automatically circling web-based images from various user-specified URLs. By automatically updating photographic content from your preferred URLs, CCTV devices and / or webcams at specific intervals, the widget helps you instantly preview pictures from required online sources. This can be especially useful where the images are dynamically updated at the target URL. You may place multiple widgets on your home screen and view any image in full screen mode with zooming option. Moreover, you can manually refresh the widget's content, switch between different images, and even save the current photo to your device. There is even more to Live Image Widget; keep on reading to find out.
Live Image Widget comes in various eye-catching themes and sports Holo UI as well as resizing option if you are on Ice Cream Sandwich or Jelly Bean. Among other personalization tweaks, the widget can be set to scale images in multiple ways. It can also display image label and / or timestamp on top of the images to keep you informed of the last update time and other relevant info. If you are worried about quick consumption of your limited mobile data, you have the option to auto-refresh content over Wi-Fi only.
As evident from the above description, Live Image Widget requires an active internet connection to fetch online content from the required sources. This is where the aforementioned Wi-Fi only option can particularly come in handy. Even better, you can set an auto-refresh interval of your choice ranging anywhere from 5 minutes to 6 hours. If required, you can even disable the auto-updating option altogether and manually refresh the widget's content using the on-screen control. There are three different image scaling modes supported by Live Image Widget namely Fit, Un-scaled and Stretched.
Admittedly, adding the required image URLs manually can prove to be a headache, especially if you are looking to configure the widget by adding multiple sources at once. However, thanks to the app's integration with Android's universal file sharing option, you can achieve this purpose with ease. Just open the required image on your browser, long-press on it for a couple of seconds, tap 'Share link', and just select the 'Live Image Widget' option from the 'Share via' menu.
To make life even easier for yourself, you can consolidate the required URLs on your favorite Android text editor or the Gmail app, and then use the same long-press gesture on those links to easily add them to the list one by one. You can assign a custom name to each entry, and modify the relevant URL anytime you want.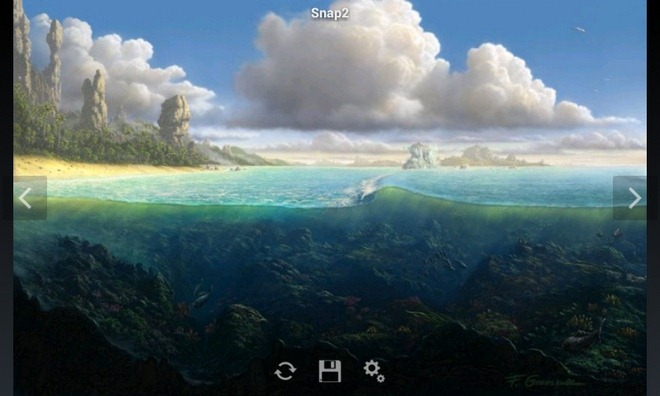 While the widget works quite smooth, it can still be improved by introducing several features. For instance, as of now, there is no option to map specific URLs to a particular widget, meaning that all your Live Image Widgets share the source list and fetch content from each and every source added to it. Also, the widget does not seem to keep a cache of previously downloaded images to be shown when the device is offline and shows up empty instead. Support for this offline caching would be a welcome addition. Still, it goes without saying that Live Image Widget certainly deserves a shot for its handy features and nifty customizations.
Live Image Widget is currently compatible with Android 2.3 Gingerbread or higher devices. Also, unless you're on Android 4.2 (or higher) Jelly Bean, you wouldn't be able to take advantage of the new lock screen widget feature. You can grab the widget for free via the Play Store link provided below.
Download Live Image Widget For Android