Simple Currency Converter Tracks Forex Rates & Converts Currency
Whether you're a frequent traveler, trade multiple currencies on a daily basis, a small business owner or you manage a huge corporation, a good currency conversion app can prove an indispensible accessory for you. There are a multitude of currency converters available on the Google Play – with XE Currency purportedly being the most popular one – but I recently started looking for an alternative and immediately fell in love with Simple Currency Converter, thanks to its gorgeous, user-friendly UI. With this amazing app, you can easily track up to 12 currency rates simultaneously. And its built in updater keeps your informed about changes to the exchange rates down to every minute.
The first thing you'd probably notice after launching Simple Currency Converter is its minimalist, beautiful looking interface that relies on one screen as a converter and a rate updater. The UI carries an add, a refresh and a menu button at the top right. Adding currencies is as simple as searching for their name or country where a currency is in use and the app lets you delete existing ones with a simple horizontal swipe. Any currency can also be pinned to the top to act as your base for all conversions and rates.
To insert a custom value for conversion, you can simply tap on the 'Open keypad' button to specify the amount that you want to convert. Once you're done, just hit the equal sign and the app will display the related conversions almost immediately. You can of course add multiple currencies to the app and it supports loads of them, more than 140 to be exact. The app houses a built in currency selector, which can be navigated to by hitting the + button on home screen. Here you can select either from popular currencies or tap 'More' to view the full list of currency options. You can then mark the required items from the list and hit Done to bring them to the home screen.
One really handy aspect of Simple Currency Converter is that it goes beyond the conversion to allow you to track a currency across one day, five days, three months, a year or three years. You can perform a visual comparison between any two currencies in a graphical flowchart, which is simply impressive.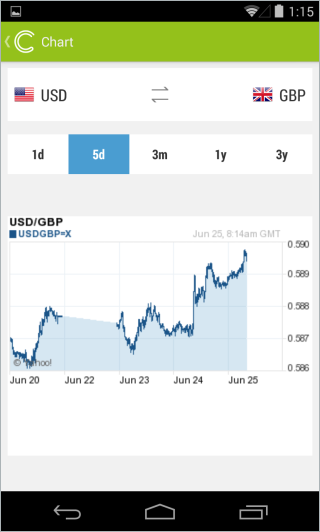 Besides tracking exchange rate of your favorite currencies, SCC also lets you choose the update interval, the number of decimal places that the rate is rounded off to, as well as pick a theme for the user interface. As of this writing, it sports four stylish themes which can be selected easily from Settings screen.
In a nutshell, Simple Currency Converter is one fine looking currency conversion app. It boasts many useful features and the built in themes are simply gorgeous.
Install Simple Currency Converter from Play Store