Track Stocks & Maintain An Investment Portfolio On Android With JStock
The finance section of any newspaper, be it online or print, isn't something that everyone reads or understands, but Stock market information, specifically the changes in stock prices is often used as a measure of a company's current position in the market, and such information is critical for every investor. If you follow stocks, JStock is an app that can help you  keep up with fluctuating stock prices for different stocks being traded across the world. The application previously only had a desktop version for Windows , OS X & Linux, but now it has gone mobile with an app for Android, allowing you to keep up on the go. You get a large number of stock indices to choose from, and the app historically track the changes in their prices. You can also maintain your own portfolio of stocks you've purchased to measure your capital gains or losses as the prices fluctuate.
Tap the plus sign to add a stock to your watchlist. You can enter a company's name or its trading name; the app will be able to find the correct stock with either.
The app begins tracking the prices at once, and you might see changes in price within seconds of adding a stock. It shows the latest value of the stock as well as how much it has changed. You can sort the stocks by name, the time they were last updated, or the direction of change in price i.e. up or down.
Tap an entry to view a line graph of the historical change in value for that stock. Open the navigation drawer to select which index the app should use to list stock values. The indices tab not only lets you see the current value of each index, but also how much it has changed.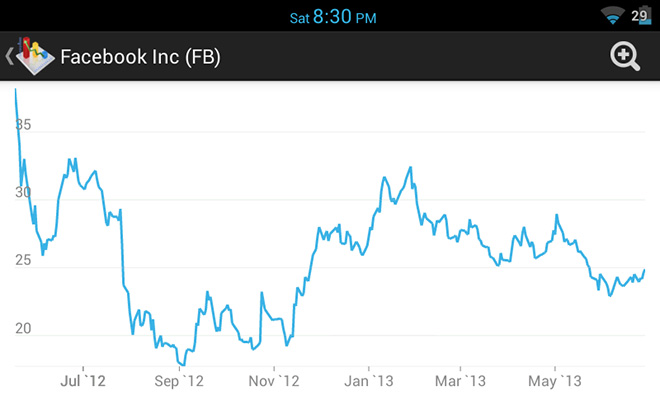 From the navigation drawer, you can also create your own stock portfolio. Tap the add button and enter the name of the stock you currently own. Next, select the date you bought it on, your buying price, and the number of shares that you bought. Repeat the process for every stock you own. If you later decide to sell a stock or receive dividend on it, you can enter the data for that as well and swipe to the 'Sell' and 'Dividend' tabs to see your history of profits, losses, and dividends for a particular stock.
By default, the app will tell you how much profit you've made or loss you've incurred since the time you bought the stock based on its current value and the price you bought it for. It also shows you the changes in stock values both in terms of the amount and percentage. JStock works only for monitoring and tracking stock though; it does not let you purchase stock, nor should it be used as a basis for investment.
Install JStock from Play Store