Turn Off Notifications For Individual Apps In Android 4.1 Jelly Bean
Android 4.1 Jelly Bean's hottest features are easily the new Google Now and the detailed notification drawer. For a summary of all the features that Jelly Bean has to offer, take a look at our overview of the new and improved features of Android 4.1 Jelly Bean. These details, as welcomed as they are, and as excited as Android fans are about it, are not always best suited to everyday use if your phone shuffles through different hands – say, at the office or amongst friends. Being notified of an email is fine, but having the first few lines laid out in the notification menu, not so much – well, not for me, at least. Another prevalent issue with all versions preceding Jelly Bean was notifications popping up for apps that are irrelevant, or those that you just don't need them at times. Unfortunately, Google offered no way to turn that off, except for removing the notification itself. With Jelly Bean, however, things have changed, and finally, you can stop these 'nuisances' from popping up without having to delete the app itself.
Android's notification inspired the development of a Notification Center for iOS 5 but ultimately, the latter came out with a better and superior control over the notifications for individual apps, something that has only just been offered by Android, and something that was badly needed. However, offering detailed notifications in the notification drawer remains something completely unique to Android 4.1 Jelly Bean (and hence, I display my tendency in favor of Google's smartphone OS).
While most Android apps have built in options to turn notifications on or off, not all Android apps offer that. Such an option is especially useful for instances when an app pushes an ad in the notification drawer whenever you're connected to the internet. If you've been to the App Management settings of the Android OS, you would have noticed options like Force Stop, Uninstall, Clear Data etc. In Jelly Bean, however, you get a tiny little change in that part of the OS.
Navigate to Settings > Apps and tap on the app for which you want the notifications disabled.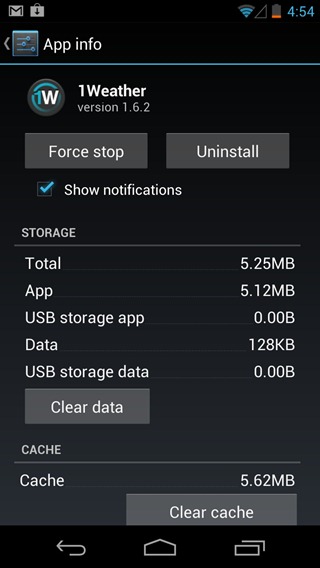 The above screenshot shows you the Show Notifications check box, so simply uncheck it to disable all notifications related to the app, or check the box if you want to re-enable the notifications.
While nothing very extraordinary, this nifty check box lets you control an element of Android that should've been included a long time back. Nevertheless, it's never too late to bring an improvement, and we're glad to see Google finally taking a (good) leaf out of Apple's book for better notification control.