Use Apple Airpods With Google Assistant On Android [No Root]
Apple's Airpods were met with a lot of criticism. Much of it centered around their high price point, limited availability, how easy it would be to lose one, the limited battery life, and how much Apple is charging for a replacement if you lost one pod. Say what you want about the price point for Apple products but they are still solid products. They work well and outside the company's planned obsolescence, they have a pretty long life. If you have an iPhone 3G lying around somewhere, you can turn it on and still use it. If you're a fan of Airpods but favor an Android phone, you might want to use your Airpods with Google Assistant.
Use Apple Airpods With Google Assistant
Airpods support Siri on the iPhone. You can double-tap an Airpod and talk to Siri. On Android, you have Google Assistant instead of Siri so it makes sense that you'd want  to use your Airpods with Google Assistant. Out of the box, this isn't possible but AirpodsForGA is a free Android app that lets you use Apple Airpods with Google Assistant. You don't need to root your device or anything. Just install the app and give it the required access it needs to work.
Connect the Airpods, double-tap them and talk to Google Assistant.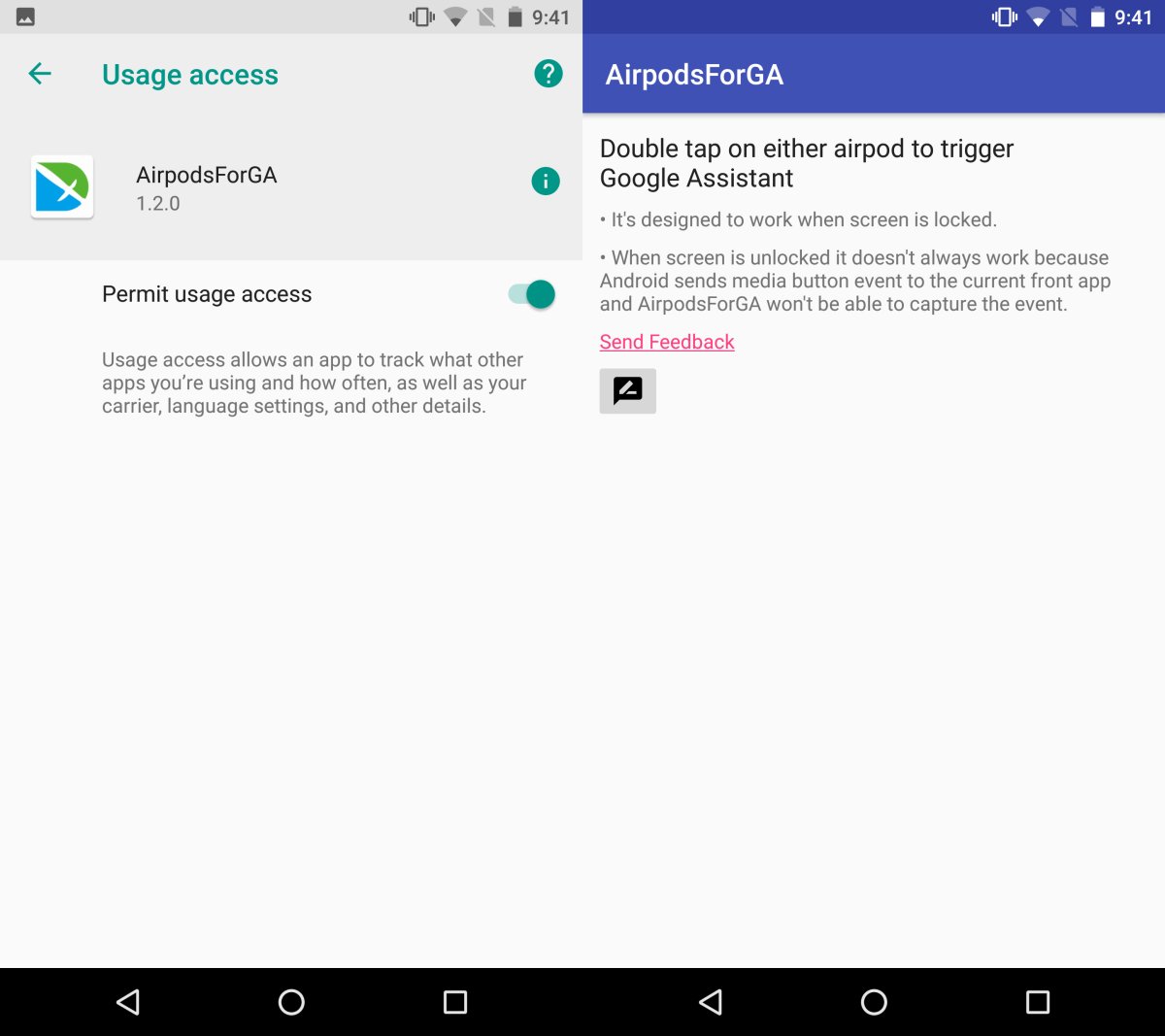 Limitations
Apple doesn't really design its products to work well with Android devices. Airpods exist because the latest iPhone doesn't have a headphone jack. As such, this app while useful and effective has some limitations. It works well enough when your Android phone is locked but is less reliable when you have an unlocked screen.
To be clear, we don't mean password protected when we say locked/unlocked. If you screen is asleep, the app will work far more reliably. If your screen is awake and your device unlocked, the app's reliability is reduced. This is something the developer has stated on the app's download page. What all this boils down to is that you can still use your Airpods with Google Assistant but you won't have as great an experience as you would if you had an iPhone.
The app doesn't work as well when your device is unlocked because Airpods aren't just for listening to music. They are a two-way communication device built to replace traditional earbuds. Traditional earbuds, especially those from Apple, have a built-in mic but they also have built-in media controls that let you play/pause media, skip to the next or previous item in a list, and control volume. The Airpods can do all this so when you try to use them with Google Assistant and your phone is unlocked, there's a clash in functionality.