View Local & Online Photos In One Gallery With MyPics For Android
From the makers of previously-reviewed photo editing app, FunCam, comes yet another remarkable free Android app called MyPics – the latest entrant to the list of local and online photo aggregators, including Pictarine and Pixable. MyPix by UmobiSoft Team supports integration with a number of social networks and photo hosting services, such as Facebook, Picasa, Photobucket, Flickr, VKontakte & Smugmug, and sports a built-in unified online & local photo gallery designed to cater for your basic image browsing, editing, sharing and management needs. Though not as feature-filled as some of the aforementioned names, MyPix does bring a few exclusive options to the table, like browsing Facebook Friends' photo albums, hiding select photos from the gallery, fixing image details from EXIF metadata, multiple views for your photo albums, batch uploading & downloading of content, and the option to set an image as a contact photo or wallpaper right from within the app.
Google may has a great new stock Camera & Gallery app in Android 4.2 Jelly Bean, but the app's inability to integrate with multiple online photo hosting services and a rather restricted set of photo editing/management features is what keeps the likes of MyPics in the hunt.
When launched for the first time, MyPix prompts you to select the services that you wish to link with it. Past that, you're greeted by a combined Gallery of local and online photos. Content can be viewed on a list or in a grid. In grid view, you can use the pinch-to-zoom gesture to enlarge thumbnail previews by up to three times the original size.
Tapping the menu button reveals a toolbar at the bottom containing options to enable batch-selection, filter photos by source, sort items by name or date, and explore a Facebook Friend's photo albums. Upon selecting any of these items, you are presented with the options to upload or download photos, hide or unhide them from the gallery, share, delete and copy/move them to a required destination.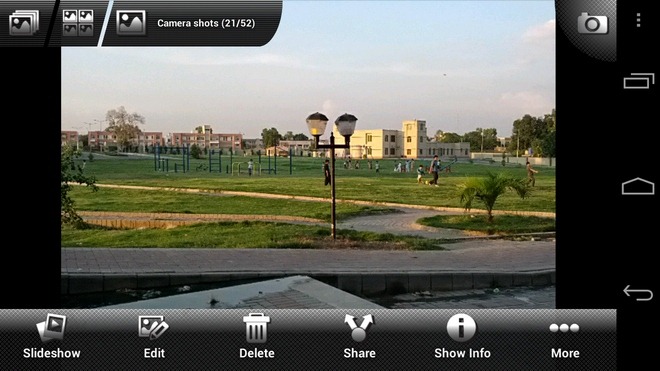 While viewing a photo in full-screen, you can use the handful of image editing tools (rotation & cropping) on the current image, check its details, set it as a contact photo or wallpaper, share it with your mates and enable slideshow mode.
For a debut release, MyPics seems to have all bases covered quite nicely, though its overall performance certainly requires a boost. Future updates of the app are planned to introduce users to even better features, such as commenting on photos, support for video playback (with the option to stream videos from multiple online sources), Instagram-like photo filters & effects, advanced photo editing tools and lots more.